Features - Interview
APRIL 11, 2011
Martin Whitmarsh
BY TONY DODGINS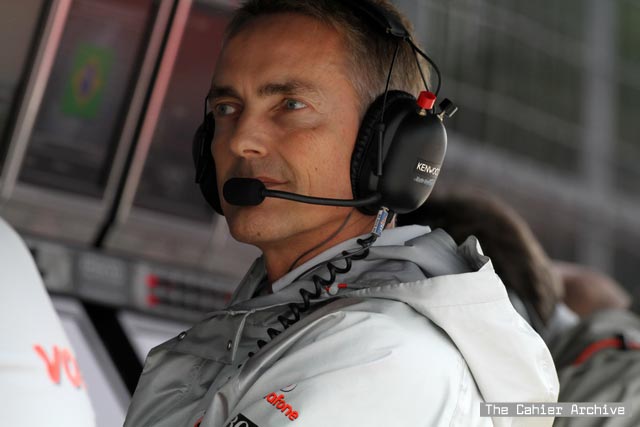 © The Cahier Archive
McLaren pushed Red Bull hard for pole position in Malaysia and then Jenson Button kept Sebastian Vettel honest in the race. Team principal Martin Whitmarsh is not daunted by five Red Bull wins in the last six races and hopes to carry the fight to Christian Horner's squad in China, as Tony Dodgins heard.
Q: Tyres swung things away from Lewis but were you almost on par with Red Bull?
We're quite close but I'd like to be closer still or ahead. In qualifying we were close and in Lewis's second stint he made headway on Sebastian and in the last stint Jenson made headway. How much did Sebastian have left in the tank? I don't know, but if we look at qualifying we had the ability to be on pole and we had the ability to chase hard in the race. For Lewis it was a disappointing afternoon: getting behind Nick at the start, who did a great job attacking around the outside. He lost that time, then had a good second and third stint but the fourth stint was difficult.
Q: Did the drivers report some inconsistency with the tyres?
I think Lewis struggled on the second set of primes but they were a used set and I don't think that means they are inconsistent.
Q: Did that go back to Lewis flat-spotting a set of softs in qualifying?
Yes, he damaged a set of softs in qualifying so his third set had to be a set of primes but they were new primes and were okay. I think it was quite pivotal that with the fourth set he had to go onto some used primes and from the start of that run he was struggling, albeit that he was defending against Mark and Fernando, which didn't help. So a number of things contributed to it but reigniting a used set of hard tyres was quite difficult.
Q: How much damage was there to Lewis's car from the Fernando incident?
I think some louvres at the bottom of the rear wing endplate went and there was a bit of floor damage but, in numbers, about five to seven points of downforce were lost -- but I don't think that was the significant player here.
Q: Is there a sense of Malaysia being one that got away?
I think two on the podium got away but the fact is that Sebastian qualified on pole, used that and defended it. The Renaults then had higher top end speed than us but it wasn't Game Over.
Q: What was Lewis's comment about the incident with Fernando?
There was no comment to me about it. I think Lewis was disappointed by the outcome and focused on that. Looking at the footage it looked as if Fernando just pulled out of the slipstream a bit too late.
Q: Was Lewis's fourth stop because of damage to the right rear tyre or because the whole set had gone away?
We didn't want to stop but at the end of the day the driver calls the shots on that and if he insists on stopping you change his tyres. On that set he could not perform from the point he put them on and felt they wouldn't get him to the end of the race. We'd hoped they would.
Q: Was the tyre situation good for the show?
I come away slightly frustrated but considering we didn't have rain it was quite an exciting race. The tyres contributed to that. They are challenging to use but that's the same for all of us. The fact is that in one stint Lewis had to run on used primes and that was a disadvantage. That may have been significant in the race for him. But overall, people could sense there were some real tyre issues making for an exciting spectacle when, historically, Sepang didn't produce the most exciting races unless it rained. So for F1 it's probably a good thing.
Q: How did Jenson feel that he had more grip with the hard than the soft?
He said that the car came alive and he did a very long stint (19 laps) and was very quick. We were worried about his tyres but he was very happy with the balance. You turn the tyres on, operate in that sweet spot and that's just how it works sometimes.
Q: But what allowed him to go three laps longer on a set than anyone else?
On a circuit like this Jenson is very good at knowing how to look after tyres. The car was nicely balanced, he did a good job and his race was very positive. To end up that close to Sebastian having dropped back at the beginning was very good.
Q: Could Jenson's driving style be an advantage this year with these tyres?
He did a fantastic job today but you have to reflect that Lewis was on a used set of primes that were difficult to get going, so we weren't comparing like with like. It wasn't a typical performance from Lewis, it was an unfortunate race.
Q: Vettel out-accelerated you and the Renaults were very quick off the line. Do you have to think about a different starting strategy?
I haven't done the analysis but my impression was that our starts weren't that bad. The two Renaults attacked on the outside, which was slightly high risk but they made it work. If you look at the footage I don't think their launch was any better than ours, I think they took the outside line and had a go. If you're in their position it was the right thing to do.
Q: What was the delay on Lewis's third stop?
On his third stop it was the front left tyre. But we had seven stops today, six of which were under 4s, which is excellent, and on that one we lost a second or two with the front left.
Q: Did the Pirellis do what they were expected to?
This was the second weekend and Pirelli have had to come into the sport with very little testing. I think we've got to congratulate them on what they've done. Drivers can complain about individual tyre sets but the fact is, looking at the sport, we've had tyres that are safe and that have produced a bit of a challenge for the teams and a bit of a spectacle.
Q: Will you have new parts in China and can you catch Red Bull?
We will have new parts and, yes, I think we can. But they won't stand still. We'll look at the new floor package and new exhaust and see how we can make that work. We've got some experiments to do which we haven't defined yet but we'll be doing some things on Friday in China.
Q: Why did you not use it here in Malaysia?
Some elements of it were used but you are concentrating on trying to win a race and when you are developing a car there is always a conflict there. We thought we had a fairly respectable package that we at least had one race distance on and we thought we should back off to that and do some more work with the floor in China and hopefully make some more progress.