Features - Straight Talk
JULY 2, 2018
Thank you for the failures!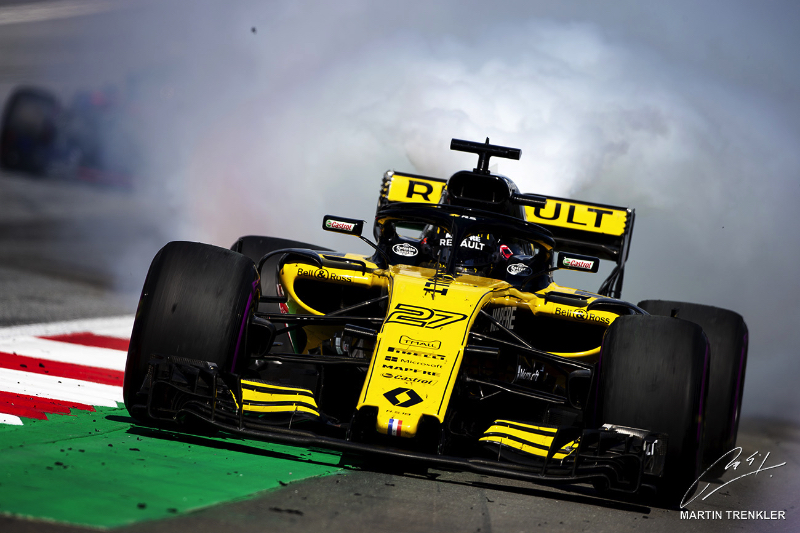 © Martin Trenkler
Formula One people tend to be quite blase about other forms of racing in many areas, one of them being the amount of mechanical failures cars suffer in Endurance, Indy Cars or rallying. You see, for the last decade or more when a driver fails to complete a Grand Prix this normally happens because of some incident, as the technical regulations have pushed the teams and the engine manufacturers to produce bullet proof machinery, the only way to avoid grid penalties for replacing Power Units or gearboxes.
The reliability of the cars has been the most ignored cause for the predictability of the races, because with overtaking being almost a lost art for many years, with Pirelli trying to bring the safest possible tyres to every race, as victories are certain and all the Italians want is to avoid safety concerns, once all the pit stops are done with, you could turn your TV off, knowing that unless something unusual happens, the top ten is already decided. Predictability is the worst enemy of any sport and that's why the FIA came up with the DRS concept, now taken to extremes, as there were three DRS zones in Melbourne, Montreal and the Red Bull Ring this year.
Never one to speak much, but with the gift of summarising his thoughts, Kimi Raikkonen admitted in Austria that, "basically half the lap are DRS zones…" and didn't seem too impressed with it. A couple of weeks earlier the Finn had gone deeper into the subject of overtaking, explaining that, "there have been a lot of regulation changes over the years that I have been in Formula One, but when I started we had quite a bit of overtaking. All the rule changes haven't really changed that. When I started there was no DRS or any of this stuff and we still overtook. For sure when you are following cars at 80 percent of their potential speed in Monaco for all the laps it is not very exciting for us either. But this is how it is unfortunately at that circuit and some other circuits. Is racing better now, with DRS, than it was all those years ago without it? I don't think so…"
At the risk of showing my age - if my "mug shot" isn't enough of a clue… - I still have vivid recollections of watching many a race at the start of the 1980's and being uncertain about the final outcome of a Grand Prix even if the leader was half a minute ahead of his nearest rival and there were just three or four laps to go. Why? Because turbo engines were popping left, right and centre, gearboxes would break fairly regularly - none of this "gearbox for seven events" nonsense then, top drivers going through two or three gearboxes per weekend, never mind brand new ones for each race - and all sorts of other parts were also bound to fail. Grand Prix, back then, were as much as flat out sprints as they were a sort of demolition derbies, not because drivers were crashing into each other but because of the fragility of most mechanical components.
Let's be honest and admit that on a standard day, yesterday's Austrian Grand Prix would have been quite dull. With no mechanical failures the top six had been decided after the first lap - with no retirement for Bottas there wouldn't have been a VSC period for Mercedes to destroy Hamilton's chances of victory - the pace would have been conservative as no overtaking would be possible between cars with similar performances and that would have been that.
Mercedes' double retirement, the first for mechanical reasons since the Silver Arrows returned to Grand Prix racing at the start of 2010, together with Ricciardo's gearbox failure - caused by a broken exhaust - put us all on tenterhooks for the last 15 laps of the race. And that was without even looking at the blisters on Verstappen's left rear tyre! Was his RB14 going to succumb to the same issue that had taken Ricciardo out? Was Ferrari also going to suffer a mechanical failure, like the ones that completely derailed Vettel's title bid last year? Were any other top ten drivers going fall by the sidelines?
In the end Verstappen and the Ferrari drivers made it to the end, one full lap ahead of the rest of the field - okay, is a short lap but still… - but it was the prospect of more unreliability that made the second part of the Austrian Grand Prix so exciting. For the first time in more than a decade 30 per cent of the cars had failed to finish a Grand Prix because of mechanical failures and that was one of the main reasons yesterday's race was quite exciting.
Now that Power Units and gearboxes have to last for seven full Grand Prix distances, and we're on the fifth year of the current technical regulation for the engines, the four manufacturers involved in Formula One are so close to the limit of their technological "know how" that every small step to increase performance can come at the cost of their reliability.
I know the people at Brackley, Brixworth, Milton Keynes, Enstone or Viry-Chatillon, suffering with reliability issues now, as much as those in Maranello, last fall, will take no consolation whatsoever from this, but unreliability breeds excitement as it makes the races less predictable. Of course a manufacturer doesn't want its racing cars to suffer mechanical failures because of the possible damage to the image of their company, but from a fan's point of view, bring on more mechanical failures, more tyre issues, whatever can make competition more exciting without artificial measures to improve overtaking, and we'll all stay tuned until the chequered flag is out. Mechanical failures show everyone is pushing to the limit, and showcasing the robustness of their products was the chief reason manufacturers got involved in motor racing some 120 years ago. A failure here and there doesn't dent a company's global prestige but it certainly does a hell of a lot of good to the excitement of any motor race.