Features - Straight Talk
MARCH 14, 2019
Exciting battles about to start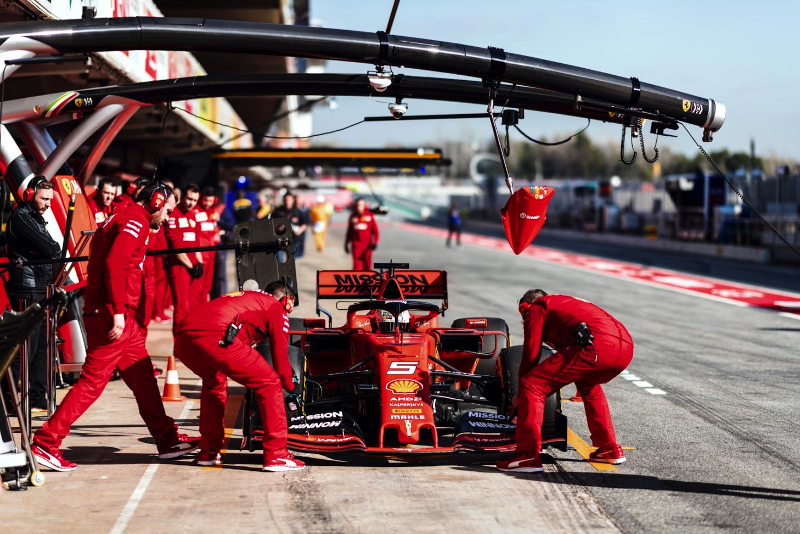 © RV Press
By Luis Vasconcelos
Mercedes has won all five championships held since the Hybrid Power Units came into Formula One, with Lewis Hamilton securing four championships in the same period of time, but that doesn't mean all other teams and drivers could stay home in 2019 as if they had no chance to compete. Given the high level achieved by Ferrari at the start of 2018 and Red Bull's performance in the last third of that season, there's reason to believe the German team will have to work very hard this year to retain its titles.
And that's the first big question of this year: can Mercedes break Ferrari's record and win six consecutive Constructors' Championships this year? Obviously, the possibility is real, because the Brackley-based team showed that even when it didn't have the faster car, both in 2017 and 2018, it was still capable of winning races, by being a better team than Ferrari, but there were weekends where the Scuderia was really out of reach and Mercedes was clearly second best. Should Ferrari return to the form seen until last year's Italian Grand Prix then we'll have a real battle for the title with at least two teams involved.
It's true there has been a change of guard in Brackley, with Aldo Costa taking a backseat and Mark Ellis leaving Formula One altogether, but the core base of the race team remains the same and there's no reason to believe Mercedes will be less efficient this year than in the previous five seasons.
On the other hand, it was all change at Ferrari, with Maurizio Arrivabene leaving and Mattia Binotto gaining full control of the Scuderia. In the words of Cesare Fiorio, when he was given the leadership of the Italian team, Binotto has "been given the bicycle he wanted all his life, so now he has to show he can pedal…" The one thing that will certainly change at Ferrari, is that the team now works as a united front, while last year it was clear Arrivabene and Binotto were not pushing in the same direction at all times. Given the resources the Scuderia can pull together and the fact they look to have a small performance advantage over Mercedes, to start with, there's good reason to think the Italians will be able to put a stronger challenge this year and give Mercedes a very tough time.
The second big question regarding the teams, is how will the new Red Bull-Honda partnership perform. On the basis of what was seen at the end of 2018, Red Bull has at least as good a chassis as Mercedes and Honda is already more competitive than Renault, so the RB15 should be really competitive against the other two top cars. Can Honda be strong enough to help Red Bull win more than the four victories collected last year? That has to be the target, but reliability may get in the way of them being part of the title race.
Interestingly, what came out of pre-season testing was that Honda was able to run with only minor problems during the eight days of testing - both with Red Bull and Toro Rosso - but the gearbox was a bit of an issue to the Milton Keynes-based team and cost Verstappen and Gasly quite a bit of track time, but not as much as the Frechman caused himself with two high-speed accidents.
The big push made recently, with the aerodynamic upgrade initially planned for the Chinese Grand Prix already available in Melbourne, this weekend, shows Red Bull is determined to take the battle to Ferrari and Mercedes, but given their partnership with Honda is brand new, it would be unreasonable to expect them to fight for the title. But anything less than the four Grand Prix victories achieved last year will be a disappointment for Red Bull and a serious setback for Honda.
On the drivers front there are also quite important questions to ask: will Valtteri Bottas be able to return to the form seen in the first half of 2018 and finally mount a title challenge against Lewis Hamilton? Or will he crumble and be replaced for 2020 by Esteban Ocon? The Finnish driver knows the future of his Formula One career depends on how well he performs during this season and is determined to use every single opportunity to shine. Yes, he knows it was only bad luck that prevented him from winning in China and Azerbaijan last year, plus team orders took away a deserved victory in Russia, but he can no longer allow himself to be affected by circumstances outside his control and has to do better than in the previous two years.
Another year in Hamilton's shadow will see him leave the top tier of Formula One, so the stakes are high for the Finn, while the five-times World Champion can afford a less than perfect season without his status being affected. Obviously Hamilton will sit on the Melbourne grid determined to win his sixth title, but he knows success this year won't be a matter of life or death to him and being more relaxed, he may be even more lethal than in the previous seasons.
At Ferrari the boot seems to be on the other foot, as the big question mark is not Charles Leclerc's ability to perform at the highest level - as most of us take that for granted - but how will Sebastian Vettel react to being seriously challenged by his much younger team mate? Will he fell the heat, like at Red Bull, in 2014 against Ricciardo or will the German return to his best form and remain the undisputed team leader?
The early signs are that Vettel is tremendously happy with the handling of the SF90 and will be performing at his best level right from the start of the season. Back in 2014, when Daniel Ricciardo came into "his" team, Vettel needed a lot of time to get to grips with the set-up and driving requirements of the new generation of cars and after accepting he could no longer drive like in the 2009-2013 period, he regained his competitiveness. There won't be such issues this year, so Vettel will be harder for Leclerc to beat than he was for Ricciardo, but the Monegasque will be a lot more than a compliant second driver and the German is fully aware of that.
Leclerc didn't have the best of starts to his Formula One career, being out-qualified by Marcus Ericsson both in Melbourne and Bahrain but after a difficult Chinese Grand Prix for his team, a sixth place in Baku launched him into a great run of performances that earned him the Ferrari drive. Obviously his goal is to be World Champion and to do that he has to beat Sebastian Vettel driving the same car, but the Monegasque has time on his side and it won't be a disgrace to his reputation if he's outscored by the four times World Champion. On the other hand, should he beat Vettel at first attempt, then it's the German that will be under pressure and there have been increasingly growing signs Vettel doesn't deal too well with internal pressure, so this will be a much more exciting internal battle to watch than the one at Mercedes.
Finally, there are also question marks hanging over both Red Bull drivers. Will Max Verstappen start the season in a much more mature way than in 2018 or will he repeat the same mistakes seen in the last two years? And will Pierre Gasly prove he's worth of a top drive or be quite inconsistent like he was in 2018? The answers to both questions will determine how successful Red Bull-Honda's season will be, but the two young drivers are in completely different situations. Verstappen is very much the King of the Castle at Red Bull and is the undisputed number one driver. Had any other driver done half the mistakes he made in the first six races of 2018 and the impatient Helmut Marko would have fired him on the spot, but Verstappen holds a special status within the Red Bull program and because he's so obviously quick and crafty in racing battles, enjoys a level of protection no other driver in Formula One can boast. Therefore, regardless of how he'll perform this year, he'll still be Red Bull's leading driver going into 2020 and that certainty may help him perform in a more mature way than in the recent past.
No such luxury for Gasly, particularly after his two testing shunts that have already earned him a public admonishment from Marko. The Frenchman knows what happened to Daniil Kvyat after a couple of incidents at the start of the 2016 season and will be keen to avoid a similar fate, knowing that Kvyat is not really considered an alternative by Marko and that Albon is still a rookie, so it would be a tremendous risk to put him straight into a top team after half a dozen Grand Prix. But what's valid for the 2019 season isn't for next year, so Gasly will have to perform at a very high level without making too many mistakes or risk being replaced by another young driver from Red Bull's roaster.
So, this is where we are, driver-wise: Bottas, Vettel and Gasly are under pressure and the way they'll handle it will not only determine their respective futures, but may also have a decisive influence in the results achieved by their teams starting from this Sunday in Australia.