Features - Straight Talk
SEPTEMBER 18, 2018
A spectacular meltdown!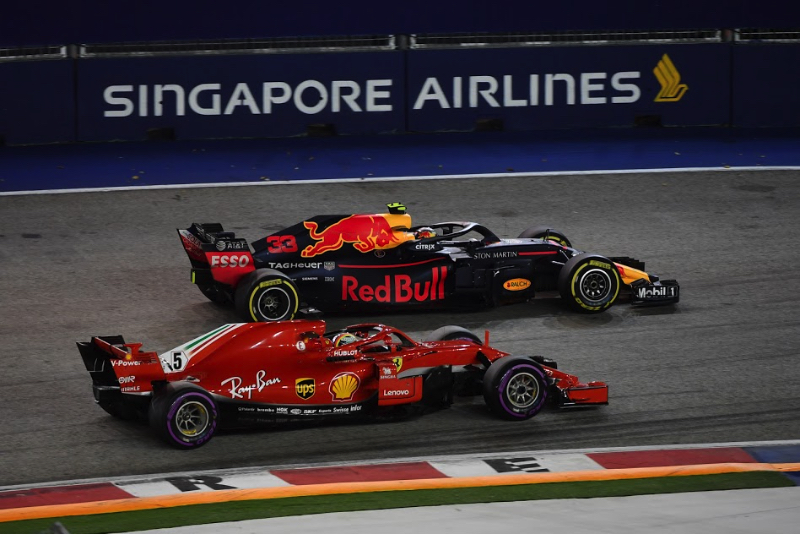 © RV Press
If you would have asked me three weeks ago who had a better chance of equalling Juan Manuel Fangio's feat of winning five Formula One World Championships I would have put Sebastian Vettel's name forward, even though he was trailing Hamilton by quite a decent margin. Ask me again today and the answer will have to be different. Spa-Francorchamps apart, since the German Grand Prix, the Ferrari driver's challenge has melted in a spectacular way, through his own mistakes but also through the team's sudden lack of efficiency.
During the first part of the season the Scuderia was like a well-oiled machine. The cars were well balanced in every circuit, in every type of corner, the tyre strategy during the entire weekend was the ideal one to help the drivers get to the front of the grid and win the races, race strategies were well planned and executed with military precision – and not Italian military precision, if you know what I mean… - and Vettel was driving at the highest level we had seen from him since the end of 2013.
When Ferrari finally got the most out of the dual battery system that had been questioned, inspected and, allegedly, slightly adjusted during the Azerbaijan Grand Prix, the red cars were unstoppable. From Canada until Italy, the SF71H was clearly the class of the field and if its drivers and the race team had done everything right, they should have won every single Grand Prix in that period.
However, during that time Vettel won three races but Raikkonen and him let the other five wins slip away from their fingers with the blame having to be shared between the drivers and the team. The first glitch came in France, where Vettel was unexpectedly beaten by the two Mercedes drivers in qualifying, tried an over-optimistic move on Bottas going into the first corner, crashed into the Mercedes and after losing a lot of time for repairs, came through the field to finish only 5th. Then in Austria came an incident that seemed trivial at the time but cost Vettel more than it looked at first sight: blocking Sainz in Free Practice led to a grid penalty that dropped him from third to sixth for the start. Instead of starting right behind the two Mercedes, that retired early in the race, the German was behind all top drivers and never made any ground, benefiting from Ricciardo's DNF to finish third. In the space of one week from potential 50 points he's only score 25, as many as Hamilton, in spite of the Mercedes' drivers Austrian DNF.
A victory in Silverstone, "qui, a casa loro" as the German triumphally told his team over the radio, seemed to get Vettel's title challenge back on track, as he'd beaten Hamilton in spite of starting behind the home driver and had also passed Bottas for the lead a few laps from the end, when the well-worn tyres from the Finn's car cried "enough".
And then came Hockenheim and Vettel's mistake that threw away an almost certain victory and handed it to Hamilton. Wet qualifying sessions in both Hungary and Spa-Francorchamps showed how the two teams were reacting at a different speed and, also, how Hamilton's confidence level's was much higher than Vettel's as he stormed to two amazing pole positions while his rival was simply not in the same league. Passing the Mercedes driver immediately after the start put Vettel in control of the Belgian Grand Prix and, presto, his title challenge was back on track. As long as, as I wrote at the time, there would be no more missed opportunities.
The Italian Grand Prix should have provided a field day for Ferrari, as the SF71H's straight line speed was a tremendous advantage in Monza and a front row lock out proved just that – but with Raikkonen ahead of Vettel. By then both of them knew Charles Leclerc would replace the Finn at the end of the season, and they reacted in different ways.
Keen to show Sauber he still had it, Raikkonen drove beautifully and set pole position, defended his lead from his team mate and Hamilton's early attacks with rare determination and was only defeated by Ferrari jumping the gun and calling him into the pits a bit too early and then being forced to push hard on new tyres to prevent being overcut by the Mercedes driver. Vettel was already upset he'd been sent out in qualifying ahead of Raikkonen, giving the Finn a valuable tow, but also benefited from Hamilton's tow, while the Brit was on Bottas' tow… and the younger Finn was hung out to dry, so he was out of the fight for pole, the other three finishing Q3 separated by 0.175s.
Unsure of how Raikkonen was going to race in his new circumstances Vettel made two half-hearted attempts to pass the Finn in the first two chicanes and, in doing that, left a whole half track for Hamilton to go around the outside and snatch P2 from him. His attempt to defend was clumsy, he hit the silver car and spun, dropping to the back the field. His recovery drive to fourth place was great to watch but there was another potential victory gone out the window and at the end of the Monza weekend, Vettel's body language had changed.
For the first time this year he started to look like a man who doubted his own chances of success and the trust in his team didn't seem great either. For a while he'd started to override the team's radio instructions, changing them on a few occasions and actually getting it right.
What had been playing in his mind? Did he start thinking the team didn't trust him to beat Hamilton and was getting a young kid, in Leclerc, to get the job done? He had stated time and again he preferred Raikkonen to stay put but his wishes were not respected. Did he feel the team was starting to make unforced errors and put more pressure on himself by directing operations from inside the cockpit? Maybe it was a bit of both, but in Singapore the German was clearly not "on it" and Ferrari was distinctively off the pace, both in qualifying and the race.
While Hamilton and Verstappen worked their magic in qualifying, driving two of the best laps I've ever seen in my life, Vettel was a subdued third on the grid and even when he was saying he trusted he had the pace to win on Sunday, his body language was saying exactly the opposite.
But he did what he had to do in the first lap, passed Verstappen in spite of the Dutchman's muscular defence and was right behind his rival at the re-start. But, unlike his predictions, he didn't have the pace to keep up with Hamilton – the moment the championship leader started to push, from lap 11, the gap grew more than half a second per lap - and Ferrari went for an over aggressive move, pitting him on lap 14 of 61 and sending him out for 47 laps on Ultra Soft tyres!
Obviously, he had to push hard to try and get the undercut done, hurting his tyres badly and then losing time to pass Perez. The result was that he lost out to Verstappen and could consider himself lucky to finish third, on tyres that were completely shot.
Again the body language of the two title contenders was such a contrast, Hamilton beaming like a Cheshire cat while Vettel was far more circumspect and used every opportunity to convey his view that, "I think the decisions we took in the race, if they worked as planned, they would have been great. Today they didn't work by quite a bit, but we saw something and we went for it. Inside the car you don't see the whole picture. We were aggressive but had to go through traffic and that bit us, as we lost second place. It's easy to criticise afterwards. We had a very competitive package throughout practice but we finished in 3rd and 5th and that's not where our car is, in terms of speed, belongs. That's why I say we didn't get everything out of our package today."
He then added, "Lewis said he didn't expect to win ten points and we certainly didn't expect to lose ten points. There are still a lot of races to go, I don't believe we have the faster car by a long way. We started off the season half a second behind but we recovered. Today we were a bit slower and we have to understand that, but our race was different, because we were on a different tyre, tyres that shouldn't be able to last that long, so it's difficult to compare."
In Russia the German needs to cut Hamilton's championship lead by at least five points, or he won't be master of his own destiny anymore. For now, as long as he wins the remaining six Grand Prix of the season he'll be champion. If he leaves Russia more than 35 points behind Hamilton, then all the Brit has to do is to follow Vettel home in every remaining race and the title will be his.
Who would have thought this title battle could be settled way before the end of the season? That's the beauty of motor racing: it's nor mathematics, it's really unpredictable.