Features - Straight Talk
JULY 4, 2016
Time for a change?
BY LUIS VASCONCELOS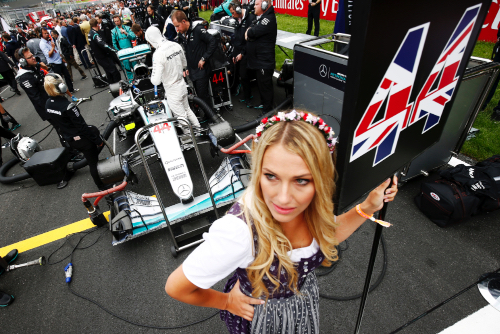 © Active Pictures
"I'll put my head in a bucket of cold water, that is the next thing I will do after this", said a visibly irritated Toto Wolff when facing the media just one hour after Mercedes' two drivers collided - for the second time in five races - at the start of the last lap of the Austrian Grand Prix. The normally affable Austrian was far from his usual cool demeanor and who could blame him? What was supposed to have been a one-off incident, in Barcelona, happened again seven weeks later, with both drivers, again, blaming each other for the accident and seemingly unwilling to take any responsibility for the loss of another easy one-two finish for the Silver Arrows.
Asked if team orders were now being considered at Mercedes - after three and a half years during which Rosberg and Hamilton were always allowed to race each other, Wolff admitted that, "because there is a race next week, we need to discuss internally with all guys involved, how we want to manage the situation going forward when our two drivers are close to each other."
"We will make a decision irrespective of what the drivers will say. It's the core race team that's going to make a decision and it could go either direction. The outcome needs to be that we avoid contact between the two cars, whatever it is. So everything is going to be on the table. There is not going to be a holy cow. We are going to look at it."
Explaining why he was reacting in a very different way from what we had seen in Barcelona, seven weeks before, Wolff said, "At Barcelona I was much more at ease with it, because we had had 30 races without any collision. It was clear that it was going to happen eventually and it wiped out both cars. From my naive thinking, I thought they had learned the lesson and saw the consequences - it's not going to happen anymore. Here we go, it happens again, so the only consequence is to look at all the options available on the table and one option is to freeze the order at a certain stage of the race, which is unpopular, makes me puke myself because I'd like to see them race, but if the racing is not possible without contact, that's a consequence. We have to cool down a bit and in the next couple of days we'll come out with a decision."
Interestingly, the drivers had different views on the imposition of team order. Hamilton, as usual, explained that, "I wouldn't say my heart sinks if there are team orders, but I want to race. I grew up wanting to race, and to get to Formula One and race the best and be the best by out-driving another individual. I think they showed a replay of maybe Michael Schumacher and Barrichello many years ago here in Austria and I was disappointed as a fan, back then, and we never want to see team orders like that ever happen. The great thing is that Toto and Niki have been great these past three years in allowing us to race and that's what racing is about, and it's not always going to be blue skies and perfect, but that's motor racing. We're driving at 200+mph and you expect us to drive around and never, ever, ever have a problem? I doubt it, so I hope that it doesn't change and I hope that we can continue to race. That's just my honest opinion from my love of this sport."
Rosberg, for his side, immediately said he'd be ready to accept team orders, maybe in the belief he would have won last Sunday's race if they had been enforced: "Toto and Paddy are extremely competent people, and that's in their hands. If they feel that's the way to go then I would accept it. That's it. It's not in my control."
While both Toto Wolff and Nico Rosberg refused to accept the possibility of this latest accident affecting the possibility of the German renewing his contract with Mercedes, maybe it's time both sides stop to think a bit. In spite of his good results in the last two and a half years and being the leader of the current championship, it's clear Nico Rosberg doesn't sit in a very strong negotiating position at the moment. With Hamilton under contract with Mercedes for another two years, he wants to remain with the team but losing a third straight title to his team mate will clearly demonstrate who's the strongest of the two - if any doubt still remains. But he also knows his best chance to be World Champion is to stay with Mercedes, hoping Hamilton drops the ball at some stage and with the doors at Red Bull and Ferrari firmly shut for him, he has no other top team to turn to if Mercedes doesn't retain him. His only alternative would be to perform an Alonso-like move and sign a long-term deal with Renault, to lead the French team's return to the front of the field in the next three or four years, but that's something the German is unlikely to be contemplating at the moment.
From Mercedes' point of view, though, maybe it has come the time to change something. Yes, one Mercedes driver will be champion at the end of the year, like in 2014 and 2015 and if it will be - as it's quite likely - Hamilton, then what's the point of retaining Rosberg for another two years? Now that there's obvious friction between the two team mates, do Toto Wolff, Niki Lauda and Paddy Lowe want to live another two years hoping they won't run into each other, throwing away precious points? It's true that in the last three years Mercedes has been so dominant that the lost points made no difference to the outcome of the championships, but who can guarantee the competition won't catch up next year, as the new technical rules will surely reshuffle the pack? Those points lost to crashes could lose a championship and that's something Mercedes will be keen to avoid.
Wolff has a quick solution up his sleeve if he decides to change something: Valtteri Bottas. In Lewis Hamilton he knows he has a World Champion capable of continuing his triumphal march, given a good car, so the Austrian can take a bit of a gamble and put a younger driver in the other car.
Being Valtteri Bottas' co-manager Wolff knows exactly how good the young Finn is and the answer is very, very good. On top of being tremendously quick and committed, Bottas has shown to be a good team player at Williams, working well with Felipe Massa in spite of the fierce rivalry between the two. I have no doubt the Finn could win Grand Prix and fight for the title with a top car and I'm sure Wolff feels the same way. Hiring Bottas wouldn't be a risk at all, just a good alternative to Rosberg, with a much lower salary and bringing in a fresh relationship with Hamilton, that would start from zero, with no previous baggage - all advantages the Austrian is likely to be considering right now.