Features - Straight Talk
AUGUST 28, 2017
The pros and cons of having team orders
BY LUIS VASCONCELOS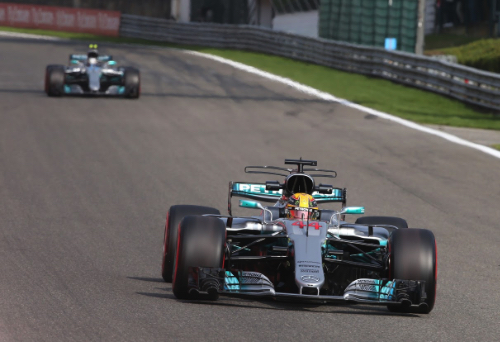 © RV Press
Team orders have been part of motor racing since the sport was born more than one century ago. In the aftermath of yesterday's Belgian Grand Prix there are two teams that are seriously considering imposing team orders from Monza until the end of the season, but for completely different reasons and with completely different purposes.
Team orders have been part of motor racing since the sport was born more than one century ago and there have always been extremely valid arguments for and against their implementation. In the aftermath of yesterday's Belgian Grand Prix there are two teams that are seriously considering imposing team orders from Monza until the end of the season, but for completely different reasons and with completely different purposes.
The most high profile case is that of Mercedes, of course. who is at the point of deciding if they still allow Valtteri Bottas and Lewis Hamilton to race freely, taking points away from each other, or follow Ferrari's route and put all their efforts into the English driver's campaign.
Now, this seems to be an odd thing for Mercedes to be considering if you think that in Budapest, just one month ago, Hamilton gave away three points in the final corner, to comply with what had been agreed a few laps earlier, before the Finn allowed him through, so he could chase the leading Ferrari duo. Things didn't change that much one race later, but Bottas' drop to P5 after the re-start in Spa-Francorchamps may have sealed his fate.
After being unable to challenge the main title contenders the whole weekend, the Finn found a new lease of life during the second stint of the race, when he matched and, often, beat Vettel and Hamilton's pace, to get within five seconds of the German with 15 laps to go. Obviously only if the Ferrari tyres would seriously degrade he'd have a chance to try and attack for second place, but he had turned around a negative weekend into an acceptable third place within striking distance of the leading duo.
The Safety Car and the last set of tyres made things worse for Bottas. Like Hamilton, he was on the harder tyre available, but, unlike the Brit, he was unable to keep his position at the re-start, losing out to Ricciardo and Raikkonen. Not only that, he quickly lost ground to finish fifth, unable to explain his lack of pace in his second set of new Soft tyres, as well as his general lack of speed with the Ultra Softs the whole weekend.
I suspect by the time we get to Monza, in a couple of days, Mercedes will have found the reason for Bottas' W08 lack of general grip for most of the weekend, but the bottom line is that he lost eight points to Vettel - instead of three - and 15 to Hamilton - instead of ten - and is now 41 points behind the German and 34 behind his own team mate. Even a double DNF from the leaders combined with his own victory would still leave Bottas in third place in the championship, so this situation combined with his inability to keep up the pace with Hamilton in the past three Grand Prix - technical issues or not - may finally convince Toto Wolff to go against his own instincts and impose a team hierarchy from now until the end of the season.
As Bottas himself said after his disappointing Belgian Grand Prix, "I think it depends a lot on me. If I manage to perform well, if I manage to get pole position and escape in the races, then it's in my hands as well. There are still eight races to go, there's a good amount of points up for grabs. The guys that are ahead of me in the championship, they may get some DNF's."
While that is true, as there are still 200 points on the table and Vettel may eventually get a grid penalty if he needs to use a fifth turbo, there is no doubt Ferrari has made the most out of having just one driver in contention for the championship, having no hesitation in compromising Kimi Raikkonen's race to boost Vettel's chances. Raikkonen, again, stayed out too long in Spa before changing tyres, to try and make Hamilton lose time while trying to get past him. Only after the Mercedes drivers eased past the Ferrari, coming out of the Radillon on lap 15, was he called in. As a consequence, his gap to Daniel Ricciardo came down from 6.3s to just 2.1s but that became irrelevant given he was immediately handed a stop & go penalty for failing to slow down for the yellow flags shown to indicate the presence of Verstappen parked car way out of harms' way in the Kemmel Straight.
Bottas has shown on a few occasions he can even do a better job than Raikkonen at keeping much faster cars behind without resorting to unsporting behaviour and could be of great help to Hamilton if Mercedes decides to go down this route. He may be convinced to accept this new role for the next eight races with the help of a multi-year contract from 2018, when until now Mercedes has hinted it was only prepared to give him another one-year deal, to be free on the market at the end of next year, when many talented drivers' contracts expire.
Personally, while I completely understand Mercedes' predicament and their frustration at being in the middle of an unequal battle, I wouldn't like to see them making an immediate decision to impose team orders. Yes, the chances Valtteri Bottas turns things around and overcomes two very big gaps when he hasn't been right at the front since the Austrian Grand Prix, are slim but they are there. I would rather favour a "play it by ear" approach in Monza, with Mercedes giving equal tools to Hamilton and the Finn and then making a decision during the race, depending on where their drivers and Vettel will be. In some occasions, having two drivers fighting against one can be a serious advantage for he can only mark one at a time, so Mercedes could even use the current situation to their advantage.
On a track they should have an advantage, it would be a shame Mercedes would deprive the fans from a great battle between its two drivers, provided Bottas manages to turn things around in five days - something he's shown in the past he's capable of doing. As for rigid team orders, I'd wait another a few more races before having a serious look at it, as a lot for things can happen in a month, with four races compressed in just six weekends.
LOSING CONTROL OF YOUR DRIVERS
The second case of team orders being on the verge of being enforced is that of Force India and I have to say I really feel for the team's management, as they've done all they could - and probably more - to allow Sergio Perez and Esteban Ocon to race freely for position, but have paid a heavy price for that with the loss of a lot of points.
There was always a rivalry between the rookie and the Mexican old hand but things had been kept very much under control until the Canadian Grand Prix. In Montreal, both stuck behind Daniel Ricciardo's Red Bull, Esteban Ocon - on much fresher tyres - felt he had more pace than his team mate and asked the team to order a position swap, which the team did, with the promise to Perez he'd get his place back if the Frenchman was unable to get past the Australian.
But Perez refused to follow the instructions, insisted he was well capable of passing the Red Bull driver quickly and the end result was the two pink cars were caught and passed by the recovering Sebastian Vettel, to finish the race in 5th and 6th place, always with the Mexican in front. But they both gave the team a good scare with four laps to go, when Ocon made a move coming out of the last chicane, Perez ran him very close to the edge and then the youngster went off in Turn One to avoid ramming his team mate.
If Force India thought that was bad, they had a thing coming, for two weeks later, in Baku, a couple of clashes cost the team more than a dozen points and a good shot at, at least, a podium finish. On the second re-start, on lap 20 they had a small clash in Turn One and then it was Ocon's turn to squeeze Perez into the wall coming out of Turn 2. The Mexican couldn't avoid his team mate and his car sustained heavy damage, while Ocon recovered thanks to the race stoppage to finish in sixth place.
Immediately after the race Force India called a meeting and gave the drivers new rules of engagement, so things cooled down for a while, in spite of a harmless banging of wheels in the first lap of the Hungarian Grand Prix that cost none of them any damage. But yesterday, in Spa-Francorchamps, they twice clashed in identical circumstances, with Perez being slow out of La Source and squeezing Ocon into the old pits' wall. If on lap one they just rubbed wheels and carried on unharmed, the Mexican possibly just moving over, as him too was getting squeezed by Hulkenberg on the outside, their accident on lap 29 was entirely Perez's fault.
The Mexican had just passed his team mate into La Source but went wide on the exit, so he knew Ocon was right there and ready to pounce. That he forced the issue and caused an avoidable accident was inexcusable and the last straw for the team, as both Vijay Mallya and Otmar Szafnauer clearly stated, after the end of the race. From now on the team will make sure they won't meet on track, "as they are clearly unable to race against each other without incidents", as the American pointed out.
Obviously that's easier said than done, especially because the two tend to qualify very closely to each other and inside the top ten, so their starting tyres will be the same and any variations of strategy will only be possible after the first pit stop. But that a team has to publicly admit it cannot control its drivers is also an unusual situation and reflects as badly on the team and on the drivers' professionalism.