Features - Straight Talk
APRIL 26, 2016
Can we have Christmas in April?
BY LUIS VASCONCELOS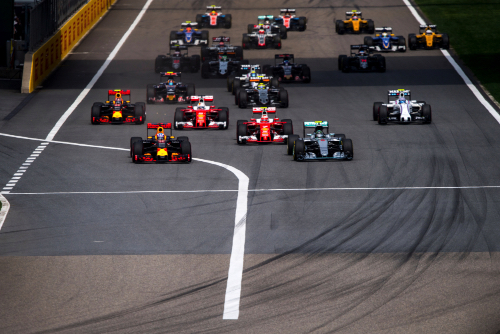 © Active Pictures
As I wait by a somehow deserted gate at Paris Charles de Gaulle Airport for my flight to Moscow to be ready for boarding, the people that will decide the future of Formula One should be arriving at Bernie Ecclestone's Biggin Hill airport, some 25 kilometres from the centre of London. Today the Strategy Meeting meets to make some major decisions regarding the 2017 Technical and Sporting Regulations, before its recommendations are passed to the Formula One Commission and from there to the World Council for Motor Sports. With a deadline set for next Saturday for the new rules to be approved, there's really no time to waste, even if with all the players together in Sochi from Thursday, it won't be too difficult to sit them together in the same room to iron out the final details of the new rules.
Maybe it's because I had to wake-up at 3:30am in the morning to make it to the flight that got me to Paris a few minutes ago, maybe it's because the prospect of spending nearly a week in Sochi is too grim to contemplate, I find myself wondering about what those that are, by now, sitting in Biggin Hill going to do. And I have the strange feeling nothing really good is going to come out of yet another meeting.
The signs that have been sent are not great, you'll have to admit. The plans to increase aerodynamic downforce may have been cut by nearly half, but it's still clear the more the cars will rely on downforce to go fast, the more complicated it will be to follow closely behind a competitor and that means overtaking will become far more difficult from 2017 than it is now. According to some of the top engineers in Formula One, turbulence starts to affect a car as soon as it gets within three second behind another car - yes, three full seconds - and the closer you get, of course, the less your front wing works properly, forcing you to lose ground in the corners while, at the same time, damaging your front tyres. Bigger front and rear wings mean there will be more turbulence and a bigger effect on a car's front-end grip while in traffic, so the prospects for better racing from 2017 are not exactly looking great.
Yes, Pirelli will come up with bigger tyres that should provide for an increased mechanical grip and having been assured it will get enough track time to test the new constructions and compounds, the Italians are now targeting an ambitious plan of making the tyres keep the relative performance they have now, but with a more sudden drop off, to make sure different strategies will be at play in 2017, very much as it's the case now.
It's worth reminding that the basic 2017 Technical Regulations were agreed in June of 2015 and then put onto paper five months later. But by the time the new rules were taking shape, everyone in the paddock seemed to be against them - including everyone that voted for those rules... - and then they were changed, forcing everyone to go back to square one in their calculations and basic layout of the chassis.
Now, just over nine months from the start of testing and less than one year before the start of the 2017 Formula One World Championship, Toto Wolff is claiming the new rules should be scrapped and insists that, "we've been having such great races since the start of the season that we should really be keeping the current set of rules rather than go for something different we cannot guarantee will work."
Of course that great racing provided Nico Rosberg with three wins out of three races and only in Australia he was seriously challenge, because a poor start put him on the back foot. Red Bull, on the other hand, wants a brand new concept to be adopted, having realised that with the current set of rules it will be virtually impossible to beat Mercedes, given the advantage the German team has over the field.
So, where will this all lead? With every team putting their own interests ahead of the interest of Formula One, with the FIA playing dead and insisting it has no real power to make the changes Jean Todt would like to see, is it really possible to expect good news from Biggin Hill and, later this week, from Sochi?
I guess what the Formula One fans, including me, want is to get our bit of Christmas in April. And by that I mean to get the six teams that are represented in the Strategic Group, the FIA and the Commercial Rights' Holder to put their own interest aside, find what's really better for Formula One and decide accordingly. Formula One has done enough self-harm in the last six or seven years and it's time to get things right. But, at my age, do I still believe in Santa? I guess not...