Features - News Feature
MAY 31, 2002
The "Team Orders" Dilemma
BY NICK GARTON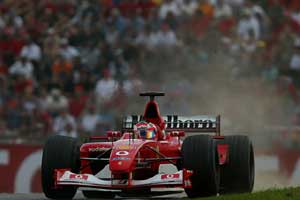 © The Cahier Archive
On June 26, the FIA must - or rather, should - take a decision vital to the future of Formula 1 as world-wide entertainment: What to do about team orders.
On June 26, the FIA must - or rather, should - take a decision vital to the future of Formula 1 as world-wide entertainment: What to do about team orders.
The federation must give a positive reply to the outrage over Ferrari's strategy in Austria. It is acutely aware of the public reaction - I am told its headquarters were "deluged with abuse" by phone, fax, e-mail and letter. But its previous attempts to lay down a firm rule failed - because the problem may not have a real solution. It may fail again on June 26.
I think the FIA will give Ferrari itself only some mild reprimand, because technically, the team has a strong case for saying it acted perfectly legally. But Schumacher and Barrichello broke all the rules on the podium, and the FIA, which is extremely sensitive about the podium ceremony, may penalize them individually.
The public would see that as both hypocrisy and a failure to address the real problem.
But let's just consider how complex it is for the FIA ...
The objective of going F1 racing is to win the Drivers' and Constructors' Championships.
To achieve that, F1 teams spend hundreds of millions of dollars each year, largely earned from sponsors, who want to be able to exploit a championship victory. Every race in the series has equal points, and thus equal importance, from the first until the championship is mathematically beyond doubt. Every point is critical. Ask Alain Prost. He lost the 1984 title to Niki Lauda by half a point (only half points were awarded in Monaco that year because the race was stopped before half-distance by rain).
Ferrari argue that they have lost three titles in the last race of the season. If at the end of this year, Schumacher lost the title by four or fewer points, the team would look stupid to have allowed Barrichello to win in Austria and take away those four points. Other teams have lost World Championships in the past by allowing their two drivers to race each other with no teams orders. Williams lost twice in the 1980s, for example.
Teams have a perfect right to put all their weight behind one driver to win the Drivers title, with the second weighing in with as many Constructors' points as possible. The FIA's current official position allows that (but read on ..)
Relatively few modern teams had two drivers obviously equally capable of winning the title, and with the car to do it but there are examples Alain Prost and Niki Lauda, Prost and Ayrton Senna, Nigel Mansell and Nelson Piquet, Alan Jones and Carlos Reutemann and Damon Hill and Jacques Villeneuve. The policy has usually been to let them race each other until one can no longer mathematically win, and then have him support the future champion.
Ferrari's Jean Todt pointed out that before the Austrian race, Schumacher had 44 points and Barrichello 6, so the logic was to give Schumacher the maximum points. And there is the uncertainty factor. In the coming races, Schumacher could have a run of bad mechanical luck like Barrichello has had. Or he could break his leg, as in 1999, but at a point where he still needed just four points to clinch the title.
However, the Ferrari decision was still greeted with outrage from the fans and many F1 insiders. The general attitude to F1 racing now appears to be that the main objective of winning the Championships must not be achieved at the cost of what is seen as "sporting" behavior.
The incident at Melbourne in 1998 when David Coulthard let Mika Hakkinen through was nothing like this. There was some grudging understanding of McLaren's point - it was the first race of the year, the cars' reliability was unknown. To allow the drivers to race each other when they were clearly superior to the rest of the field, and thus risk breakdowns, was not sensible. This year, the Ferraris have clearly been far superior, and this was the sixth race. But the people complaining over Austria do not seem to want to recognize that the unreliability which has plagued Barrichello could hit Schumacher over the next five races.
After Melbourne, there was a still a major row about "team orders", which led to more confusion. The FIA first banned team orders, then in Austria (again), Eddie Irvine slowed to let Schumacher through, but there was no penalty. Irvine's excuse of brake problems was clearly just that - a bad excuse - but the FIA couldn't prove it. So the FIA came out with a new statement saying "there is no prohibition of team orders as such" but reminding everyone of a rule which forbids "any action prejudicial to the interests of any competition."
It said it was perfectly legitimate for a team to designate a lead driver and demand that the second driver support him.
"What is not acceptable," it said, "is any arrangement which interferes with a race and cannot be justified by the relevant team's interest in the Championship."
Read that over again and see if you can understand exactly what is allowed and what is not - I can't!
FIA President Max Mosley is not a lawyer for nothing.
So the problem clearly is: What has priority - the effort to win the championships, or "sporting" behavior ?
Even fanatical Ferrari fans are now confused. They want Ferrari to win - but not this way. If Schumacher becomes champion only by those four points, will they still not approve of what was done in Austria ?
As the English say : "I want to keep my cake - and eat it too." Make the maximum effort to win - but not too maximum !
But the fans are not in the position of having to take the decisions which may ACTUALLY win or lose the championship for Ferrari. What would you have done - honestly - in Jean Todt's place, with all his responsibilities ?
F1 fans have long been critical of US racing - NASCAR's attitude that any major technical advantage of one team or make must be suppressed in the cause of close racing, and the (alleged) practice of "throwing a yellow" - putting out an unjustified yellow flag - to close up the field to make the race more exciting.
At least in theory, we don't want teams pulling phoney pit stops to favor one driver or another. We want open, honest Formula 1, but sometimes we don't like it. And we react, because as well as being a world-wide sport, F1 is now huge world-wide entertainment.
I have seen it suggested that if Ferrari had announced before the race that Barrichello would have to pull over for Schumacher, that would somehow have made what happened all right. So apparently it is not what happens, it is when it happens, that is important.
I confess I don't know the answer to these conflicting demands.
It will be interesting to see if the FIA does...