Features - News Feature
NOVEMBER 5, 2000
The jewel in Monza's crown
BY NICK GARTON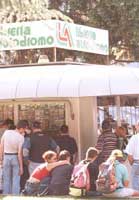 © The Cahier Archive
Let's think about this for a minute: Monza is the greatest living stage upon which Grands Prix are played. Since 1922 it's been sweeping majestically through the old royal park. Its long, long straights and corners such as the Curva Grande, the Lesmos and Parabolica - not to mention the ghostly, Titanic-like banking that lies beyond - ooze charisma like few circuits ever built.
So where is the one place to which the cognescenti flock as soon as they arrive? The last remnants of the old paddock perhaps, lost in the shadows of the modern Paddock Club? Nope. Inspecting the little tweaks to chicanes and corners to pass judgement, remembering favorite moments? Not a chance. They head for an oasis called Arquati, the cognescenti motorist's bookshop to end all bookshops.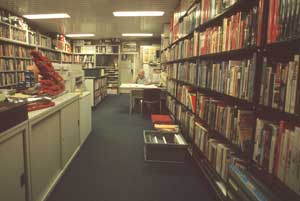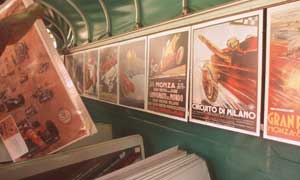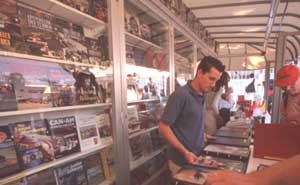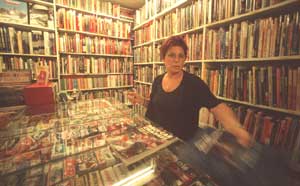 Arquati Bookshop

© The Cahier Archive
Whoever visits Arquati knows that they're going to be returning with some severely overweight baggage and a receipt which will need to be preserved for future generations to marvel at, but they'll have snaffled up a few gems into the bargain.
How about a yellowed biography of Robert Benoist just begging for 350,000 lire to be lavished upon it, perhaps or the complete collection of the Batsford Colour Book of Racing Cars? No matter what language you read, this is the crowded waiting room for extinct, hard to find and blow-me-down-I-never-knew-this-existed literature to sit until somebody who loves them comes along and takes them home.
Come race weekend the inner sanctum is opened only for 'regulars' of Arquati, and the owners' main Liberia Autodromo shop is the focus of the visiting faithful to buy Ferrari trinkets, Alfa Romeo models and Gilles Villeneuve pin badges. Even at the popular end of the market there is still much to catch the eye however - a few choice morsels from the inner sanctum are brought out for the bookish and if your walls are in need of candid pictures of Ferrari stars from the days when Monza howled to the noise of V12s and the Scuderia's cars were scarlet instead of day-glo orange then prepare to feast.
For the more eclectic tastes there are even such novelties as a tie pin, money clip and address book set bearing Tazio Nuvolari's tortoise crest or hand painted two inch tall effigies of Alfred Neubauer, Enzo Ferrari and Colin Chapman of remarkable detail.
Once you've dodged the Caribinieri, one-way traffic systems and psychotic moped riders, breathed in the Monza atmosphere and wandered through the woods to take in every charismatic corner, there's no better place to find a little something to take home.