Features - News Feature
JANUARY 12, 2001
Jaguar Racing: the youth will out
BY NICK GARTON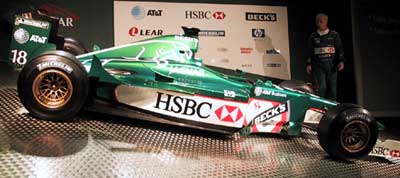 © Inside F1, Inc.
By far the most impressive thing about Jaguar Racing's launch was not the shiny new Jaguar R2. Nor was it that memories of last year's epic Cecil B. de Mille-style launch were banished by its no nonsense presentation. It was instead the air of anticipation generated by a quartet of young hooligans who will be driving most of the British Racing Green cars in 2001. After the glamour of the big F1 launch wore off a little, each reverted to type and looked at their cars anew - itching to get to a race circuit and beat the living daylights out of them.
For Eddie Irvine it might have come as a bit of a shock because, of the all the helmeted heroes on parade at Jaguar's Whitley facility, he was the one looking like an elder statesman. More ÔUncle Eddie' than the last of the international playboys!
Joining Irvine in the front line of Formula 1 this season is, of course, Luciano Burti - for whom the opening round of this year's world championship comes just days after his 26th birthday.
Burti's world is a happy place to be right now. He's going to Melbourne with a team he has been a part of since his first Stewart-Ford test in 1998, who nurtured him through F3 in 1999 and gave him not only a full-time test job but also a Grand Prix debut in 2000. With an adopted family around him and no first-night nerves left to conquer he can't wait to get to Melbourne, buckle up and go for it.
"I probably have a unique opportunity," the Paulista said eyeing his new toy. "The team and I have done a lot of work on developing the R2 through testing. It meant being pretty self-sufficient in the car and trusting my own abilities but they had faith in me to do a good job then, and they do now. We all know what each other's strengths are and now I get to go racing really confident and really at home."
Instead of Burti it will be Tomas Scheckter stepping into the cockpit at numerous deserted circuits this year, EFDA Euroseries champion and British Formula 3 front-runner with Stewart Racing in the last two seasons. Given the recent penchant for hiring young-guns you half expect him to feel a bit over-qualified for the job, but it's a very pragmatic 20-year old who looks forward to pounding round his lonely beat.
"A driver can learn enormously from an opportunity like this and I intend to enjoy every minute," said Scheckter. "I like the car but the speed on the track is matched by the speed of the team in their efficiency and understanding. It's really blowing me away right now - you drive a few laps, tell them something and Ôboom' they've checked the computers, made a tweak and it's better."
Jaguar Racing was saturated with quiet ambition from stem to stern on launch day, with respectability rather than race wins the stated objective. Of course no racing driver worth his salt has such priorities, and Scheckter was openly savoring his new position of Formula 1 tester - with a clear hunger for more.
"I just want to go faster and faster. I'm a racing driver, it's natural. Test driving will be a great experience just like today, where I've had to stand and speak in front of the world's media - but I'm not a spokesman. I race, and I race well - off the line, overtakingÉ I love it and I've got to hold on to that and still do a good job for the team in developing the cars and developing myself. But if Luciano or Eddie get an upset stomach and I get thrown in at the deep end that'll be fine by me!"
To Jaguar Racing's great credit its Formula 3 team, the re-branded Stewart equipe, was given equal billing on it's big day. The stairway to the stars was as plain as day, and as Scheckter followed Burti from F3 to F1, so James Courtney and AndrŽ Lotterer are now enjoying their big break into the Jaguar Racing fold.
Courtney in particular was so enthusiastic you thought he might just go for a blast round the car park. "Would you just look at that car!" the reigning British Formula Ford champion exclaimed at regular intervals. Odd, when you consider that Anthony Davidson - who finished third behind Courtney in Formula Ford - is a Formula 1 test driver.
"I really don't understand what the Davidson deal's all about," Courtney grinned. "For me this is the best possible position. Look at Luciano and Tomas, they came from here. When I was in Formula Ford this drive was my goal. Everyone's committed to what's best for you and the team's won six championships in the last few years. Now it's wholly backed by Jaguar it's on another level entirely. I want to win races but obviously a 26-round series is all about consistency too. And if it goes well, who knows?"
One person who knows is, of course, Bobby Rahal. After the shuffling feet and apologetic descriptions of Jaguar's first year in Formula 1, combined with the utterly unknown quantity that is the new R2, the Jaguar Racing boss had plenty to smile about in the shape of his bright young things. Whatever else 2001 brings him, he's ensured that Jaguar has always got something to look forward to.