Features - Exclusive Interview
OCTOBER 31, 2000
Sam Michael: BMW-Williams' New Star
BY NICK GARTON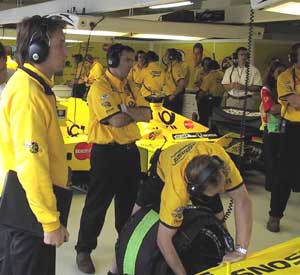 © Inside F1, Inc.
Around many of the motorhomes ranged around the F1 paddock you can always tell where the stars are, for there are herds of hangers on migrating from being near Eddie Irvine to looking as though they're David Coulthard's relatives to straightening their mini dresses and Gucci jeans beside Giancarlo Fisichella. It's like watching antelope on a Sunday evening TV documentary, but I'm watching this happen from the Jordan motorhome, where I'm alone. Their drivers are safely locked in with their sponsors' guests so all is calm, and as the herd shifts once more I get to speak to one of F1's hottest properties without interruption. A man who will, at the end of this season, become a key ingredient in BMW-Williams' surge towards great things in 2001...
As the senior race engineer, 29-year-old Australian Sam Michael has spent the past two seasons first in the queue of people at Jordan about whom Heinz-Harald Frentzen is referring to when he says 'we'. 'We put in some good work on the set up', doesn't necessarily mean that they harbor either delusions of grandeur or schizophrenia, it's a mark of gratitude to their race engineers.
This means that, at the top of their game, the engineers are arguably as valuable as Schumacher or Hakkinen themselves, but while the drivers get the glory and the telephone number salaries, they also get the brightly festooned antelope loitering outside. I don't think that Michael would swap places with them for a second, for he exudes nothing but a single-minded determination to beat the other guys hands-down.
You can tell this because he only really ignites when talking about the race weekend. That he walked out of university into F1 is but a dusty old fact to him: 'I studied mechanical engineering at the University of New South Wales, and during my last two years in 1992 and 93 I was also working in Formula Brabham, just race mechanics and data acquisition. Then I was introduced to Team Lotus and I went to work on their research and development doing race and test data acquisition.'
"I've been here nearly seven years now and it was really time for a change. Jordan and I have got a lot from each other in that time, I think, we don't owe each other anything."
SAM MICHAEL
The then-Lotus boss Peter Collins took a flier and brought a 22-year-old graduate straight into the heart of his team, which in itself says more for his raw talent than Michael's prepared to - to him it's as natural as his shoe size: 'I never had the feeling that my age should count for or against me at all. You always feel, particularly in the race engineer's role, that you have a lot to learn anyway because there's always something new going on.'
Although Lotus closed its doors at the end of 1994, the talents of its young design recruit were immediately obvious to Gary Anderson, then chief designer at Jordan, who took him on board to help the then still small but sparky team construct a proper research and development department as the team sought to turn its bright beginnings into a championship-winning organization.
Michael put his energies and experience of design to work through data acquisition for the next two years before getting to put theory into practice in 1997 with the test team. This led finally to his current position as race engineer, initially for Ralf Schumacher in 1998 and since then with Frentzen. If ever there was a man who has found his place in the world it's clearly Michael.
'Becoming a race engineer was something I was always aiming for because at the end of the day that's why we're here. There are two types of people in the team: those at the factory and those who go racing. One is a very stable atmosphere where you are working things out in the medium and long term and the other is simply fire fighting. In the race team we're trying to keep ahead of everyone else in the racing environment, pushing for short term gains. There's no detriment to the contribution of either the factory or the race teams, we just work the separate ends of the same project.'
Although his relish for the fire and brimstone of race weekends is clear, Michael retains tremendous awareness of the backstage battle that goes in to designing and developing a good race car. This is perhaps more important in 2000 than ever before as the Jordan EJ10 had clearly dropped a lot of ground on its rivals that they made up so spectacularly in '99 when Frentzen (and Michael) won in France and Italy.
'I think my experience can help,' he admits, 'because you appreciate the entire process. You can't design and manufacture a component and then bolt it on the car and expect it to be perfect, and having been the one drawing the parts you know not to just try it and chuck it away if it doesn't work straight away. You can help the communication process quite a lot.'
Despite this balance Michael's passion remains the gameplay of Grand Prix racing, of trying to outsmart everyone else in the pit lane. 'At Jordan that's the race engineer's job to which the technical director or the designer might contribute but the people in the front line are those who race all the time. Fifty percent of my job is to watch other people and you can't ever be ashamed to take ideas from someone else. If you spot something that works you put it on your car straight away.'
For Jordan then it must be a bitter pill to see their man moving across to Williams, with whom they're jostling in the wake of McLaren and Ferrari in a race to overcome the top two. Michael is obviously more aware of this than anyone, and has answered any doubts in his own mind. 'I've been here nearly seven years now and it was really time for a change. Jordan and I have got a lot from each other in that time, I think, we don't owe each other anything and the team's secure in its future. They have a good engine coming from Honda, the budget's fine and I've got no false ideas that anyone's unreplaceable. I don't think that they've got any problems at all.'
In fact the rumor mill suggests that if there is any friction it rests, perhaps, at Williams. They have race engineers of their own, and there's a suggestion that Ralf Schumacher might have personally offered to help bring the transfer off - but Michael's got no truck with such talk.
'I've got a good relationship with Ralf but I'd never go into a team because of a driver - as designers and engineers tend to stay with teams considerably longer - not that I think that Ralf's got any plans! He's a good guy and a good friend but I'm looking forward to making my contribution at Williams. They're a strong team with strong leadership and the philosophy they have is extremely positive. The design structure is clearly good and at the same time the race team, with Craig Wilson and Tim Pressman both very good race engineers and I would never want to infringe on any of their relationships at all. All I'm going to do is work with those guys.'
You can certainly see why Sam Michael appealed to Frank Williams and Patrick Head at the top of the Williams organization for he, like them, puts racing before all. Suitably unencumbered and plainly not the prima donna type - no matter how high his stock - it looks like the start of a rather special relationship.