Features - Exclusive Interview
JULY 14, 2001
Patrick Long: The Natural
BY NICK GARTON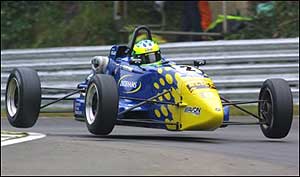 For almost every great Grand Prix driver in recent decades the initial steps to the top have been the same, whether you are Ayrton Senna, Michael Schumacher or Kimi Raikkonen: karting followed by Formula Ford.
As a barometer of the talent that resides within the thousands of hopeful teenagers who step into their nomex suits and strap on a helmet, these are the invaluable tools of the trade to Formula 1's talent scouts. Not only that, but from the desire to find a talent that can match those of Michael Schumacher, the ladder between the frenetic cut and thrust of these foundations to a career and the big time of Formula 1 has begun to lose a few steps.
Rather than opt for a talent that has been proven and, in most cases, proven to be somewhat adrift of the kind required to win a world championship, the Formula 1 teams are looking further back down the food chain. The aim is simple: find a special talent, nurture it and bring, as swiftly as possible, to their Grand Prix campaign. At best he will bring vigor and that natural gift to transform the team's future... or at least sell them on to a wealthier team.
Jenson Button was a multiple title winner in karting from childhood, jumped in to Formula Ford and won again. Even a comparatively patchy season in Formula 3 couldn't stop that momentum and the rise of Raikkonen in Button's vapor trail has energized the junior formulae like never before.
More and more young stars are being spotted and given their chance in testing roles, career development and of course race seats. Emerging markets for Formula 1 like Malaysia and India are producing Grand Prix standard drivers to further endear the sport to the population
This kind of search for a star is imperative for all the nations involved with Formula 1, but for nowhere is it more important than for America, the most crucial market that Formula 1's sponsors and manufacturers have to penetrate for those all-important showroom sales. In this nation as like no other, finding a hero of its own is an imperative if there is to be a chance of really putting Formula 1 on the map.
Patrick Long, Brands Hatch 2001
© The Cahier Archive
Enter 19-year-old Californian Patrick Long, who left the somewhat insular nature of America's domestic racing scene (after winning six national karting titles), and went to live in Italy, becoming the first American to win major karting honors for over two decades.
No sooner than he was 17, Long began racing cars both in Europe and the USA, his dual continental program netting nine wins and 17 podium finishes in the Elf Formula Campus and Skip Barber Formula Dodge categories, and led him to chase British Formula Ford honors, once claimed by Messers Mansell, Senna, Irvine, Coulthard and Button.
After a learning season with the privateer Alain Menu Motorsport outfit in 2000, Long joined the works Van Diemen team for the category's Winter Series last year and almost immediately picked up his winning ways. So impressed was Van Diemen that for 2001 he netted the drive full time, and now Long stands just 19 points behind championship leader, Sweden's Robert Dahlgren, who was a works Van Diemen man himself last year.
"It's a long, hard season with plenty of life left in it," said Long, who took victory in the championship's most recent outing on the Brands Hatch Grand Prix circuit.
"I'm definitely in with a good chance, the car is the class of the field - although unfortunately Dahlgren and my own team mate Richard Goransson both have that same advantage! But I'm really enjoying my driving right now and have good momentum so while it's a big ask to get ahead of rivals like those two I'm in a good position and working well with the team."
Long's bright future may well include Jaguar Racing, with whom Long will test for the big cat's junior Formula 3 squad before the end of the year. Potentially he could be following in the wheeltracks of his Australian team mate housemate James Courtney - reigning Formula Ford champion and current British Formula 3 title contender for Jaguar, who will test the Formula 1 car at Monza next week.
"I've spoken with Bobby Rahal quite a lot and been to Jaguar a few times with James, they're a really fun group of people," said Long. "Having been founded from the Paul Stewart Racing team they know what it takes to win, so that means that they are at ease with the competition, they take everything in their stride. Right now I have a pretty big job on my hands to try and win the Formula Ford championship and hopefully have a good run in the Formula Ford Festival, but after that it would be great to think that there was a chance of joining Jaguar."