Features - News Feature
JULY 26, 2002
The stars of tomorrow
BY NICK LONGHI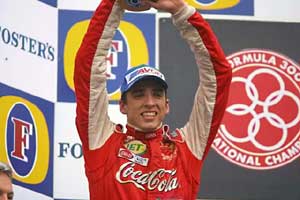 © The Cahier Archive
Guessing who will be the stars of the future in Formula 1 is not an easy business, particularly in an age when Formula Renault drivers can leap straight in the top echelon. However there are a number of drivers who are making a good impression in the junior formulae and could become big names in the sport in the years ahead.
The obvious breeding ground for stars of the future is in Formula 3000 although in previous years a number of top runners have had problems moving up, such as last year's champion Justin Wilson who did not find a single-seater drive this year. This year's crop of young talents include the Czech driver Tomas Enge, who has already had a taste of F1 in the latter days of Prost Grand Prix but went back to F3000 to build a stronger reputation. His major rivals this year are France's Sebastien Bourdais, who recently tested an Arrows, and Italy's Giorgio Pantano, who has in the past tested for Benetton (before it became Renault). Also worthy of mention are Antonio Pizzonia who has had a quiet year with the Petrobras Junior Team but who is a Williams test driver and has in the past also tested for Benetton. There are also the twin Sperafico Brothers: Rodrigo and Ricardo who have both made a good impression in F3000 in the last two seasons. There is however a limit to the number of Brazilians who can find their way into F1 at the moment, particularly as the number of F1 drives available has reduced in recent seasons. This cannot drop much further before teams have to start running third cars. The other man who has done an impressive job to date is Australia's Rob Nguyen who came into F3000 this year with only nine races in his life (including karts) and has already scored points this year against men who have been racing for 10 years or more. Nguyen needs a couple of years to learn more about race craft and to gain more experience of how cars work but there is clearly a major talent there.
Australia has another couple of men who need to be watched as James Courtney is leading the British Formula 3 Championship, driving for Champions Carlin Motorsport (and is also working as a test driver for Jaguar Racing). There is also Ryan Briscoe, who tried his hand at Formula 3000 earlier this year and did not go very well and has since dropped back to German F3 to build up his experience a bit more. Briscoe is contracted to Toyota Motorsport and tests the F1 car for the Japanese manufacturer. Toyota has deals with several young drivers including France's Stephane Sarrazin, who has raced once in F1 (for Minardi) but has otherwise been frustrated because of lack of money. There is also Franck Pereira who is currently racing in Formula Renault, funded by Toyota.
Toyota is also known to be very keen on signing up Brazil's Cristiano da Matta to be in its F1 team. Da Matta is currently dominating the CART series in the United States, driving for the Newman Haas Racing organization.
There is a move underway at the moment to promote young American drivers with Red Bull, in particular, keen to see an American racing in F1. Later this year the company will announce four young drivers to race in Europe. It is not yet clear who these will be but it is likely that one will be Pat Long and another could be the lady racer Danika Patrick. Both have already tired their hands in European racing.
Red Bull is putting a lot of effort into promoting young drivers with Austria's Patrick Freisacher and Brazil's Ricardo Mauricio in Formula 3000 and a major effort in German F3 with Germany's Bernd Auinger and Italy's Vitantonio Liuzzi. There are also a string of drivers in Formula BMW.
The German F3 series has produced a number of F1 drivers in recent seasons and the competition there is intense this year with Britain's Gary Paffett battling for the title with Frank Diefenbacher, both men have links with Mercedes-Benz, Paffett having been testing for McLaren for some time.
Mercedes (and McLaren) are also looking after the efforts of Britain's Lewis Hamilton, who is doing well in British Formula Renault. Another man who is well-connected is Hamilton's former team mate in karting Nico Rosberg, the son of 1982 World Champion Keke Rosberg. He is currently leading the Formula BMW series in Germany.
Renault is putting money into a series of youngsters including Fortec Racing's duo in the British F3 series - Brazil's Fabio Carbone and Finland's Heikki Kovalainen. There is also backing from Poland's Robert Kubica and a number of karters.
The problem with France at the moment is that there is not much money available for youngsters because of the anti-tobacco and alcohol laws. There is likely to be pressure on Renault to change particularly if Olivier Panis drops out of F1, which will happen in the course of the next three or four years. There remain a number of useful Frenchmen looking for work, notably former French F3 Champion Jonathan Cochet.
British drivers also struggle to find the backing needed to get into F1 and several have gone off to America as a result. For the last couple of years Anthony Davidson has been testing for BAR but it now seems likely that he will pursue his career in the United States where Daniel Wheldon, a contemporary of Jenson Button, is also exiled. Robbie Kerr is making a good impression in F3 at the moment but once again backing may be an issue in the future.
Among the others who are knocking around the fringes of F1 are Jaguar Racing test driver Andre Lotterer, but it is not clear where his future lies at the moment.
Working out who will make it through into the top seats in F1 in the future is difficult to judge but we are sure than some of the drivers mentioned above will be in F1 in the years ahead...