Features - News Feature
MAY 14, 2002
A history of team orders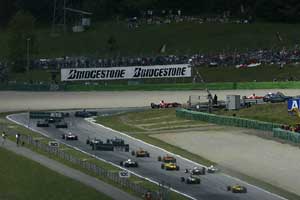 © The Cahier Archive
Team orders have existed in motor racing as long as there have been teams involved. Originally they were based on the very simple principle that he who pays the piper calls the tune. The men who owned the cars were rich. Sometimes they loaned out cars to others but they did not want to be beaten and so the men in the other cars accepted that they would give way if the boss wanted to come through.
In the 1930s the Mercedes-Benz Grand Prix team was riddled with problems because of team orders. Luigi Fagioli was so frustrated by having to finish behind Rudi Caracciola that he moved to AutoUnion and at a later race clashed with Caracciola and was so irate that he threw a wheel hammer at his old rival in the pits. Caracciola and Manfred Von Brauchitsch were also allowed to beat Hermann Lang and Dick Seaman although the latter two drivers were quicker.
After World War II the Alfa Romeo factory team was famous for its team orders with Achille Varzi, Dr. Nino Farina and Count Felice Trossi being allowed to win despite the fact that Jean-Pierre Wimille was much faster. This went on for two years before Wimille became team leader and was virtually unbeatable.
In the 1950s Peter Collins famously allowed Juan Manuel Fangio to win the 1956 World Championship, telling Enzo Ferrari later that "I never thought that a 25-year-old guy like me could take on such a big responsibility. I have lots of time ahead of me. Fangio should stay World Champion for another year. He deserves it."
Collins never did win the title, he died two years later at the Nurburgring.
In 1961 there were team orders at Ferrari again at the French GP where Wolfgang Von Trips was ordered into the lead ahead of Ritchie Ginther and Giancarlo Baghetti but the plans went wrong and both Von Trips and Ginther retired and Baghetti became the first and only man to win his first World Championship event.
In 1967 Ford used team orders (decided by the toss of a coin) at the US Grand Prix at Watkins Glen. With the Ford hierarchy having journeyed from Detroit en masse nothing could be left to chance and Graham Hill was favored over Jim Clark but in the race Hill was in trouble to such an extent that it would have been outrageous for Clark to slow enough and so he won the race with Hill second.
In the 1970s Ronnie Peterson sat behind Mario Andretti in several races but accepted the position because he said Andretti had developed the Lotus and because he had signed a contract to be the number two driver. Gilles Villeneuve had a similar deal in 1979 with Ferrari, which allowed Jody Scheckter to win the title.
Such arrangements began to break down in the 1980s when Carlos Reutemann ignored team orders in Brazil and beat Williams World Champion Alan Jones. The team was split and Nelson Piquet pipped them both to the World Championship in the final race at Las Vegas. Thereafter Williams decided not to use team orders unless it was absolutely essential. In 1985 this resulted in Piquet and Nigel Mansell taking points from one another, which allowed Alain Prost to sneak ahead and win the title for McLaren. It was real sport but it hurt Williams.
In 1982 there was the famous case at Imola when Didier Pironi ignored team orders and beat Gilles Villeneuve. This upset the Canadian so much that he wanted to beat Pironi so much in qualifying at the next race that he took a risk and was killed. That same year Rene Arnoux won the French GP despite team orders that it should go to Prost and that resulted in Arnoux leaving the team at the end of the year.
McLaren had no team orders in 1989 when team mates Ayrton Senna and Alain Prost collided at Suzuka while fighting over the World Championship but that same year Jean Todt hit the headlines on the Paris-Dakar when he tossed a coin to dictate that victory on the rally should go to Ari Vatanen rather than Jacky Ickx. He did it with six days of the rally still to go after Vatanen rolled while fighting to be quicker than Ickx.
In 1991 at Suzuka Gerhard Berger sacrificed his race to help Ayrton Senna win the title. Gerhard forced the pace early on, ruining his tires but snaring Nigel Mansell into giving chase. Mansell went off. Senna won the title but at the finish he pulled over and let Berger win the race. A year later Nigel Mansell pulled over at the end of the Japanese GP and let Riccardo Patrese win to say thanks for all the hard work he had done.
At Monza in 1994 Williams used team orders to help Damon Hill's championship challenge, with David Coulthard moving out of the way for him and in Australia in 1996 Williams again imposed team orders with Jacques Villeneuve moving over to help Hill to win the race.
At the start of 1998 there was a furor in Melbourne when David Coulthard moved over to led Mika Hakkinen win. This caused the FIA to point out that "any act prejudicial to the interests of any competition" should in future be penalized severely. Later that year there was a clarification which said that there had been "considerable misunderstanding" about team orders and that they were not prohibited.
The World Council ruled that "it is perfectly legitimate for a team to decide that one of its drivers is its Championship contender and that the other will support him. What is not acceptable, in the World Council's view, is any arrangement which interferes with a race and cannot be justified by the relevant team's interest in the championship."
In February 1999 Max Mosley told pressmen that "I think it's one thing where you do something with your team in the interest of the championship, but not where you just say: "Well, they're going to take it in turns", or it appears in some way to be arranged. You must not, in our view, fix races."
Later that year Ferrari used team orders several times to try to help Eddie Irvine win the World Championship: Mika Salo handed Irvine victory in Germany and Michael Schumacher helped Irvine to win in Malaysia.
Since then there have been a couple of occasions when Barrichello has helped Schumacher but not one which resulted in handing over a victory.
It is fair to say that attitudes towards team orders have changed over the years (particularly with the rise of gambling associated with F1) and it will be interesting to see how the rules now develop after Austria...