Features -
JULY 17, 2000
Yahoo!
BY JOE SAWARD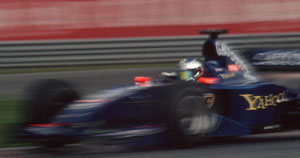 © The Cahier Archive
Prost Grand Prix sponsor Yahoo! is one of the top Internet companies in the world. It has been in operation since 1994 when Jerry Yang, a Taiwanese who had been raised in San Jose, California and David Filo, a fellow graduate of Stanford University, began to compile the Yahoo! Internet navigational guide. In April 1995 this became Yahoo! Inc. and the pair were joined by Timothy Brady, a Motorola executive, who took over the marketing, operations and business development activities. The same year Yahoo! took on another Motorola executive Tim Koogle to be chairman and chief executive.
Expanding rapidly from its original search engine role, Yahoo! became one of the first Internet companies to be floated when it launched a $33m initial public offering in 1996. While the company expanded its service dramatically it concentrated on building alliances rather than buying or creating services. The company concentrated on building an audience and making itself user-friendly. This enabled it to build up a strong revenue from advertising. It was not until 1997 that Yahoo went into electronic retailing. The approach was unusual as rather than running the entire business as its rival decided to do, Yahoo's philosophy was to charge retailers a fee for each transaction generated by the website. This proved to be very effective and Yahoo has margins which are four times greater than its rivals, which have to pay for staff and warehousing. The company has enjoyed considerable success in recent months with online auctions and online banking. The company had an annual revenue in 1999 of $588m. A significant percentage of this has been invested in sponsorships to continue Yahoo's growth around the world. The company has also expanded by buying rivals such as GeoCities.
The company is now visited by nearly 50m users every month but is still lagging behind market leader AOL. Both companies are moving into broadcasting and while AOL has bought Time Warner, Yahoo is creating its own programming from facilities in Dallas, Texas having acquired Broadcast.com.
Thanks to its high-profile policy Yahoo is one of the Internet's most recognized brands.