Features - News Feature
JANUARY 26, 2002
Willy Rampf: the unknown technical director
BY JOE SAWARD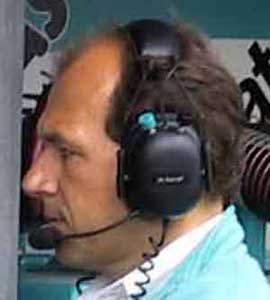 © Inside F1, Inc.
Willy Rampf does not go around making a lot of noise. Unlike some technical directors he can walk into the paddock without having to have an oompah band walking ahead of him. He believes that results speak for themselves.
Rampf is odd in that unlike most of his rivals he does not come from one of the established F1 "design schools". In much the same way as great painters had schools of pupils so great technical directors have created their own schools of thought in recent years. There are Patrick Head men; there are John Barnard men and there are Harvey Postlethwaite men. And then there is Rampf.
Rampf is a BMW man deep down. He studied mechanical engineering in Munich and immediately joined BMW to work as a development engineer. That immediately gives the impression that he is a bright spark for there is huge competition for new graduates to get the plum jobs in car companies. Rampf specialized in vehicle dynamics and suspension development for 10 years before he was posted to work for BMW South Africa in 1989. He stayed there for four years before returning to the fold in Munich. It was only then - when Rampf was over 40 - that he received a call from Sauber chief designer Leo Ress, who had been a BMW designer before he joined the Swiss team in 1985. Ress needed a really good German-speaking engineer to work with Heinz-Harald Frentzen. Rampf liked the idea and for three years he stayed at Sauber but then he went back to Munich to work on the BMW motorcycle research team and on a prototype motorcycle which was under development for use on the Paris-Dakar Rally.
Sauber bided his its time and at the end of 1999 Ress went back to Rampf to ask him again. This time the job on offer was to be the team's chief race engineer with the job of overseeing Mika Salo and Pedro Diniz in 2000. Soon afterwards Peter Sauber was forced by poor results to push Ress aside. As a replacement he chose Rampf and it was the German who led the design team of the successful 2001 Sauber C20. Others have claimed that they were the people responsible for the success but the fact remains that Ress was the man who pulled the team together. Now, a little more confident and more motivated than ever, Rampf's team has produced the all-new C21. This is the sign of a team which has confidence in its own abilities and is not afraid to build a new car rather than developing a proven product. The team spirit is good and Rampf says he is flattered that thee bigger teams like McLaren and Williams are copying some of the concepts which were introduced on the Sauber C20.
Rampf also has his eyes on the long-term future. The team's windtunnel program is hugely ambitious and once completed (and paid for) will be the most advanced such facility in Grand Prix racing. Better than the aerodynamic facilities at McLaren, Williams and Ferrari. This will no doubt lead to offers from rival teams for his services but for the time being Rampf is happy at Hinwil.
And the signs are that this year's Sauber is going to add to his reputation as a rising star.