Features - News Feature
DECEMBER 5, 2000
Wanted: Americans in Formula 1
BY JOE SAWARD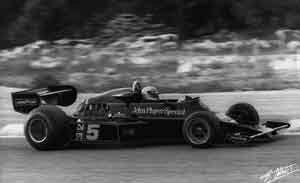 © The Cahier Archive
The United States Grand Prix at Indianapolis relaunched Formula 1 in America in the best possible way. But everyone knows that for Grand Prix racing to become a lasting success in the US market there will need to be either an American driver or a US team. There are a number of young American drivers trying to make their names in Europe. This is a good sign.
The arrival of Bobby Rahal as the team boss of Jaguar Racing is also important because although the Ford Motor Company has chosen to promote its "very British" Jaguar brand rather than playing up its American roots. Whatever the case Rahal on the pitwall will be a focus for US fans.
General Motors has also been taking a very quiet look at what it takes to make it in F1.
And while the big players stay out of the sport this creates opportunities for others in the US racing fraternity.
As long ago as the summer of 1999 there were signs of American interest in buying Minardi. This involved the well-connected Detroit automotive public relations man Rod Campbell and Minnesota multi-millionaire Tony Johnson. A former automotive industry executive, Johnson established Hidden Creek Investments in 1989 with the intention of becoming a leading player in the consolidation of the world's automotive component industry. Hidden Creek controls three major component companies: Tower Automotive, Dura Automotive and Heavy Duty Holdings.
At the same time there have long been suggestions that US racing magnate Roger Penske has been considering a bid to re-enter Formula 1 to support the expansion of his business empire. Penske was named recently by Toyota as its new main dealer in Frankfurt, Germany. It is not Penske's first foreign expansion as he already owns a trucking company in South America but it is a major new step. The Penske Corporation is a major player in the US automotive sector thanks to its network of car dealerships (Penske is a major Honda, Toyota and Cadillac dealer), its chain of over 800 Penske Auto Centers across the US, its vast Penske Truck Leasing business and its control of Detroit Diesel. Penske is, of course, a major player in CART and NASCAR racing and until last was the owner of several major US racing circuits.
After a series of poor years in CART Penske switched to Reynard-Honda cars leaving his own Penske Cars factory in Poole, Dorset, producing components for F1 teams. In the course of 1999 there were rumors in Europe that Penske was somehow involved in a convoluted deal to purchase Minardi in league with Toyota. At the time it seemed like a ludicrous story but the rumors were strong enough to warrant a denial from Minardi. This year Penske won the CART title and we hear that he has acquired a number of options on Reynard facilities and machinery, some of them in England. Moving into Formula 1 would be a logical step for Penske if he chooses to make it and to some extent at least Grand Prix racing is unfinished business to him. He raced in F1 in the 1960s and between 1974 and 1976 he ran his won team, winning one race. But then he decided to concentrate on building up his business empire in the US. He has done that. The Penske Corporation has now outgrown the United States and there must be some potential for an ambitious man like Penske to try again in F1. he is not going to do it if the deals are not the right ones but one can imagine Penske being first choice for a big company like General Motors. At 62 Penske may be getting a little old to fulfil such an ambition but if the right opportunities present themselves it is hard to imagine he will turn down the chance to have another go.
Dan Gurney is another American to have run a Formula 1 team, back in the 1960s. His Eagle-Weslake team was a Grand Prix winner but he too retreated to the US where his Indycars were regular winners in the 1970s. In recent years Gurney spearheaded Toyota's CART program but that relationship has now ended and Gurney has had to content himself with Formula Atlantic. With the right backing the name Gurney could attract a lot of interest in F1 circles.
Formula 1 these days is all about branding and there is little doubt that the best US racing brand is Andretti. The second generation Andrettis are all coming to the end of their active racing careers and one wonders how long it will be before the name is attached to a topline open-wheeler team. Michael Andretti is a racer and has not forgotten the pain he suffered when he tried to break into F1 as a driver. The results did not really do him justice and one can imagine that his best form of revenge would be to win as a team owner.
There may be a lot of speculation in all this but it is hard to imagine that in the medium term one of the above is not going to have a go. Minardi is still for sale and Bernie Ecclestone was in New York last week trying to sell the little Italian team to an investment bank. Ecclestone recognizes the need for American interest in F1 and will support anyone who has a try.
And when you are trying to make it in F1, having Mr. E as a friend is a very good idea...