Features - News Feature
FEBRUARY 15, 2002
The Schlumpf Collection
BY JOE SAWARD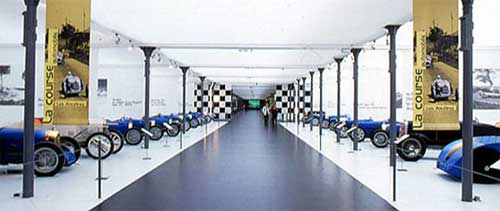 They call it "The Louvre of the Automobile" and although the Schlumpf Collection at Mulhouse is in French territory, it is just a few miles from German border and within 20 miles of Switzerland as well. This is Bugatti country and the Schlumpf Collection is reckoned to have collection of Bugattis in the world - including two Type 41 Royales (each one worth around $10m). The Schlumpf Brothers, Hans and Fritz, were born in Italy like Ettore Bugatti but their mother was from Mulhouse and when she was widowed early they grew up in the city and built up a hugely-successful textile business. Fritz was the car collector and from 1964 he housed his secret collection in an old mill in the center of Mulhouse and employed a small staff to refurbish the machines he acquired.
The textile business ran into trouble in 1976 and the Schlumpf Brothers sought refuge in Switzerland. The workers at the company took over the business and were amazed to discover 400 classic cars. In order to avoid the collection being broken up to pay debts the French government named the collection an historic monument in 1978 and it was sold to a group called the Association du MusŽe National de l'Automobile in 1981. The museum opened to the public in 1982
The 150,000 sq ft. facility is the biggest car collection in Europe with the ranks having now swelled to 462 machines, from 102 different manufacturers, including 30 completely unique cars and more than a mile of exhibition halls.
The collection is divided into three sections: the history of the automobile; motor racing and automotive masterpieces. The history section is the largest with 200 cars dating from the earliest machinery in 1895 to the 1970s. All the great names are featured.
The motor racing section starts with an early Panhard and goes right through to modern F1 racing. There is a selection of Le Mans-winning sportscars and even rally and rally raid machinery.
The automotive masterpieces include a number of Bugattis, including the two Royales and rare versions of the Type 57. There are also more obscure devices such as the Voisin C28. And it is not just French cars as the museum also boasts classic cars from various European car manufacturers.
The museum is open all year round and the entry fee is very reasonable and includes an individual audioguide for each visitor (six languages are available).
There are also activities such as pedal karts for children, the opportunity to be photographed at the wheel of a classic Grand Prix car or to discover what it feels like to roll a car. The museum naturally boats a shop and, being in France, a decent restaurant as well.