Features - News Feature
OCTOBER 11, 2001
The nearly man
BY JOE SAWARD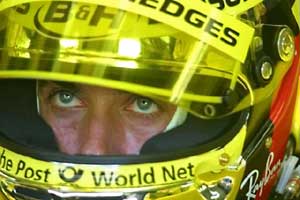 © The Cahier Archive
So Jean Alesi is retiring after a career stretching back 12 years, 200 Grands Prix and only one victory. At 37 the Frenchman from Sicilian parentage has this year been the senior citizen of Grand Prix racing and he has lost none of his pace.
Alesi first shot to prominence in Formula 3 in 1985 and 1986, running his own Dallara. He was then picked by the dominant ORECA team and won the 1987 French F3 title. The momentum took him to Formula 3000 in 1988 but ORECA was not the team to be with and his career stumbled until Eddie Jordan came to his rescue in 1989 and swept to the European Formula 3000 title. From the middle of 1989 he was racing in F1 as well - replacing Michele Alboreto at Tyrrell. He finished fourth on his Grand Prix debut and the following year in Phoenix he battled head-to-head with Ayrton Senna for the lead of the race. A star was born. Alesi signed a contract with Williams early that year but halfway through the season he signed with Ferrari as well - his dream having always been to drive for the famous Italian team as his hero Gilles Villeneuve had done. His heart ruled his head and he became Alain Prost's teammate at Maranello in 1991. Williams was paid off by Ferrari, being given a Ferrari 641 chassis in settlement for Jean's contract.
From then on Jean's career became one of talent unfulfilled. After four unhappy seasons with Ferrari he went to Benetton for two seasons and then to Sauber. He then signed a two-year deal to race with his old pal Alain Prost but that relationship ran out of steam earlier this year and Eddie Jordan picked up Jean to give the team a lift. And he did.
Some engineers talk of Jean as a man like Rene Arnoux, who had enormous natural pace and driving ability but was not very good at setting up cars. When Arnoux was driving for Renault alongside Jean-Pierre Jabouille he was very quick and very successful, but without Jabouille he struggled because Jean-Pierre had always done the set-up of the cars.
But what Alesi lacked in technical ability was made up for by his audacious and aggressive driving style which has made him the darling of the tifosi. He did what racing drivers are supposed to do, what Villeneuve did. Although entertaining this kind of driving is often frustrating for engineers, who prefer the calm and measured style of a driver like Alain Prost.
Jean was never a politician nor a diplomat. He let his emotions lead him and there sometimes his explosive Latin temperament got him into trouble. As the years went by Jean matured considerably although in the famous words of Ferrari engineer Dr. Harvey Postlethwaite he never let the fire go out.
"Jean has matured a lot," said Postlethwaite. "Now he looks before he throws his helmet."
The tragedy - in the purest sense of the word - of Alesi is that if he had gone to Williams in 1991 he would probably have gone on to win many race victories and perhaps even would have become the World Champion as a Williams-Renault driver as several natural men with lesser talent did in the late 1990s.
The raw emotion that was Jean Alesi will be missed in Grand Prix racing.