Features - News Feature
OCTOBER 4, 2002
Denny Hulme
BY JOE SAWARD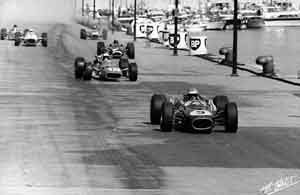 © The Cahier Archive
This week marks the 10th anniversary of the death of one of the most popular Formula 1 drivers of the modern era: Denny Hulme, the 1967 World Champion. Denny died on October 4, 1992 at Mount Panorama, Bathurst, from a heart attack while at the wheel of a BMW M3 touring car. He was just 56.
This week marks the 10th anniversary of the death of one of the most popular Formula 1 drivers of the modern era: Denny Hulme, the 1967 World Champion. Denny died on October 4, 1992 at Mount Panorama, Bathurst, from a heart attack while at the wheel of a BMW M3 touring car. He was just 56.
Denny was a pal of mine. And that was odd because we came from different generations. He was one of my heroes when I was a kid. In fact he was the only one who ever I met who did not disappoint me. I got to know in the mid-1980s when he was racing touring cars in Europe and we spent many an afternoon at tracks just chatting away about this and that. At the time I was writing a book about racing circuits all over the world and he had raced just about everywhere.
"Teretonga Park?" he would say. "It wasn't the end of the world. But you could definitely see it from there. It was a good place if you liked penguins."
And so it went on. Denny was a quote machine.
He told me stories of his father too. Clive Hulme was a national hero in New Zealand. He had won the Victoria Cross - the highest award for bravery - while serving with the New Zealand forces in the Battle of Crete in 1941. Clive was a little out of the ordinary. He was a farmer but Denny was quite sure that his father had magical powers. He was, by all accounts, a mystic, a fortune teller and a water diviner. Denny once confided that when he first took up racing his father told him not to worry about serious accidents. He was told that he would be very successful and that he would only get hurt once. Denny never did have a serious accident although in 1970 he suffered serious burns to his hands at Indianapolis and had to jump from a flaming car.
Not long ago I was in the Auckland Museum and found myself in the library where I chanced upon a book about New Zealanders who had won the Victoria Cross. I looked up Sergeant Clive Hulme of the 23 NZ Battalion of the 2nd NZ Expeditionary Force. It was an amazing story of an eight-day period in which Hulme was taking on an army of German snipers almost single-handedly. There is one line which gives you an idea.
"Numerous snipers in this area were dealt with by Sergeant Hulme personally: one hundred and thirty dead were counted here."
It went on like this for a week until Sergeant Hulme, "on his own initiative, penetrated the enemy lines and thus very materially assisted the withdrawal of the main body through Stylos. From the enemy mortar position he then worked to the left flank and killed three snipers who were causing concern to the rearguard. This made his score of enemy snipers thirty-three stalked and shot."
I once asked Denny about his Dad and he told me that the old man had believed that bullets would bend around him. In the end this did not work and Clive Hulme was shot in the shoulder.
"When ordered to the rear, in spite of his wound, he directed traffic under fire and organized stragglers of various units into section groups."
Denny was only four when all this happened but he grew up with a father who was a national hero and I guess that acted as motivation to achieve great things. He started racing at the age of 19 in an MG TF.
One day, back in the 1980s, a colleague and I were travelling along what they call The Desert Road, which runs across the middle of North Island, New Zealand. We overtook a car which was towing an old car. As we hurtled by we noticed that the car had flashed its lights at us. We wondered what was wrong but as there was nothing obvious we continued on our way until we reached the shares of Lake Taupo and stopped for a few minutes to admire the view. A few minutes later the car with the trailer drew up and out climbed Denny.
"What the **** are you doing here?" he asked. We got chatting and then he showed us the car on the trailer. It was his original MG, lovingly restored.
We talked for maybe half an hour about life and then set off on our separate ways but I have always remembered that half an hour as being one of life's nice moments. I was reminded of it the other day when I was having dinner in Paris with Bobby Rahal.
Bobby was passing through on his way back from an historic event at Le Mans and so we went out to dinner. We did the usual racing gossip and then Bobby started talking wistfully about his weekend. At one point, he said, he found himself sitting snugly in the cockpit of his Porsche 917 sportscar in the pitlane in the middle of the night waiting for the next race to begin. The Porsche 917 is a thing of legend, a sportscar from 1970 that produced such staggering horsepower that even today it is impressive. Bobby owns one.
"I was sitting there in a Porsche 917," he said, "looking up the full moon and I thought: Does it get any better than this?"
That is how I remember that meeting with Denny on the shores of Lake Taupo.
Denny's life was a happy one but there were terrible times as well. So many of his friends died along the way. I will never forget the day he told me of why he quit racing. It was in March 1974 and his friend Peter Revson and he were testing at Kyalami. Revson crashed and Denny was there trying to save him. And when there was nothing that could be done Denny went back to the hotel in his racing overalls and walked straight into the shower and watched his friend's blood being washed down the drain, like the scene from Alfred Hitchcock's movie Pyscho.
Denny fulfilled his contract with McLaren and then quit. For a while he led the Grand Prix Drivers Association's campaign for better safety standards, but bureaucracy and Denny Hulme did not mix well and eventually he retired to New Zealand where he spent his time racing and tinkering with machinery - which was his passion.
When it came to writing his obituary, 10 years ago, I wrote as follows: "They don't make racing drivers like Denny Hulme any longer - more's the pity. A great bear of a man, Denny was intensely competitive and yet, hidden behind his gruff exterior, was a gentle soul with a passion for life, a razor-sharp sense of humor and a love of racing. He had a complete inability to suffer fools and never failed to say what he thought. Success - of which he had plenty - never affected him".
Ten years on, I feel the same sentiments.