Features - Interview
JANUARY 15, 2009
The thoughts of Felipe Massa
BY JOE SAWARD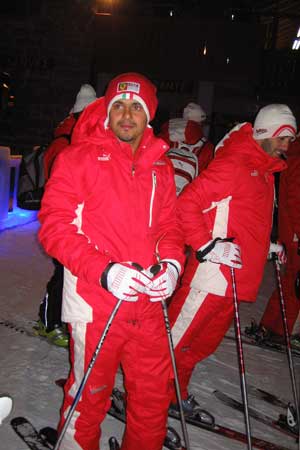 Photo: Grand Prix Photo/Peter Nygaard
Felipe Massa came so close last year to winning the Formula 1 World Championship. His victory and defeat in Brazil last year was one of the most extraordinary stories in the history of the sport, and the way Massa handled it defined him not only as a great sportsman, but also as a remarkable human being. Since then Massa has been recharging his batteries, taking some time off at home in Brazil, getting ready to try it all again and this time to win the title he so badly wants. He has many more fans now than he did before. On Monday he drove the first laps with the new Ferrari F60 at Mugello. How does he fell this season will go?
"It is a totally different car as far as the driver is concerned," Massa says. "It is very different to what we are used to. There are many different things with the aerodynamics, the slick tyres and the KERS. The cars slide a lot more. There is less aerodynamic loading and more grip from the tyres. The grip is good when the tyres are new but as they get older it is more slippery so it will be interesyting. KERS is totally new and hard to get used to. We have not worked on it much yet. We have not done many kilometres so we have not felt it 100%. We have not taken the car to the limit. There is a lot more to do. You have to get used to things like this in F1. In the past it has always been the same. You learn and you get used to things."
And who will be Felipe's rivals?
"Well, that is the most difficult question at the moment," he says. "There are so many changes. Some teams can surprise us but there may also be teams that go backwards . It's difficult and we will have to see, but we expect McLaren, BMW Sauber and Renault. I also expect Kimi to be a tough opponent. We will have to wait and see."
How about the effects of what happened in Brazil. Has Felipe changed any of his views now that he has had time to think about what happened?
"I try to reflect on the experiences I have and use them to help me in the future," he says. "That is what I do. It was a bad result but I could not have had a better race, despite very big pressure. It was a fantastic race but it was just one race. Finishing the championship at the last corner was extraordinary. We never saw that. Maybe it happened once in the past but no-one can remember that. You think at the time it is negative, but on the other hand we did a fantastic championship. We did everything we could but we did not lose the World Championship because of that race. We lost the championship because of other things. There were 18 races and we made some mistakes. We must not repeat such mistakes in the future."
So Felipe is happy and motivated for the new season.
"I am in an ideal situation in my F1 career," he says. "I feel well and strong. It will be a new World Championship. Everyone is starting from zero. Each year you learn a lot even if you do not win. And that makes you stronger mentally."
How about the KERS system? There has been much talk of Ferrari being behind in terms of development.
"KERS is more positive than we expected," he says. "Everything worked well. It was better than we expected. We will use it on every lap for more performance but we will also use it if there is a chance to pass another driver. KERS is not just for overtaking. It can also be used to drive defensively."
The decision to stop all in-season testing is significant.
"Not to test is a big change," he says. "I like working. I like to be active with the team. Perhaps this year we will be more with the team in the simulators than we have been in the past. It is a change of mentality, but it is the same for everyone. It means we work in a different way."
Will overtaking be easier with the new cars?
"I don't know," Massa says. "I have not yet run behind anyone."
And what about the other changes going on in F1? Does Massa like the shift of the sport out of Europe?
"It is right to change a bit," he says. "To go to totally different countries. It is better to have one race in a new country rather than two races in Italy. I am happy to go to new places. That is nice. But I am sad to lose the French Grand Prix. Magny-Cours is a nice track and France is a nice country I would like to go back."
What about the calls for salary caps for the drivers?
"Would you be happy if someone wanted to cut your salary?" Massa says. "Some sports have caps, some do not but there are lot of ways to save money in other areas of the sport. It is difficult to make a cap but there are still possibilities to save money in other areas. Sponsors can also make a difference. If they really want a driver and they have the money then they can make it happen."
So what are Felipe's ambitions for the year?
"I want to be World Champion," he says. "I''m hungry for that. I have always been under pressure in my career. People said I was not capable when I was at Sauber and at Ferrari. It all came out differently. I won many races. I don't need to prove anything. I want to World Champion but I don't need to prove every day that I have what it takes."