Features - Interview
APRIL 12, 2008
The force behind the Force
BY JOE SAWARD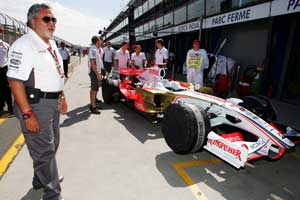 Vijay Mallya says that his mother told him that the first word he ever uttered was not "Mama" or "Papa" like the rest of us. Apparently the bouncing young baby Vijay came up with the word "car". Since his days in nappies, Mallya has been passionate about cars.
"I grew up in Calcutta," he says. "It was once the headquarters of the East India Company and had lots of British ex-pats. They used to have motor racing. They built souped-up cars and they raced them on an old airfield. I grew up in that world."
Life was not too hard for the youngster. His father Vittal, the son of an Indian army doctor, had bought shares in an old British company called United Breweries at a time when there was talk of prohibition in India. The prohibition movement had grown because of the emphasis placed on abstinence by Mahatma Gandhi, but by the mid-1960s the trend began to be reversed as Vittal believed it would be. He began buying other brewing companies and by the 1970s had created a massive enterprise. His on Vijay joined the business in the late 1970s.
"I stumbled across this label of Kingfisher Beer that had been launched in the 1850s, but was no longer in production and sale," Vijay explains. "Something excited me about Kingfisher. I saw color, I saw vibrancy, I saw movement, I saw a bit of cheekiness. I went to my father and said I wanted to relaunch the brand and I said I wanted a million rupees for it. He threw me out of the office. Finally, with a great deal of persuasion, I got a small budget."
Vijay's dream was to give the youngesters of his generation a feeling of more freedom. Life in India at the time was very controlled and Mallya saw in Kingfisher something that offered a different idea of lifestyle. He began by sponsoring music events and then moved into sports, yachting, and fashion. Vittal died in 1983 and Vijay took over the company at the age of only 27. He was regarded by the Indian media as a playboy but gradually earned respect as he transformed the UB from being a beer company into one of India's biggest brands, using Kingfisher as the flagship brand. He was selling the idea of good times and freedom.
According to Forbes Magazine in 2007, Vijay is the 664th richest person in the world and the 42nd wealthiest in India. His fortune is estimated at $1.5bn.
In the last 25 years he has grown UB into a vast, wide-ranging, multinational conglomerate. He has a booming airline, investments in sports, leisure, informationa technology, agriculture, real estate and engineering. It is a bewilderingly diverse empire. Less than a year ago he bought the scotch whisky maker Whyte & Mackay; this year his Kingfisher Airlines has gobbled up its rival Air Deccan. He owns two soccer clubs in his native Kolkata, plus the Bangalore Royal Challengers cricket team in the Indian Premier League. He has interests in horse racing and runs his own stud farm. A few years back to invested $285,000 to acquire a sword that once belonged to Tipu Sultan, the "Tiger of Mysore", which had been in British hands since 1799 after the capture of the sultan's stronghold at Seringapatam. Mallya brought it home to India.
Add to all the fact that he is a member of the Indian parliament - and the head of both of the country's motorsports federations.
Racing is his passion.
Mallya first became a Formula 1 sponsor back in 1996, when the Kingfisher name appeared on the side of the Benetton F1 cars. It would reappear in 2007 with Panasonic Toyota Racing.
Last summer, however, Mallya saw the opportunity to get hold of his own F1 team. The Spyker team was fading, buried beneath financial problems. The Mol Family from Holland, shareholders in the team, wanted a new partner and arrived on Mallya's doorstop, looking for a deal.
"I acquired the team because it was available," Mallya said. "It is not every day that a Formula 1 team is available for sale. When I looked at the team I saw that there were a lot of resources that could be used to improve performance. There is no getting away from the fact that 90% of the people were from Jordan, and that Jordan was once a very successful Grand Prix team. It was in the top five. It won races and qualified for pole positions as well. These were the same guys. What went wrong? Obviously something did but also obviously it was not something that was unfixable. We have a good manufacturing facility at Silverstone, which has produced GP-winning cars. We have the people who have been part of a Grand Prix-winning team. With the right resources and the right direction I have faith that we could return this team to its winning ways. And that is precisely what I am doing now. I have given them more money, but every penny has to be justified. If there are targets for performance improvements then they are funded, but we are not here to waste money. We are not here to have a big budget on paper and then show no performance at all. The increased spend and increased performance go hand in hand, and everyone here knows that. Clearly, Kingfisher has the prime space on the car now, but then F1 was always one of our chosen platforms, so that is not surprising at all. I took what was available for the cost it was available with the other teams, but now the cost of the sponsorship and the visibility is really a decision between the owners."
But this is also a business proposition.
"The F1 team has to stand on its own two feet," he says. "There is no question of my group of companies subsidizing the team in the true sense of the word. My group has a whole bunch of leading brands that have been built on a lifestyle platform. They all have a lifestyle personality and F1 is at the core of lifestyle. We acknowledged that F1 was a unique and suitable advertising platform for ourselves way back when we sponsored Benetton."
Part of Mallya's logic in investing in his own F1 team was that he saw the opportunity to make a huge impact in India. A few weeks after taking control of the team, he spoke at the Motorsport Business Forum in Monte Carlo and left the audience stunned as he talked about the numbers in India, highlighting the fact that by the year 2010 there will be 400m middle class people in India. The country already has an annual growth of 9% and an astonishing 114,000 dollar millionaires. And there are 500m people under the age of 25. Their aspirations are higher than those of previous generations and Mallya believes that F1 will perfectly suit this new generation and that one day Formula 1 could become as popular in India as cricket now is.
Mallya's target market for Kingfisher is rather surprising.
"It's Europe," he says. "Kingfisher is manufactured in England and sold in England and other parts of Europe. It is manufactured in New Zealand and sold in Australia and New Zealand. It is also manufactured in the United States. F1 is not very big in the US but it is more significant this year that Kingfisher Airlines will fly to London, to Singapore, to Malaysia and to various destinations where F1 is viewed and where brand equity can be promoted.
"The airline is a much bigger enterprise than the beer business, in terms of revenues," he says, "but sadly not in terms of income. With the cost of oil at $100 a barrel I am not really surprised."
Mallya's hope is that Indian companies will flock to the team in the years ahead, to reach the new generations of Indians and to promote their brands on the global stage.
"We already have other Indian sponsors," he says. "And Europeans. And there are some sponsors who want to be on the car. They are here this weekend. I am not worried about. It is probably true to say that in 2008 we will probably have to look for shareholder top-up funding, because the income and expense may not match, but going forward from 2009 onwards I am very confident that this will not just break even, but will also have a little surplus. I do not think the owners are looking at this team to make enough money to live off, but all of us have other significant businesses, so we can leverage the visibility, the wonderful advertising platform, and not lose money in the process. It is wonderful that both of us love the sport. And there is no better way to do business than to have fund doing it."
Mallya's goal is to achieve "a respectable level of performance".
"Next year gives us a whole new opportunity because everyone has to build a new car," he says. "I think we are already surprising a few people with the progress that we have made over the winter and with the lap times we are achieving. We are certainly not the back of the grid laggards any more. And I think we will improve through the year.
"I know it is very challenging, and a slow process. I know one has to be patient. I am not saying that patience is not one of my virtues, but that is the name of the game.
"As long as the team demonstrates positive and sustainable forward progress, then I am happy."