Features - Interview
JUNE 16, 2005
Danica talks F1
BY JOE SAWARD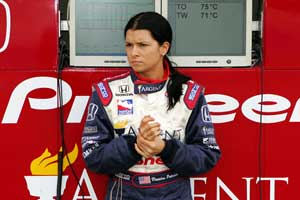 Danica Patrick is the darling of the US motorsport scene at the moment. She was the star of the Indianapolis 500 and already her name is being talked about as a possible F1 driver of the future.
Danica Patrick is the darling of the US motorsport scene at the moment. She was the star of the Indianapolis 500 and already her name is being talked about as a possible F1 driver of the future. When she arrived at Indianapolis she was followed everywhere by TV cameras and photographers but we managed to talk to her about her success and her ambitions.
The media phenomenon since the 500 has been extraordinary. It must have been a surprise?
"To a certain extent a little bit surprised," she says. "I think I am more surprised about the young kids and everything like that. The things that we have done have been good things, especially for a rookie. I have gone for pole. In two of the races we almost had pole, qualified third last time out and we've led a couple of races. Considering all that and considering the increase in ratings for the race, it is fairly justifiable. It is the story that everything is playing. It has fed off other things and has grown a lot but I guess I am little surprised."
So what about the future?
"I have to say that I am very happy where I am." she says. "I am happy driving IRL right now. I think it's a great championship with an incredible amount of talent in it and I love the States. I like being around my family and friends. I would never say no to anything. I would never say no to F1; I would never say no to NASCAR. I just wouldn't do that to myself because you have to be open to all opportunites. But everything would be weighed up but right now I am happy where I am."
Are there any Formula 1 teams that you would like to drive for?
"You would have to know you are running for a top team," Patrick says. "Just like I am running for a top team in IRL. I am only happy when things are going well and I have to look after my own happiness!"
Danica went to Europe as a teenager and it is fair to say that she did not do that because she wanted to be a star in the IRL.
"No, that is very true," she admits. "When I went to England to race and the three years I was there I was dead set on racing in Formula 1. I followed it, I knew everything about it. I was out of touch with Indycars but as time wore on I knew that there were different ways to be happy and to be successful and to get to where you wanted to be and I have to say that I am glad I am here. I love being here. I have so much fun. It's home."
And it is where she nearly won the 500.
"We almost had it," she says. "It was a close race. We were playing with fuel strategy a little bit. We almost had it. It was a very good month for myself, for the team, for the sponsors, for the series. So many things were elevated and so many people were watching. A lot of stir was made and that was beneficial for everybody."
Danica is, of course, as a girl not only being successful in top level racing but actually starting out wanting to do it. How did that begin?
"You know I played with Barbies a lot," she says. "When I started racing at 10 years old I didn't watch a lot of racing. I remember I was wathcing the Indy 500 every year on TV but I was a very normal kid. I did a lot of sports when I was younger. I did cheerleading, volleyball, basketball, band, choir, you name it, I tried it. It wasn't until a year or two into my career that I really started understanding and knowing the fact that that there was racing outside of my little go kart track near my house and so I followed more. I watched more Indycar racing. I don't think I was able to get up or stay up to watch F1 when I was a kid."
Is there a time schedule for her career?
"I have no schedule," she says. "Like I said I am very pleased where I am at. Opportunities will arise when they do and I will deal with them when they come. I really cannot say that there is a timeline on anything. When you are sucessful things take care of themselves. People want you and then you are able to make the decision that makes you the happiest."
What do you think about Ferrari?
"It is a car that I cannot buy right now," she laughs. "No, I probably could. It is one of those teams that you look at and think seriously about what you do with your life if they called. They are a very competitive team, a top team and it is one of the teams you would not doubt try their hardest and you cannot get them to call you, you cannot pay them to call you. It only happens off of merit and I think its a huge compliment as well."
What about other F1 teams?
"I think that when you get called by anyone in F1 you think twice," Danica says. "Because obviously it is F1. It is regarded as the highest level of racing with the best drivers in the world. I would definitely say I am racing against some pretty darned good drivers in Indycar and people that came from England and Europe and places like that. But you would think twice for anyone!"
So has anyone from F1 called you?
"Has anyone?" she muses. " Not me. No. Not directly, I don't think anyone has called actually. I have to say I don't know."
After the highs of Indianapolis, it was tougher in Texas. Was that tougher than the 500?
"Texas was tougher," she says. "You know when your car is not great and things are not going your way exactly, the racing is harder, the car is harder to drive, you are mentally draining out and everything else. It's easy to drive a good car, it really is. At Indianapolis I had a great car and we worked hard all month to get a great car. Texas was OK. We still qualified in the front but the race car was not great. We race two abreast, three abreast, at Texas. It is very much side by side racing all the way around. My car was oversteering at the top when I was going around the top of people and underneath on the bottom with the pack of traffic I had understeer, so it was not happy anywhere and so once I finally figured it out, which takes time because I am new and that was really only the second side by side racing I have done in my life, so considering I was a rookie I think that just figuring it out in general and staying on the lead lap and racing hard is all you can really ask in a situation like that. I came away from it with experience and that is the important thing and that is what I am going for all year. More experience, more experience, learn as much as you can, finish every lap."
For Formula 1, however, the key issue will be how Danica does on the road courses.
"We had our St Petersburg race," she says, "and that was OK. We again played the fuel strategy a bit and we were running up the front and Buddy Rice my team mate was behind me when we were doing that and we made a mistake and went back out but there was a problem with the pit limiter and then the gears went out so we had to change a gear stack. He finished fifth or sixth or something like that. We would have finished in the top five or six I am sure. But that did not happen and you learn and again I finished all but five laps because that is what it took to change the gears and we will see how it goes at Sears Points and Watkins Glen. They are definitely going to be much higher grip, much faster tracks, much more demanding for the drivers physically and so we will see how it goes. I wouldn't say we have had the strongest cars on the road courses. The road course and short ovals have been something we have been a little bit off the pace on in comparison to some of the other teams, so we will just have to work even harder."