Features - Interview
JULY 12, 2006
Bob Bell - the art of winning
BY JOE SAWARD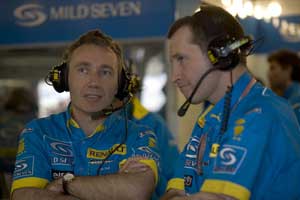 Most Formula 1 technical directors are fairly high profile people. They are in the news - and that is where they like to be. There is scurrilous rumour in F1 circles that this year - for the first time - one technical director actually employed a publicist. The funniest thing, however, is that the technical director who is enjoying the most success at the moment, is among the least known of his breed - despite the fact that he has been in Formula 1 since 1982.
Bob Bell of Renault is rarely seen on camera - and he is quite happy with that.
"It is not a conscious thing on my part," he says. "I keep my head down and get on with what I am paid to do. The team is a bit like that too. We try to keep our heads down and not make a big song and dance about it."
Bell is an Ulsterman and talks with a gentle Northern Irish lilt. He was trained at Ulster's top university - Queen's in Belfast - which boasts one of the top aeronautical engineering schools in the UK. Inspired by the American space programme, Bell found that the aeronautical world was rather less exciting than he hoped and he turned instead to motor racing.
"The idea of aeronautical technology was appealing to me," he said, "but what turned me off it was you never saw the results of your work. My desire was to be a genuine part of a tangible team. A Formula 1 team is a tangible entity. The product we deliver is very tangible and we see the fruits of our labours every two weeks. There is a clearly defined objective. There is nothing grey about what we are doing - and I like that."
With a doctorate from Queen's, Bell was a good catch for McLaren where he found himself working with John Barnard and a team that quickly became the most successful in F1 history with its TAG Turbo engines and drivers Niki Lauda and Alain Prost. Barnard was a famously hard task master and no bad engineers survived long in his organisation.
"John was a difficult character," Bell remembers. "He was very single-minded in his views about how things should and should not be done. I learned a lot from him and I have a huge respect for him as an engineer. He was, and probably still is, one of the best detail engineering designers in the business with a great attention to details and an understanding of how things can and cannot be made and what is the best way to extract performance from mechanical parts. Steve Nichols was working there to and he had a good way of describing John. He used to say that a good technical director needs to have engineering ability and leadership skills and that while John scored 10 out of 10 as an engineer, he got nothing out of 10 as a leader."
Bell stayed 14 years with McLaren
"I was very happy there," he recalls. "I loved the time that I spent. I loved the work I loved the team. They were a great bunch of people to work with in that era. And we had a lot of success. It was a great period to be involved. I set up the research and development department and ran it but in the end I felt that I needed more engineering challenges. That was when the Land Speed Record idea came up. That was a great opportunity for me to expand my horizons. That was great. It was sad that we never pulled it off in the end. We got very far down the line in terms of design. We had the thing conceived, schemed, modelled, simulated and even mocked-up but we never pushed the button and made the bits. After that the idea of going back to a comfortable job at McLaren, doing the same sort of R&D stuff did not really appeal because I felt the need to try pastures new. Benetton held a lot of appeal because of the way the team went about its business so I moved there to work with Nick Wirth.
"Nick was sort of the opposite of John Barnard," Bell recalls. "John was never really into all the computer stuff but Nick was simply in love with technology. If he had a failing it was that he sometimes got carried away with the technology at the expense of the basics. He was a great big character and great fun to work with and I very much enjoyed that and have a lot of respect for him as an engineer."
After a couple of years, Bell got an offer to go to Jordan to work with Mike Gascoyne. It was an odd situation because Bob had hired given Mike his first F1 job back in McLaren days.
"I know him probably better than anyone else in the pitlane and I have a lot of respect for him and for his skills. He is a lot closer to being a good engineer and a good leader and he is very determined."
The fortunes of Jordan turned upwards but Gascoyne was soon poached by Renault and Bell went with him.
"I had a very good offer from Jordan to stay on as technical director but I turned that down because I did not believe it was the route to go, and I was very happy at the prospect of going back to Renault. I felt that I could help make a difference and I believed that the team could return to winning and I really enjoyed the people who were there. It was too good an offer to miss and it has lived up to my expectations!"
So what is the secret of Renault winning?
"The thing I believe passionately is that we are a team and the success that we have is the result of being such a strong team. We are engineers first and foremost. We are paid to do a job. We enjoying doing the job and we have a lot of fun. We have not had humour lobotomies. The team is very much an evolution from the old Benetton team, it did not change significantly in terms of the team ethos and approach when Renault bought it. Renault gave it the opportunity to expand and develop and gave it a lot more resources but they did not interfere in how it did its business. I think we have quite a light management structure. We are not overburdened by senior executives from the parent company. Flavio Briatore has a lot of trust in us and he lets us get on with out job and he gets on with the things he is good for. That means that a lot of my time is spent in the day-to-day management. There are 540 people at Enstone and so looking after them all is a full-time job. I liken F1 to a game of chess, but in this game people tend to fight the people on their own sides as well as the opposition so you do spend a lot of time in some teams trying to keep them all going in the same direction. At Renault that is an easy thing because they are strong and dedicated and have worked together for a long time. I do try and walk the boundary every day and go into most departments to keep in touch with what is going on to make sure that I don't lose touch. Someone has to have an overall view of it. So much of the engineering in F1 is inter-related nowadays and it is very important to make sure there is good communication and a good understanding between departments about the direction and the approach."
Other teams have been raiding Renault of late, trying to take away the good people and to break up the team. Bell says that there is nothing that can be done as most of the people are being offered better jobs elsewhere.
"We really do structure it in a way that we have people going through the system who will be able to fill the shoes of the people you may eventually lose and you are always thinking about what to do if this person goes or that person goes."
So what happens in Bob Bell goes?
"I don't have any offers," he says. "I'm probably not well known enough. But I am very happy where I am. It is a genuine privilege to be part of this team."
The other great secret at Renault is how they achieve as much as they do on such a limited budget.
"It is very hard to know," says Bell. To be able to answer that question fairly one needs to know how the others use what they have got. I guess that we use what we have more effectively than they do. It is an obvious thing to say but we put a lot of store in using everything we have to the absolute maximum of its potential. It is not enough in F1 to expect results by just improving the car. It is vital to be constantly improving the performance of the team, looking at ourselves and how we can be more efficient. How can we squeeze a little bit more out of what we have got. How to get more windtunnel runs in a day, how to improve the accuracy. We are constantly pushing. We drive the windtunnel 24 hours a day, seven days a week. There may be other teams with two wind tunnels but they are probably not getting 100% more running. They probably only get 20% more."
Talking to Bell, one gets a clear impression of his passion for the sport. But it an unusual passion. He is not a frustrated racer like some engineers. His passion is the engineering itself.
"I come from a humble background," he says. "There was no money to get into racing. I made soapbox karts and I like the concept of technological competition. Equally I was interested in aerospace. When I was growing up we had the Apollo space programme going on and if anything excited and inspired me when I was growing up it was that. I loved that. And you know there are parallels nowadays If you look at our pitwall and then at the guys sitting in the trucks with banks of computers in front of them, it is all a bit like Mission Control in Houston. They are watching everything and making real time decisions about what is happening. It's the same thing that they were doing in the space programme in the 1960s.
"I like that analogy."