Features - Insight
DECEMBER 19, 2005
Super Aguri - the full story
BY JOE SAWARD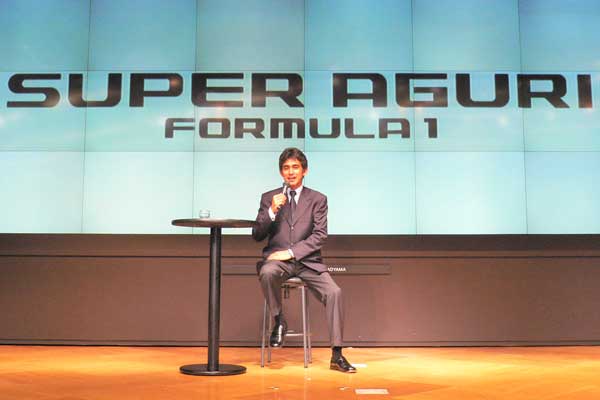 The Super Aguri F1 team has had a short and rather difficult life to date. The decision to go ahead with the team was taken very late in the day and then the $48m bond necessary for a new team to enter F1 was not paid in time and there had to be nearly three weeks of horse-trading before a deal was found.
The Super Aguri F1 team has had a short and rather difficult life to date. The decision to go ahead with the team was taken very late in the day and then the $48m bond necessary for a new team to enter F1 was not paid in time and there had to be nearly three weeks of horse-trading before a deal was found to make sure that all the other teams signed to let the team enter the World Championship.
What is clear is that Formula 1 as a sport wants the team to happen but that individual team owners were not very helpful. The problem lies in the fact that only the top 10 teams receive TV and travel money from Formula One Management. That is worth more than $10m a year. The threat of an 11th team was sufficient to convince Paul Stoddart to sell Minardi because he understood that without the money from FOM his team could not survive and he knew that he could not compete with another well-funded team.
The team's omission from the entry list was a blow to the Super Aguri F1 staff at the old Arrows factory at Leafield but the mood there has remained positive. Refusing to sign for the team to join the World Championship was simply delaying the inevitable as the team was committed to entering F1 in either 2006 or 2007.
Strategically, 2006 is important. One of the major reasons for the new team is to provide Takuma Sato with a platform but perhaps more importantly Honda executives know that in 2007 Toyota will be fighting them with two top teams as it is anticipated that Panasonic Toyota Racing will be joined in the Toyota (or perhaps Lexus) attack by Williams F1. In order to be ready for that Honda wanted to use 2006 to get Super Aguri F1 up and running and be ready to fight for points from the very start. A lot was at stake.
Aguri Suzuki has always been ambitious. He was one of the earliest kart racers in Japan in the early 1970s and was one of the first Formula 3 drivers. He was not wealthy and it took years to break through, his big chance coming in 1983 when he finished second in the Japanese F3 series and was signed to drive for the Nissan factory team in touring cars. It took him until 1986 before he got back to open-wheeler racing but in 1987 he was runner-up in the Japanese F3000 series and won the title the following year. He made his F1 debut in Japan with the Larrousse team and in 1989 was signed by the Zakspeed-Yamaha team. It was a disaster but Suzuki went back to Larrousse in 1990 and at Suzuka made a little when he became the first Japanese driver to stand on an F1 podium, having finished third behind the Benettons of Nelson Piquet and Roberto Moreno. He stayed with Larrousse for another year and then moved to the Footwork (Arrows) team in 1992 and 1993 and then missed most of 1994 after the Footwork company dropped out of the sport. He returned in 1995 to share the second Ligier drive with Martin Brundle but at the end of the year crashed heavily in qualifying for the Japanese GP and injured his neck. He decided that it was time to retire from the sport but had soon launched his own scheme to promote young Japanese drivers with the backing of the Autobacs company. Autobacs Racing Team Aguri (ARTA) took a number of drivers into international racing and enjoyed notable success in Formula 3. Aguri turned his attention to running his own Super Aguri Racing team and has run successful teams in Japanese GT racing and in the Indy Racing League.
When Aguri began thinking about F1 he went to Daniele Audetto, a man he had known since his days racing Gerard Larrousse's Lola-Lamborghinis in 1990.
Now 62, Audetto is an odd fish in the F1 world. He began his working life as an artist and art critic after studying at the Academy of Modern Art in Brera, Milan. At that time he began competing in rallying as a co-driver and in 1968 he joined the factory Lancia team and became a professional sportsman. He was with the team for three years but then suffered serious leg injuries in a accident. He decided to turn his attention to team management and went back to school at the Universita Bocconi in Milan and then the Giovanni Agnelli Foundation. By 1976 he was sufficiently well-connected to be offered the job of Ferrari team manager, replacing Luca di Montezemolo and in his first year in the job Audetto oversaw Niki Lauda's second World Championship. After that he was promoted to head all Fiat motorsport activities but after four years he left the role to work as a sponsorship consultant with companies such as Candy and Ceramico Ragno in F1. Three years later he was hired by Lamborghini, which had just been bought by Chrysler, to head a competition department called Lamborghini Engineering and he oversaw the company's F1 engine programme between 1989 and 1993. After Lamborghini Engineering closed Audetto worked in the World Superbike Championship - which was sponsored by Power Horse and that connection took him back to F1 in 1996 when Power Horse joined Ligier. A few weeks later the team blew apart with Tom Walkinshaw falling out with owner Flavio Briatore and buying a share of Arrows and taking off with a number of staff, including Audetto. He remained with Walkinshaw, working on sponsorship deals until the team went out of business. Since then he has worked as a consultant with Renault but is now back at Leafield.
"We are working flat out," he says. "Once the entry problem can be sorted out - and we believe it can - we would be able to start the year using 2002 Arrows chassis, which are owned by Minardi. That would be the back-up solution for the first three races only and then we would bring in our own car at the San Marino Grand Prix. Obviously we will struggle in the first races but it would be a good opportunity to run the team and get everyone working together. It would be useful experience. Given when we started it will be a miracle for us to be on the grid in Bahrain."
The most important part of the package (aside from securing an entry) was the deal to acquire the Leafield facility from John Menard, the American home improvement magnate who bought it when Arrows went out of business. His aim was to support Eddie Cheever's operations in the Indy Racing League but that alliance was short-lived and for the last two years Menard has been running the operation in the low-profit automotive consultancy sector. The appearance of Super Aguri was a blessing in disguise and a deal was quickly done. Leafield is a fully-integrated Formula 1 facility and was being wasted. Aguri Suzuki and his team realised that the fastest way to get the facility working was to employ the people who used to work there and so Audetto was approached. He in turn brought back other Arrows men.
"We have 60 people at the moment," says Audetto. "The plan is for that number to increase to 100 or more by the start of the F1 season. In addition to that we have 50 engineers at Honda Research and Development in Japan who are working on the project so technically we are quite strong. Mark Preston is the man in charge of technical matters. He was a very good young engineer at Arrows and then went on to have some good experience at McLaren after that. He is very motivated and very ambitious. We put an advertisement in a Formula 1 magazine in Britain and we have had 1000 applications. We are paying good money. We have a really great facility here at Leafield and we have the backing of Honda."
What about the management?
"This is a Japanese team," says Audetto. "It has a Japanese licence. Aguri Suzuki has been very successful in Japanese Super GT and in the Indy Racing League. He is very close to Honda. All the commercial, marketing, PR and press is run by Japan. There will be at least one Japanese driver. We have a link with Honda R&D in Japan and so we are not going to cause any difficulties with the Honda F1 team from a technical point of view. Mark Preston is working on the design of the new car in collaboration with the people at Honda R&D. Here in Britain we have people I trust 100%. There were a lot of good people at Arrows but we never had the backing of a manufacturer and so could not be as successful as we wanted to be."
The team has a lot of unfinished business in F1 and with that kind of ambition and with backing from Honda and from Japanese billionaire Masayoshi Son, the owner of the Softbank company, the team has what it needs to do well in F1.
Despite humble beginnings with beefed-up three-year old chassis.