Features - Historical
NOVEMBER 2, 2000
The things these racing people get up to...
BY JOE SAWARD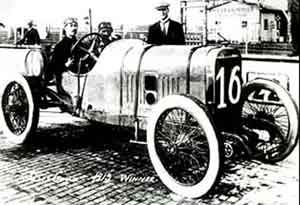 Motor racing people have always been folk who get things done - and not always by conventional means. This has been going on since the very early days of the sport and there have been some wonderfully eccentric people and events as a result. Robert Peugeot was a good example of a man with a racer's attitude. When he was young he was put in charge of a new division of the huge Peugeot company. His job was to make motorcycles while his uncle Armand Peugeot ran the new automobile business and his father Eugene looked after the other products which Peugeot manufacturers, including saw blades, umbrellas, coffee grinders, bicycles and even corsets.
In 1905 the French car magazine L'Auto offered a prize for a competition for small capacity cars - known as voiturettes - and Robert Peugeot decided that he would build some of the lightweight machines in the motorcycle factory at Valentigney, just down the road from the main Peugeot car factory at Audincourt. He called these cars Lion-Peugeots and took on three drivers for the Coupe de l'Auto at Rambouillet in November 1906: one was his chauffeur Jules Goux and another was an Italian with the curious name of Giosue Guippone. Initially they were beaten by rivals Sizaire-Naudin but by the start of 1908 Giuppone began winning races and Goux then followed suit. Giuppone won the 1909 Coupe de l'Auto with Goux second while a new recruit Georges Boillot also showed well. In 1910 there came intense competition from the Spanish company Hispano-Suiza. That year Peugeot and Lion-Peugeot merged their operations and Robert, wanting to continue the successes in racing, planned a Grand Prix car. So did Hispano-Suiza and the firm was rumored to have developed a revolutionary new racing engine.
And so Robert planned a remarkable coup. He commissioned Boillot's team to develop a Grand Prix car for Peugeot and hired Hispano-Suiza designers Ernest Henry and Paul Zuccarelli. The result was the first modern racing engine. Hispano-Suiza later sued Peugeot and won but it did not matter the company had the design and used it with enormous success in Grand Prix racing in the years leading up to World War I. The cars won the Grand Prix de l'ACF and the Indianapolis 500 and a variety of other events.
During the war Robert Peugeot took over the running of Automobiles Peugeot and he led the company into mass production in the 1920s and early 1930s, building small undistinguished cars which sold well and built Peugeot up to become one of France's biggest businesses.
When the Germans invaded France in 1940 Robert Peugeot was placed in a very difficult situation. He did not want to turn his factories over to the Germans but was faced with the threat that they would be seized if he did not. And so the famous works in Sochaux began to produce turrets for German tanks and engine parts for Focke-Wulfe aero-engines. The Royal Air Force tried to bomb the factory but missed and because it was located close to the center of the town there were civilian casualties, which the Allies were trying to avoid. It was at this point that a British secret agent named Harry Ree, who was operating a sabotage network in the area, came up with a brilliant idea. He had heard that Peugeot was not happy working with the Germans and took the bold step of visiting Peugeot to suggest that he might like to sabotage his own factory.
Peugeot was guarded. He did not know whether Ree was really a British agent or a German agent provateur. Ree promised to organize the broadcasting of a special coded radio message by the BBC to prove that he was what he was claiming to be. The message was broadcast and Peugeot was convinced. Ree then explained that it would be much better for the Peugeot company if it was to sabotage itself because if the bombers returned the entire facility might be destroyed forever. People would be killed. Ree explained that it would be better to destroy specific parts of important machines to stop production and that would be a better solution for all concerned. Peugeot agreed and instructed one of his foremen to work with Ree's team of saboteurs. On November 5, 1943 there were fireworks at Sochaux and vital machinery was destroyed which put the tank production out of action for three months. In January the gang did the same with the aircraft parts while in February 1944 the replacement equipment for tank production was blown up. When the Germans replaced the machines needed for aero-engine production these were destroyed as well. Sochaux produced very little of any value to the Germans...
When the war ended not only was the Peugeot factory still standing but Robert was a war hero as well.