Features - Feature
APRIL 16, 2004
The story of Willie K
BY JOE SAWARD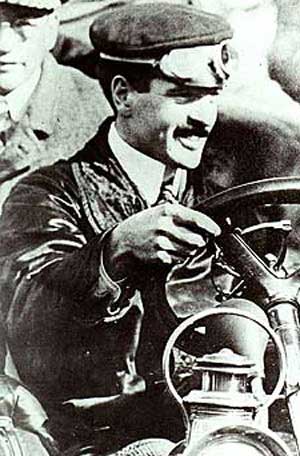 Motor racing was always - and remains - a sport for the rich. There are very few poor drivers in the sport, beyond a few dozen who by talent alone make it into the top drives across the world. The rest pay.
Motor racing was always - and remains - a sport for the rich. There are very few poor drivers in the sport, beyond a few dozen who by talent alone make it into the top drives across the world. The rest pay. Over the years there have been many heirs to great fortunes who have gone racing for amusement. Few have given much back to the sport. But William Kissam Vanderbilt II, the great-grandson of Cornelius Vanderbilt, the American shipping and railroad tycoon took to racing with great enthusiasm.
His father had made his name as a yachtsman and a breeder of champion racehorses, and Willie K, was initially drawn to yacht racing. When he was seven years of age his father inherited $65m (more than $1bn at today's prices). He was educated by tutors and acquired a passion for automobiles which began when he visited Europe at the age of 11 and had a ride in a steam-powered tricycle while visiting Monte Carlo. After spending a year and a half at Harvard he decided to give up his education and married Virginia Fair, whose father had made $200 million mining a silver lode in Nevada.
The following year - 1899 - he bought a Stanley Steamer, his first automobile and was soon getting into trouble for speeding. In 1900 he appeared in court in Newport, Rhode Island, after local residents complained about his speeding.
"Arrest me every day if you want to,'' Vanderbilt was reported to have said. "It's nothing to pay fines for such sport.''
The following year, tired of annoying the locals, he and his wife left Newport and moved to the much less developed Long Island, where he could enjoy himself. He built himself a colonial-style mansion on a hilltop, overlooking Lake Success and frightened the locals with his high speed motoring.
In the Spring of 1902 Willie K went to Europe for the summer. He wanted to be a racing driver and started out with a Mercedes on the Circuit du Nord. A month later he reappeared at the wheel of a Mors for the Paris-Vienna race but again failed to finish although in July he was third on the Circuit des Ardennes behind Charles Jarrott and Fernand Gabriel. At the end of the year he set a land speed record in his Mors on the Route Nationale between Dourdan and Ablis, clocking 76.08mph but his record was beaten the same day by another Mors driven by Henri Fournier.
That year his brother-in-law Charles Fair and his young wife were killed in an automobile accident near Paris but Vanderbilt refused to be perturbed by the accident.
He was back in Europe in May 1903 for the disastrous Paris-Madrid race and raced again on the Circuit des Ardennes but without success before deciding that he wanted to go back to the United States of America and organise his own road race on Long Island to promote the American automobile industry. Before doing that, however, he went to Florida to set some new speed records on Ormond Beach, breaking the one-mile speed record with a speed of 92mph.
He convinced the authorities of Nassau County to let him run an international motor race and commissioned Tiffany to create a huge silver trophy called the Vanderbilt Cup. The first race was run in October 1904 and the success of the event caused racing to boom in the United States. The race became so popular in fact that it was impossible to control the crowds and after a spectator was killed in 1906 Vanderbilt decided that he would build a private road on which to race cars. He formed a corporation, sold stock and began convincing local farmers to donate land, arguing that the new road would increase the value of their properties. When the farmers refused to give him land he bought their farms. The first nine miles of road were completed by 1908 and the Vanderbilt Cup was revived (it had been cancelled in 1907 because of crowds). The 1908 race was a great success, however, because victory went, for the first time, to an American automobile. Vanderbilt's dream of a strong US car industry was becoming a reality. The racing continued to be dangerous and after the 1910 race, in which four people died, the Cup moved away from Long Island after New York state voted for a ban on road racing. It would continue until fading away in 1916.
Vanderbilt's private road, the Long Island Motor Parkway, grew to be 45 miles long, running from the edge of New York City to midway down Long Island where he built an inn which was a copy of the Petit Trianon from the Palais de Versailles. Those who could afford the toll and had an automobile were able to race down and back. In 1910, however, Willie K split with his wife and settled in Centerport, further down Long Island, where he built a mansion called Eagle's Nest. He spent part of each year in Europe and much of his time yachting. He took over the family business in 1917 but preferred a less structured life and bought a bigger and more powerful yacht and began to pursue a new hobby, collecting marine specimens. Eventually he settled in Paris.
He did not divorce until 1927 and soon afterwards he remarried Rosamund Warburton, a divorcee in Paris. By that time the Long Island Motor Parkway was very popular with 150,000 cars a year using the road.
Sadly, a few years later his only son and heir William K Vanderbilt III was killed in a road accident in South Carolina, while the 26-year-old was returning to New York from the family estate in Florida.
At the same time the Long Island Motor Parkway was superseded by the toll-free Northern State Parkway, which took away much of its traffic. In the end Vanderbilt handed the road over to the local counties in lieu of taxes he owed and in 1938 the world's first motorway was finally closed.
The family fortune had waned by the late 1930s and when Willie K died in 1944 the taxes levied on his estate meant that only $2m were left. When his wife died three years later the Eagle's Nest estate was left to Suffolk County.
A great character, Vanderbilt is often forgotten when people consider the great names of motor racing but it is important to remember the important role he played in the development of the sport in the United States.
And because he invented the motorway...