Features - Feature
APRIL 11, 2008
Putting the X into F1?
BY JOE SAWARD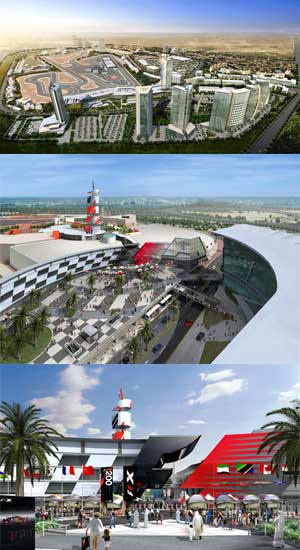 These are exciting times in Dubai. The entire emirate seems to be under construction. Buildings rise from the ground with alarming speed. The more one looks, the more amazing it all seems. It is all part of the ongoing programme in the United Arab Emirates to reduce the dependence on oil and build up other industries, notably the tourist trade. Traffic at the Dubai International Airport has doubled in the last five years and a vast new terminal is about to open, but the government has already understood that this is not enough and work has started on the construction of a new airport in Jebel Ali which will be called Al Maktoum International Airport. It will be the world's largest passenger and cargo hub with a passenger capacity of more than 120m - almost 30% more than Atlanta, currently the world's busiest passenger airport. It will include six parallel runways, with a large passenger complex in the middle. The first runways are already finished and the cargo terminal is under construction. The entire project will not be finished until the year 2017.
Dubai's aim is to become the hub of the world and to make it a destination as well as a being a place to change planes, and there is a bewildering list of projects that are designed to bring in business of all kinds. These are loosely linked under the name Dubailand, which will be divided into seven theme worlds. The short range goal of the Dubailand is to attract 15 million tourists to Dubai by 2010 by creating a tourism, entertainment, and leisure destination that will attract visitors not only from surrounding countries but also from Europe and Asia. Dubailand covers 107 sq miles and includes 45 "mega-projects" and an additional 200 smaller developments. It will be twice the size of Disney World, currently the largest collection of amusement parks in the world. Some of the projects are already nearing completion but work will go on until at least 2015. The attractions will include an Attractions & Experience World, which will include more than a dozen theme parks. There will be a retail and entertainment world, a leisure and vacation world, an eco-tourism world, a sports and outdoor world and the downtown area, which will include the world's largest shopping mall.
One small part of the plan is MotorCity, a development based on a unique automobile and motor sport theme that includes residential, business, sports and leisure facilities. There are five components to MotorCity including the existing Autodrome, the business park, two residential areas: the green community and Uptown and F1-X, the Formula 1 themed "leisure destination" which aims to attract well over a million visitors in the first year, when it opens its doors to the public in early 2009. Right now there is nothing built but terracing work has begun and plans are being formulated for what will be found inside the park.
Responsibility for the project belongs to Australian executive Penny Fischer.
With a background with Walt Disney and Warner Brothers, Fischer became General Manager for Marketing, Image and Licensing of the organizing committee for the Sydney Olympic Games back in 1995 and three years later joined the IOC "Image Committee". After the Olympic Games was over she moved to Austria where she worked on the Salzburg 2014 Winter Olympics project, until she got a call from Dubai.
Union Properties, the firm that is developing MotorCity wanted her help to design "a visionary and permanent leisure concept offering unparalleled access to the world™s most popular annual sporting series and featuring state-of-the-art fun and entertainment facilities for all ages".
Why the X?
"The X is for extreme fun, excitement, exhilaration and exhibition," says Fischer, reeling off the words like a machine-gun. "These sorts of thing are the essence of F1. The most important thing for us is that we are THE showcase for the sport. That is what we are about. F1 has not had that before. It has had independent motor museums; and all the wonderful things that teams have been doing, but there has been no 365-day of the year promotion of the sport. We want to appeal to existing F1 fans and to people who have no interest at all in motorsport. We want to be a place where people want to spend their Saturdays with the kids. We want to attract the whole family from two to 99.
"We will have absolute mind-numbing action for those who want it, but also on the other hand there will be glamour and information and not so extreme fun for those who don™t. Ultimately we are going to give six and seven and a half hours of F1 fun.
"What we want to avoid is to build Wally World and then slap an F1 logo on it. That is not what we want. That was my paranoia when I first came here to look at the project. We have to make it authentic and credible. Yes, there will be rides, but these will be about trying to give people some kind of experience similar to what the athletes would experience: G-forces, oversteer, understeer and so on. There will be five major rides inside the park and over 20 major attractions. I am not a rollercoaster person. I hold the handbags instead, but at F1X there will be things to keep me entertained as well.
"One of the things we did was to define exactly what F1 means. It is the ultimate risk management business but ultimately F1 is about technology. Personally, I go for the second most important element: glamour. It is not just the Monaco aspect or miniskirts. It is about the people, the lifestyle, the amount of money, even the logistics seem somehow glamorous. There is a kind of mystique about it. The key thing is that F1 is untouchable. Only a very small percentage of people in the world could get into the F1 paddock. We want people to experience what it is like to be in the pits when they are in operation. We hope to give people the experience they could never get in F1. We are not a race and we are not trying to be like that. What we want is to inspire people so that when they come out of F1X the majority of them want to go to the next race and even plan to do so. If we can do that we will do our job for Formula One Management."
Bernie Ecclestone and his team keep the F1X conceptual team on track but ultimately it is F1X that takes on the responsibility to turn the vision into a reality.
"F1 is a complex world and there are lots of questions to be answered: who owns the rights and that sort of thing," Fischer says. "We are still working our way through that but we recently took the concept and presented it to the teams. That was last month and I think without exception they had their chins on their chests. Their first question was ˜How are you going to do this!™ They understand complexities of what we are trying to achieve, but they are 100 per cent behind the concept of F1X and what it can do for the sport. Some teams want to own the idea but one or two of them are more sensitive about how it will develop. We are representing all the teams. We are in a non-competitive situation, we are building a leisure entertainment facility that will be based on fun. With things like the technical stuff we are not relying on any one team. It is not team specific but what is important is that when we are showcasing the sport we must not forget that there are also many who helped grow the sport in the past and we must recognise that and honour it."
Surely this will be in competition with the Ferrari theme park being built in Abu Dhabi?
"There is such a difference in what they two parks represent that I think that one will be the Friday and the other the Saturday and vice-versa," Fischer says. "Ferrari is a premium lifestyle brand with a proud history. We are about the sport, past, present and future."
Theme park spending is largely dependent on what mothers want to do. How is F1 going to appeal to mums?
"If you take me to a place and say touch the screen and the machine starts to talk to you, I will head for the nearest cafe," Fischer says. "But take me somewhere where there is a wow factor, which is entertaining and fun and I will like it. That is like edu-tainment. The other day somebody told me that there are more people who have been up in Space Shuttles than have ever driven in F1 races. That is unbelievable. That is very elite. It is a small club and there are wonderful facts and figures. The athletes are the sport. They have done heart monitors on them and when the lights go off at the start the heart race actually drops because of all the focus and the training. The heart rate only went up when the driver was waiting when his helicopter was late after the race.
"That is educational but it is also entertainment and when I hear that I begin to feel an affinity with the driver. That is what we are trying to achieve."