Features - F3000 Report
SEPTEMBER 18, 2001
Pantano gets his act together
BY JOE SAWARD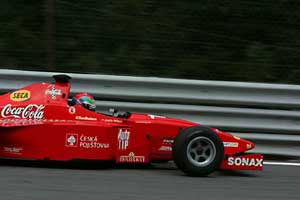 © The Cahier Archive
After a poor maiden season in Formula 3000 the highly-rated Giorgio Pantano finally got everything together at Monza and took his Astromega Lola to victory at the Autodromo Nazionale. It was the team's first win for a year - the last being when Fernando Alonso dominated the race at Spa in 2000.
Qualifying was a mess with a mighty rain storm disrupting the planned sessions and so the whole thing had to be postponed until Saturday and there was just a quick 20 minute session in which the grid was established. The pressure was on but Petrobras Junior Team man Antonio Pizzonia kept his head to take pole position while the new Formula 3000 Champion Justin Wilson showed his class by lining up second ahead of Pantano with Mark Webber in fourth place in his Super Nova Racing entry. Unusually his team mate Mario Haberfeld was up there too in fifth ahead of Pizzonia's team mate Ricardo Sperafico. The top 10 was completed by Patrick Friesacher (Red Bull Junior Team), David Saelens (European Minardi), Bas Leinders (KTR) and Sebastien Bourdais (DAMS). With Tomas Enge having moved into Formula 1 with Prost Grand Prix Webber was guaranteed second place in the championship as he had equal points but more wins than Enge.
Coca Cola Nordic Racing took the decision to replace Enge with Czech rookie Jaroslav Janis but his lack of experience in Formula 3000 meant that he was down in 16th on the grid.
There were a variety of different cars stalling and the start was delayed twice and Haberfeld, Leinders, Janis and Webber were all sent to the back of the class.
Twenty-three minutes behind schedule the race finally got underway with Pantano making a storming start and trying to take the lead. Pizzonia then pulled off an outrageous move, swerving across the track and pushing Pantano onto the grass at high speed. This enabled him to hold his lead with Wilson second then Saelens, Sperafico and the rest. Pantano was furious.
"That was a crazy move," he said. "I thought he was completely out of order."
On this occasion, however, luck was on Pantano's side. His team mate Enrico Toccacelo helped a lot by getting it badly wrong at the first chicane and taking out Friesacher and Darren Manning (Arden Team Russia). Further back Webber and Norberto Fontana also hit one another and both were out as well.
"I was just minding my own business and then... bang!" Webber said. "Fontana clobbered me and next thing I know I'm heading for the wall with the front of his car up around my head somewhere."
All of this cleared the way for Pantano to make up for the ground he had lost as a result of Pizzonia's move and at the end of the lap Giorgio was back in fifth place. A Safety Car was out while all the wreckage was being sorted out.
The race restarted on lap five with Wilson taking the lead from Pizzonia, Saelens was third but made a mistake and so dropped behind Pantano and Sperafico (the two having swapped places at the restart). The order then remained unchanged at the front until lap 10 when Wilson made a mistake and Pizzonia took the lead. Pantano was right with them and also managed to pass Wilson with a nice outside pass in the Parabolica.
Next time around the stewards announced that Pizzonia would have to pay for his blocking maneuver and he was given a 10 second stop-go penalty. This dropped him back to 16th position and out of the running. He rejoined, set the fastest lap and then coasted into the pits to retire.
From then on Pantano was unchallenged. Wilson ran second with Sperafico, Leinders, Haberfeld and Saelens picking up the other points.
"I have had a lot of bad luck this season," said Pantano, "so to have a result like this - and in my home country, too - has been just fantastic. I am just grateful that I didn't hit the barrier when Pizzonia put me on the grass, because there could have been a terrible crash if I had bounced back onto the track in front of all the other cars. I thought,"Oh no, here we go again", but for once things worked in my favor when I got to the first corner and I was able to miss all the other chaos.
"I had to race hard to keep Justin at bay and I wasn't surprised when Pizzonia picked up his penalty. It felt great to cross the line. I'm just pleased I have been able to show people what I can do at this level. It is the best possible way to end the season."