Features - Exclusive Interview
JANUARY 21, 2003
Patrick Faure
BY JOE SAWARD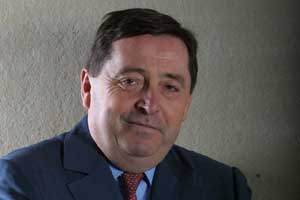 Patrick Faure is the boss of Renault Sport, the man to whom Flavio Briatore reports and the team's representative at the highest level within Renault and as one of the men behind the GPWC.
Patrick Faure is the boss of Renault Sport, the man to whom Flavio Briatore reports and the team's representative at the highest level within Renault and as one of the men behind the GPWC.
At the launch of the new Renault R23 in Luzern, Switzerland, Faure was in a feisty mood although he was quick to admit that Renault is not going to be challenging for the World Championship this year.
"In 2003 we are not aiming to win the championship," he said. "That will be in 2004 or 2005. This year we will be happy with podiums. We need podiums this year if we want to be able to fight for the World Championship in 2004 and 2005. And I use the word podiums with an S on the end."
There has been a lot of criticism about the performance of the wide-angle Renault V10 engine but Faure says that the team has no intention of changing it.
"We decided very early on to keep our open angle engine," he says. "That is a big help for the total package for the car. We will probably not change it next year. We are just beginning to think about the 2004 engine and we will probably stay with one that is similar to what we are using today. The deadline is March if we want to be ready early for 2004. We have a team of people working on it. And we also have one person working on the 2005 engine.
Faure says that as far as Renault is concerned the best compromise is for teams to be able to use one engine per weekend.
"It seems to me this is a good compromise because it is already a reliable engine. It's still Formula 1. If you get to six or eight races, it's not Formula One any more. It's a tractor engine, it has nothing to do with Formula One."
On the whole Faure seems very positive about the new regulations which is rather odds with the recent GPWC statement which seems to be aggressively anti-change. So what is Renault's position?
"No, no, no," he says, a little flustered. "What the GPWC statement is saying is that the way things have been announced is frankly a little bit aggressive. To just put it on the table and say "That's it", I don't think that's the way to behave. That was really the most important thing. The second one, which is unacceptable for engine manufacturers, is an engine for six races. That is completely unacceptable, because that is the end of Formula 1. We will not stay in the championship with this kind of rules, none of us."
Faure is rather more positive on the subject of additional engine supplies although he says that the details need to be discussed.
"I am not against supplying a second team," he says, "but I think it is important that we can choose the team and have some detailed and written rules between the two teams. It's more complicated to say that than to say that you have to supply a second team whichever team it is and whatever the price is. We are serious in business and so we have to be able to chose our partners. We are perfectly happy to do that. We have nothing against it in principle, quite the contrary."
For a team which is planning to finish fourth in the World Championship this year, the decision to opt for testing only on Friday mornings at each Grand Prix seems an odd decision and Faure was keen to explain the logic behind it.
"We worked quite a lot of on this and had a lot of discussions inside the team," he says. "After a lot of thought, we decided to go for the Friday morning testing. For very precise reasons, and the important one is that we are not in 2003 with the purpose of winning the championship. We will aim for that in 2004 or 2005. By doing this we are going to get a lot of information on all the circuits which is going to be useful this year and maybe even more in the next two years. This is why we have chosen this solution. It doesn't mean that we will keep this solution for the future years."
Faure says that Formula 1 is not in as bad a state as some would have you believe. Last year Flavio Briatore, Eddie Jordan and Tom Walkinshaw launched the "F1 in a crisis" crisis just before the Monaco GP (something which Briatore appears to have forgotten now) but now everyone is signing from the same song sheet and talking up the sport.
"BMW is thinking of coming in with its own team," he says. "When you look at general economy more and more companies are becoming global so they need to make themselves known in the world . To have an awareness all around the world Formula 1 is probably the quickest and finally cheapest way of doing it when you compare it to the price of advertising. Secondly, without tobacco there will be new sponsors who are not there today because of their image. Food companies and drinks for children and so on. We are discussing now with some new sponsors and even now, despite the uncertain economic climate we see more and more companies starting to discuss with us a F1 project. Maybe we will find new sponsors this year."
Putting his GPWC hat back on again, Faure denies that the GPWC has ever said it would run its championship outside the FIA structure, although this proposal was made in the GPWC business plan which was circulated to all the teams. His answer is that of a politician.
"We said that we needed a completely independent sporting regulator," he says. "We cannot make the rules and be competitors so we need someone completely external and totally free to be controlling the sporting aspects. The FIA can do it. There is no reason it cannot be them if we can reach a good compromise. We have nothing against the FIA."