Features - Interview
JULY 8, 2010
Niki Lauda: I expected more from Schumacher!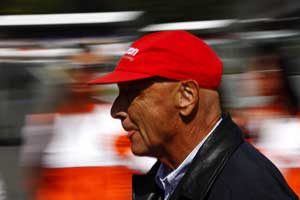 © The Cahier Archive
While Michael Schumacher has been struggling in his comeback to Formula One, there are many pundits giving their views on the rights and wrongs of the German's decision to abandon his golden retirement and return to racing after more than three years away. But few have experienced a serious hiatus on their careers and, in reality, only two men stopped racing for a while and returned to Formula One to win another title: Alain Prost and Niki Lauda.
In the Frenchman's case, he found himself out of a drive in 1992 after being sacked by Ferrari at the start of November the previous year, too late to find a competitive seat for the following season; Lauda, on the other hand, stopped on his own terms - abruptly, in the middle of a Free Practice session - and returned more than two years later, as competitive as ever.
It was only appropriate that we talked to the amazing Austrian driver in Montreal, only a few metres away from the place where he decided he'd had enough of Formula One, on the morning of September 28th 1979, to ask him to compare his comeback with Schumacher's.
Q: Before comparing comebacks, let's compare the reasons you two stopped racing. What made you decide to stop so abruptly?
Lauda: Simply the fact I'd been driving for so long in Formula One and was feeling my emotions towards the sport were being downgraded. I came here in a brand new Brabham with a Cosworth engine, after struggling all year with another chassis, so I was highly motivated when I flew to Montreal. I had signed, two weeks before, a new contract with Bernie for a lot of money to stay with the team.
But when I woke up on that Friday morning and looked out of the window, it was misty and foggy and I didn't really feel good about going racing. I came to the circuit, did two laps in the new car and said to myself, "shit, why the hell am I doing this?" Then I had a talk with myself, told myself not to be stupid, as racing was my job and I had just signed a new contract and should keep on going. So I got into the car, did another three laps and by the end of the run I was sure the time had come to retire.
So I went up to Ecclestone and told him I wanted to retire there and then! He looked at me, asked me if I was sure and wouldn't want to think twice about it. But I told him I was sure, so he just said, "leave your helmet and your overalls here, please, because I need to find a new driver for the rest of the weekend. He found Ricardo Zunino in the paddock and put him in the car, so off I went, relieved in a way, but two years later I was back!
Q: Schumacher didn't leave the same way - well, no one has ever left the way you did - so what do you think were his reasons to leave?
Lauda: I think he had a similar feeling. If you are for a long time at the top you've basically achieved everything you wanted to. Then the ball's breaking stuff starts to be too much: it's not what you do in the car, it's what you do outside the car - the press conferences, the interviews, the sponsorship commitments, the marketing appearances - that sadly go up to a level that the whole package, including the risks you take, the workload you do to get the car to work and for you to be quick in the races, it becomes too much.
I think it's the same for every top sportsman and, actually, in any other job. Then it comes to a point when you have to make a decision and as far as I'm concerned I made the right decision at the time. I started my airline business in those two years and I was relieved to be away.
Then, two years later, I was thinking if I could make a comeback, if I could motivate myself for such a challenge and that's what I did. It must have been the same for Michael.
Q: When you left, you didn't think you'd come back, so how did that ended up happening?
Lauda: I was not interested at all in Formula One when I left; I was very busy with my airline. But slowly I started missing the adrenaline rush and the driving of such fantastic cars at the limit. In reality this urge never disappears when you're a top driver, because I think we're a different breed of people, we need to take chances, we need to push ourselves to the limit all the time, that sort of thing. It stays with you, although you can kill it by losing motivation or other things in your life, but it never leaves you forever.
It was the same with Schumacher: the need for the adrenaline rush, to push himself to the limit was always there. So without a Formula One car to race with he went on to do motorcycle racing and other stupid things, and obviously that wasn't enough to keep him happy, so he had a problem to sort out and returning to racing was his answer to the problem. I had the same, so in my second season out I started attending Grand Prix, Ron Dennis started calling every two or three months to check if I wanted to comeback and eventually I said yes. Then I tested for him and later in the same day Frank Williams also call me to ask if I wanted to test his car - what a coincidence that!
Q: Schumacher, on the other hand, never really left: he was a Ferrari adviser, he tested the 2007 and 2008 cars, he came to races and he was on the pit wall. Then there was the Mugello test after Massa's accident, so what do you think that made it click for him?
Lauda: I think Massa's accident made his mind open up for the opportunity to comeback to racing. But then he was caught on his medical problems and couldn't return at that time. To make a decision you need to be in a perfect environment: you have to be motivated and surrounded by the right people. I think the combination of working with Ross Brawn again, being back with Mercedes, that had founded his early career and with whom he always had a personal link, was the right combination to give Schumacher the motivation to comeback.
If it was just to go back to Ferrari, I believe his motivation wouldn't have been the same: it would mean going back to what he had left, whereas working with Mercedes was a brand new thing and with Ross there, it was the return to work with someone he really enjoyed working.
Q: You were instantly quick when you returned to racing: you won on your third race, you were always with the quickest Cosworth runners - turbos were leading the way at least in qualifying - but that has not happened to Schumacher. Why do you think that's the case?
Lauda: It's funny because I expected him to do the same thing I did and be right on the pace. When you win the championship seven times, this means a lot for me: it means you were able to push yourself all the time, to reach levels no one, at that time, could achieve. So I thought that he'll come back to higher levels than those the current drivers can reach, but he's been stuck in a car that is certainly not quick. What he explained to me was that he was in a situation in which he had to completely change his driving style. The narrow tyres lack the grip levels he needs, so the car-tyre combination is hurting him a lot, but it also hurts other people.
For instance, now Webber has been quicker than Vettel because he has handled the loss of grip better than Sebastian. When things change a lot, some guys handle the change better than others, but that doesn't mean the guys that take longer to get the hang of things are suddenly slow drivers! I think it's the same thing happening with Mercedes, where Nico Rosberg, who's a very good driver, has adapted better than Michael and is always ahead of him.
So, at the moment, Michael is trapped between two things: he needs to learn how to drive with these narrow tyres, as he's not been able to learn as quickly as Nico; then you have the fact the car is not really competitive and Nico is also a very quick driver! For me it's quite amazing that most of the time he cannot even reach the same lap times as Nico, as they're driving the same car and he's a seven times World Champion.
Occasionally he makes it, when conditions really favour him, but most of the times he doesn't. He has to work on making that happening more often than up to now!
Q: Do you think the fact he's normally behind Rosberg and, in any case, they don't have a car capable of winning races will break his motivation or, on the other hand, will make him even hungrier for success?
Lauda: I don't think he'll lose his motivation this quickly. At the moment I still see him fully motivated and he seems to understand he'll need more time to adapt - he knows better than anyone else what's missing for him to be quick. For sure he'll be racing with Mercedes next year, because he needs to build up a car better suited for him. I think he's working hard to get everything right, in order to be competitive in 2011, so I can see a lot of motivation in him right now.
Maybe part of the problem now is that he doesn't have a winning car. When you have the chance to fight for victory or a podium finish, you have the motivation to push that extra bit out of yourself, but at the moment he cannot have that. If he does very well he finishes 5th; if he doesn't he finishes 7th, and it's difficult for a seven times World Champion to get too excited about finishing in 7th place!
Q: When you returned to Formula One you had just turned 33 years old. Schumacher returned at the age of 41. Do you think that can make a difference in the results?
Lauda: In my time the problem was that the risk level was much higher than today. You have a brake in your brain that stops you doing stupid things. The older you are, the earlier that brake comes on. When you're 20 you stop at nothing; when you're older you're cleverer than when you're 20, so your brain brake operates more often!
This shouldn't be really a problem for Michael or any other of the current drivers because, basically, there's no more danger: if you spin off, you don't hit anything as run offs are so big in this new breed of circuits we have. This means the risk part of the job shouldn't really stop him now.
But what I cannot tell you, because it's difficult for me to judge, is what happened when you lose the edge. Driving these cars right on the edge requires something else, it's not just risk management. It probably requires a happy, crazy, young brain that gives you the pleasure to push the car right up to the edge. What I do not know is if you lose that edge, that need to be right on the limit when you get older, because the second time I stopped I was just 36 and Michael's 41. But if you lose it, you need to think a bit more about what you're doing and if things don't come naturally to you, then you aren't going to be as quick as what you used to be. If it's an automatic thing, you're quick, if you need to think about it, you're not. Maybe that's the problem he's experience but I honestly don't know.
Q: You came back to race against a team mate you knew from 1978 at Brabham, John Watson, so you knew you could beat him. How did you feel, in 1982 and 1983, in the days he was ahead of you?
Lauda: John was never a threat to me. There were some races he finished ahead of me, like in Long Beach in 1983 when he won ahead of me, but that was because I had a cramp in my foot and I couldn't drive properly. But he was a good team mate, but I was overall quicker than him.
With Prost things were different, so he was my biggest threat. If he hadn't been my team mate in 1984 and 1985, I might have raced for a couple more years. But I realised that the performances he was putting up, especially in qualifying, were too good for me and I couldn't beat him for some reason. Maybe it was age; maybe he'd always been quicker than me, I don't know. But the difference in performance affected me, because if you are a straightforward racing driver you should always see your limits. You have to be objective and not come up with any bullshit. If the little French frog drives the same car quicker than me, then I'm doing something wrong because I should be able to do the same.
And it's a similar situation that Michael is living now. Nico is currently quicker, but he believes there are technical reasons for that: the front tyres don't suit his driving style, the car doesn't suit his driving style and all that. If Michael gets everything he wants from the team, the car and the tyres for next year and then Nico is still quicker than him in 2011 then he'll retire. No question about it. If Nico still blows him away, as this year, he'll either go of his own free will or Mercedes will fire him - one of the two will happen!