Features - Interview
MAY 6, 2010
Michael Schumacher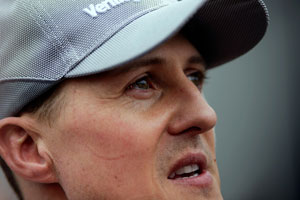 © The Cahier Archive
Seven-time world champion Michael Schumacher's return to Formula One has not been as smooth as many have expected - how does the German driver see things leading into the fifth race of the season, and the first back on European soil?
Q: You've won six times in Barcelona, you have a car that will hopefully suit your style better, so what are you expecting?
A: We have a new update that we feel quite good about and we should improve but the other teams won't stay where they are and it will be interesting to see where the journey goes. In winter testing we weren't too bad at Barcelona, except for the last day where McLaren showed very strong performance, so it's a little bit of an unknown.
Q: In your 'first' career, you could seemingly drive anything and understeer didn't seem to bother you, so why are you struggling with this car now?
A: If you look at it, in China my performance wasn't good and it stands out, whereas at other circuits I think it was on the right track. I'm very optimistic that things will go in the right direction and am quite relaxed about what's going on. Yes, I know that the car is not suiting me perfectly but I hadn't expected to come here and blast everyone away. It's a process and it's like a stock market. They have a trend upwards and every so often they have a reset. China was my reset! We'll see where it goes from there.
Q: Where do you expect the new car to perform better than before?
A: It's not a new car, I'm afraid! There are a couple of new bits and pieces on it that will make it quicker, yes, but I guess we have to see. The wheelbase is a bit longer and we have aero updates, which are the main factors.
Q: You only signed just before Christmas. When you did that, did you think about the narrower front tyres and the way the cars were, or did you have an open mind?
A: I was certainly open-minded. Cars are what they are and you have to find a way to drive around them. That's the way it was in the past and the way it still is. I didn't expect to come into a complete new structure and restart where I had finished at Ferrari. It's a process and I'm absolutely confident of that process going in the right direction.
Q: It is surprising people have been critical and haven't given you a bit more time?
A: I guess the only perception I can have is my experience from the past. Even when I was successful I had various moments when things weren't going too well and was criticised similarly. It's a natural situation and it's the type of world we are living in. You have to stay calm and focused on what you know yourself. I obviously know a bit more than I explain or want to explain to the outside. If you think, in winter when I announced my comeback everyone was enthusiastic. I maybe haven't been performing to some expectations, but within my expectations, and it's kind of normal I get criticised. The next time I'm on the podium those same people will probably be very enthusiastic again. It's our life and it's emotion and we live for those emotions.
Q: Does the criticism make you regret coming back?
A: No. Not if you know what is behind it and believe in yourself. And the reason I came back was not to have a nice story in the media but because I enjoy driving. That's what I'm here for and I feel on the right path. Things will improve and it's just the pure joy I'm looking for. Obviously that's higher if you are winning races and, don't worry, I was very disappointed in China. I was angry at myself. But things will be different.
Q: You made the stock market analogy. How risky a stock do you think you were when Mercedes took you on?
A: That's a good one! I must find out...
Q: There's been lots of toing and froing of performance this year. What's your assessment of where it's at and where it's going?
A: We have had quite a different winter time, not with the preparation we were looking for, but if you look at it all, Nico has done a fantastic job and is second in the championship only 10 points behind. That gives a lot of strength to the team because we know what to expect and what can happen and we have performed probably better than we should have done with even more potential to go forward.
Q: Last time you were in F1, there was bespoke tyres and unlimited testing which allowed you to access the level you were capable of. Is it more restrictive now?
A: That is a perception you might get but quite honestly I was doing the same amount of testing that my team mates were doing. In proportion I was up against my team mate so I don't think it's to do with the mileage. I know where we can and will improve and with time it will become obvious.
Q: You are often as quick as Nico in free practice but not in qualifying. Why is that?
A: First of all he is a very quick driver and secondly, as I said, there was a trend and if you exclude China this was going in the right direction. We've only done four races, so let's see.
Q: Racing against the Hamiltons, Rosbergs and Vettels, do you think this is as good a field of talent as you've seen?
A: It's certainly a very high level but I don't think it's higher. There was Fernando and Mika Hakkinen before on that level but what you do have is more cars on a more level playing field and the good drivers that are around are in those cars, so there's a higher level of competition.
Q: You feel good about your car, it should suit you better, can there be any excuses this weekend if you don't have a good race. Is this the weekend you start to beat your team mate?
A: I'm sure there's always excuses you can find if you want to! Some people may want to see it like that but it's not the way I'm thinking. It's the first time we've worked with this car and only afterwards will we understand the positives and negatives. I just feel positive I will feel the trend of what happened up to Malaysia and not what happened in China.