Features - Interview
JULY 4, 2010
Geoff Willis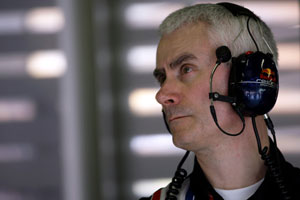 © The Cahier Archive
The Hispania Racing Team made a last minute arrival to the F1 paddock in Bahrain. Technical chief Geoff Willis talks about life for one of Grand Prix racing's new teams.
Q: Can you give us an HRT progress report and explain what steps have been taken to overcome reliability issues from earlier in the season?
We started quite late and the first race was a huge logistical challenge and more of a shakedown. We've been steadily improving our organisation because hardly any of the team had actually worked together before and certainly not in an F1 context. I think overall we've had a reasonable period of reliability and have been pushing the car harder as the drivers have got up to speed. Most of our problems have been related to transmission hydraulics, which is a complicated part of the car. It is the first time that Xtrac has been involved as a supplier of the whole system. It's tough considering that we don't have testing and we therefore have to try and find fixes on the dyno. I think to date we have generally kept level with the other start-up teams which are developing the cars. I think the drivers have found their way around the car pretty well and from race two or three we have been more or less fixed on set-up and are getting slicker at operating the car and getting the best out of the race weekend.
Q: The testing ban was introduced to save money but with none at all in such a sophisticated business, have we gone from the sublime to the ridiculous?
From a purely engineering point of view, if we don't have testing we have to compensate with rig testing and analysis. The money you don't spend on testing you spend on that. The mistake, for me, is that while it was sensible to stop unrestricted testing, a better balance would have been to have certain fixed testing times common to all teams and wrap up a commercial operation around it. You have to remember that there are often fairly large gaps when there is no F1 in Europe and we could have one test in Spain, one in Italy, one in the UK, something like that. The downside is that to do that, unless the calendar was particularly sympathetic, would mean going back to requiring an additional test team.
Q: Really? Even for such a limited programme?
Yes, due to where the cars actually are. Unless you can synchronise the calendar and actually use your race team to do the tests, but that might be difficult and would probably take a couple of years to work out. It's something for FOTA to talk about but from an engineering point of view it would be nice to have some testing during the season.
Q: Given the problems you've had, has there been any thought of purchasing a gearbox from another team?
We're looking at various options for next year. I think the one thing that is pretty certain is that the team will not be designing its own gearbox next year, so we're either going to be a customer of Xtrac or a customer of somebody else. We don't have the resource to do an in-house design.
Q: The Dallara was effectively a customer chassis, so what were the compromises?
Two different types of problem for us, the main one being that you need to understand how the car arrived at its current specification in order to know how to develop it. If you don't develop you effectively go backwards. There are quite a few bits on the car that need bringing up to F1 level and quite a lot of detail bits and pieces on it to improve reliability and longevity of components. Then we have to add performance to the car and it's important for us to choose the best things we can do to the car for the minimum amount of time and money.
Q: What direction is development going, regarding CFD and wind tunnel work?
In the short term we will be using hired wind tunnel time and will be doing a balanced programme of wind tunnel and CFD. For in-season development right now, with the time pressures it's almost certainly going to be a 100% CFD programme, which has its slight risks, but I think from where we are, is sensible.
Q: How would you assess the progress of Karun Chanhok and Bruno Senna?
Good. You can clearly see we have been maintaining pace and if anything compared to the leading cars, closing up. We were 6.5% off the pace and now we are typically 4.8-5% off with qualifying time. The car is fundamentally the same, so I think that has come from the drivers. Both of them have worked well with the team and have a good working relationship.
Q: So the return of the 107% qualifying presumably won't worry you?
I think at one race it would have been an issue. But from an F1 engineering point of view the limit should actually be closer than that, more like a 5% rather than a 7% rule. I think you have to expect the teams to operate at a certain level, that's what we want from Formula 1. Obviously we would be a little bit uncomfortable with 105% in our current position but it wouldn't surprise me in the future. It's just the nature of Formula 1. Go back 20 years and it was much more scattered.
Q: How has the relationship with Cosworth been?
It's always good to partner Cosworth, we've got a very good relationship with them. We know the engine is competitive and they've helped us out a lot with the fact that we had such a short run-up into the season. I think now we've got to do a little bit more in terms of bench dyno and calibration, there's some race modes that we cannot use because we haven't done enough, that sort of thing, but overall a good, reliable engine with very few problems that weren't self-inflicted. But we've not had repeats of those and that's a good thing.