Features - Interview
APRIL 27, 2006
Flying Dutchman rolls with the punches
BY JURGEN STIFTSCHRAUBE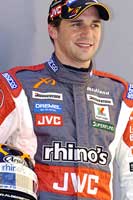 © The Cahier Archive
At Imola last weekend, Christijan Albers earned MF1 Racing its best chunk of TV coverage of the year. Unfortunately, it was for all the wrong reasons. And since the team hadn't thought of selling sponsorship space of the floor of the car, it wasn't fully able to take advantage of the unusual position Christijan found himself in following a disastrous encounter with Yuji Ide...
Christijan clambered unhurt from his upturned car after the spectacular accident but the nudge from Ide was the last thing Christijan needed after electronic problems in qualifying.
"I have to say that I find it quite strange that if you roll over a few times, everybody wants to talk to you again," says the Dutchman. "The last time I got so much attention was in 2003 and 2004, when I was a frontrunner in DTM.
"The problem with the Super Aguris is they take a lot of risks at the start, because they want to be in front of us, and Ide just drove into the back of me. For me it's just a race incident - everybody else thought it was a little bit stupid, but I don't want to get involved with that."
What goes through your mind when you're flipped upside down?
"I didn't see anything coming and then I just started to roll," he explains, "but I knew it was Ide behind me. Nothing went through my mind, because it all happened really quickly and then it was over. For me, it's OK to have a crash like that because I remained alert, and it also made me aware again of how safe F1 is. So it only makes me want to jump back in, go quicker and closer to the limit again.
Four races in, and Albers has not got much to show for it. But he thinks that there is some real potential in the car and the team?
"The team is working really hard, and we're doing everything possible with the budget we have. I have to say, everyone is doing a great job. But we have to fight more and more, and it's never good enough. What we have seen is that we have to improve our starts. We saw on Saturday morning that we were competitive; my car was right up there. We just couldn't attack during first qualifying and we left the results at home. We have to push extra hard to get nearer to the top again."
There is more potential than last year?
"Yeah, for sure," says Albers. "You can't compare things here with what I had at Minardi last year. This car has got much more downforce, and it's much better to drive. It's also a really good team, with a lot of smart people. But of course you also can't compare us with a top team, because a top team has a much bigger budget. Midland is really improving everything within the team, and we're trying to be as good as our competitors. But we have to do it in steps, because we don't have the resources to do it as quickly as the others. But we're going to fight and get some good results before too long."