Features - Interview
AUGUST 5, 2010
Big changes for Heikki Kovalainen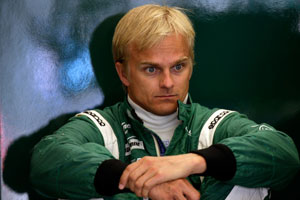 © The Cahier Archive
Heikki Kovalainen went from the architectural splendour of the Sir Norman Foster-designed McLaren Technology Centre to Lotus's empty shell factory containing Mike Gascoyne and a telephone. He talks about his first six months with Lotus Racing.
Q: What persuaded you to join Lotus?
The other options I had did not seem as clear. Lotus had a budget and a clear vision of how they wanted to go forward. The meeting with Mike Gascoyne and Tony Fernandes was very convincing and it felt like a good opportunity to be with the team from the beginning. Hopefully we'll make progress relatively quickly and I'll be in a position to take advantage. Maybe other teams would have given me better shorter term options and a quicker car, but I liked the idea of being involved from the start. So far I have no regrets. I like it at Lotus and there's a lot of good stuff planned for next year. We should improve in every area and be a stronger team.
Q: How did you find the McLaren/Lotus contrast?
It was obviously a big change but things improved quickly. There was a big difference from the first time I went to the Lotus factory to the second. And now our base looks like a Formula 1 team. It's obviously not as big as McLaren but it's a good facility, we will have about 200 people eventually and we can do many things in-house. It wasn't a big issue for me and I felt a good, racy atmosphere and I'm able to have close contact with all the personnel, so there are positives comparing to McLaren too.
Q: How is Lotus progressing?
I think that concentrating on next year now is the right thing to do. We have pretty much stopped developing this year's car -- it's just set-up work and some reliability things that we can carry over to 2011. The new car is starting from scratch to be honest, so it will be totally different. It's a compromise, of course, but a case of trying to maximise next year.
Q: Was your incident with Mark Webber in Valencia an illustration of where you are compared to the leading teams, in terms of downforce?
No, I think the incident was just a mistake by Mark! Even if there's a road car ahead you need to make sure you don't run into it. It caught Mark by surprise and he obviously didn't do it on purpose, but I think the performance levels on a short circuit like Hungary shows where everyone is. Even the other leading teams are struggling to match Red Bull. It's a huge difference in the cars. It's not ideal but it is what it is.
Q: Lewis Hamilton was obviously strong, and now Jarno Trulli, renowned as super-quick over one lap is your team mate, so how is the comparison?
It's very good. I get on with him, he is very quick, especially in qualifying, but I beat him in Monaco (the first time a team mate ever had) and I think I've beaten him as many times as he's beaten me. It's a close battle and in a way it feels good, being able to match and beat Jarno. I think I can take something away from that. But this year I have also worked hard on my race performances. Last year quite often I had tyre problems, dropped off and some of the results were not as strong as they should have been. This year though, I've had no problems whatsoever with tyres and I think my race performances have been stronger. That has been the best outcome for me this year. It's progress and it should help in the future.
Q: Where do you put Cosworth relative to the other engines?
I think they have done a strong job and we have had no reliability problems. In terms of power I don't think we are as good as we could be but we're not far away. It's not a main issue. At most we're talking tenths. Overall I think they've done a good job.
Q: Did you expect the margin to the established teams to be as it is?
It takes time to get used to. You have to drive the car slower, you can't carry the speed because you don't have the grip. We have just put it behind us, tried to make the most of it and on a couple of occasions we've done really well and been quite close to the cars ahead of us. Red Bull and Ferrari seem to be in a different league, even compared to McLaren. We have a lot of work to do but I think it's realistic to catch the middle group next year.
Q: So how confident are you that you will race the Force Indias, Toro Rossos, Saubers and Williams in 2011?
That has to be the target and I think that if we don't do that, then it's a disappointment. The team is working hard to have a package capable of doing it and I'm pushing hard because I know what we need to do and where we need to improve. You can never be sure but I'm more confident than I was at the start of the season. We also need to learn to do things like better pit stops, because we are always losing 2-3s at every stop. Next year, if the car is quicker, we can't afford those mistakes. We also need more facility to develop the car through the season but, yes, I'm reasonably confident.