Features - Film Review
JANUARY 12, 2006
Jo Siffert: Live fast, die young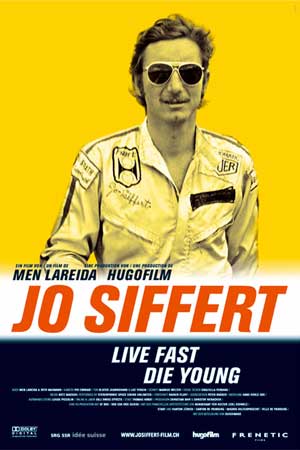 Jo Siffert - Live Fast, Die Young
A film by Hugofilm
www.hugofilm.ch
85 minutes
In 1971 50,000 people turned out on the streets of Fribourg in Switzerland to mourn Jo "Seppi" Siffert. He was killed in a BRM at Brands Hatch in the Race of Champions. This is his story, told by his friends with film from that era, from private footage and from recent interviews. This is a magnificent film, full of the kind of passion that drives people in Formula 1 and I enjoyed every minute. I cannot recommend it highly enough for race fans wherever you are.
The film, directed by Men Lareida, has quite rightly been nominated for the Swiss Film prize this year and has only been in cinema in Switzerland in recent weeks but it will become available on DVD and will come with subtitles in English, French and German so as to appeal to everyone who speaks one or more of these languages.
The movie follows Siffert's career from his humble beginnings to his days as a Formula 1 superstar. The producer has, very cleverly, adopted the sound and feel on the 1960s in the film and weaves the coverage from that era with the memories of Siffert's friends 35 years on. It works and one can appreciate very clearly that Siffert was a man who created affection wherever he went and is remembered fondly by those who knew him. His widow makes it very clear: "He was an exceptional man," she says at one point. "I cannot say more." It is a very poignant film, notably with his two children, who were too young remember him although his daughter Veronique admits that she had invented images of them together when she was a child. There are some wonderful moments, notably a TV interview with Siffert's team boss Rob Walker after their victory in the British Grand Prix at Brands Hatch in 1968. "Isn't it lovely," said Walker in that magnificent voice that we still miss in the F1 world.
The movie features interviews from Heini Mader, one of his closest friends and indeed had footage which Mader himself took of their early F1 adventures. His journalistic friends Jacques Deschenaux (who is still on the F1 scene) and Adriano Cimarosti do much to explain his character but it is his sister Adelaide Siffert who provides the strongest voice in the movie. Siffert's was a life of passion and Adelaide understood that best of all. She relates with glee the story of their wilder moments of youth when they stole a car and drove madly around Fribourg.
"It is better to live dangerously for 34 years than to be bored for 80 years," she says.
This is a brilliant film. See it, buy it.
Hell! Steal it if necessary.