Features - News Feature
MAY 18, 2001
The Rise and Rise of BMW Williams
BY DAVID TREMAYNE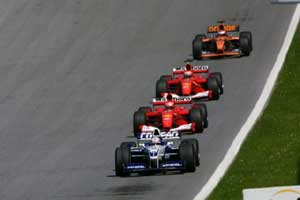 © The Cahier Archive
The rise to full competitiveness of BMW Williams has been one of the talking points of the 2001 season. But what does technical director Patrick Head feel about the team's new dawn?
Ever since the first race the BMW V10 engine has given indications of its prodigious power - estimates suggest it is the best in the field with perhaps as much as 850 bhp - with fastest times through the straightline speed traps. In Brazil Juan Pablo Montoya was set to win until he was unwittingly taken out of the race by Jos Verstappen, and at the next race, in San Marino, Ralf Schumacher finally ended the team's 37-race drought by winning its 104th GP and his first. Williams' last victory had come courtesy of Jacques Villeneuve at the Luxembourg GP at the new Nurburgring, back in 1997. Since then Montoya broke his points duck with second place in Spain, and led briefly again in Austria.
The signs were there all through 2000 that Williams was coming back, as the new BMW alliance moved steadfastly closer to Ferrari and McLaren. But this year the white and blue cars may be considered on a par with the two top teams.
"If you look back to 1999 we were not really competitive at all," admits BMW Williams technical director Patrick Head. "But last year we addressed the shortcomings in the FW21, and overall I think that the FW22 was a pretty good package. I think we can say that we were happy with the progress that we made.
"Part of it, of course, is down to BMW. In 1999 the Supertec engine was good, but there were problems associated with it that were not helpful to us. It is always the same when you are working with customer engine and not with a manufacturer; we went through the same thing in 1988 when Honda withdrew, and picked up again with Renault in 1989. Working with a manufacturer always gives you further impetus.
"BMW has done a very good job with its engine, and the 2001 version is better still. It is powerful, driveable, and reliable. There's not much more that you can ask for."
Head turned to BMW sporting director Mario Thiessen at this point, adding with a big smile: "We could do with a bit more downforce still; we need to do something to kill that engine!"
Ralf Schumacher, Austrian GP 2001
© The Cahier Archive
At the beginning of 2001, the FW23 had a fairly serious lack of downforce (though nothing quite as bad as McLaren's shortfall), but the power of the BMW allowed Williams to offset this by running more wing. Modifications made since Australia suggest that part of this problem has been overcome but Head and the aerodynamics department are still hard at work in the wind tunnel.
Michelin has also made a strong contribution to the package, though it would have been interesting to see how the FW23 compared to the FW22 on Bridgestones. "Michelin is doing a tremendous job," Head says. "You only have to look at Brazil and Imola to see how much progress it has made in only a very short time. And clearly the development will not stop there." In Austria, however, Michelin's tires lost their edge early, so that development is going to be crucial.
The return of traction control posed BMW Williams a few problems in Spain, but Head admitted that the team had exercised its habitual caution. "It is said that electronics dehumanize F1," he said, "but what you have to remember is that they are created by humans and can therefore go wrong. It's early days yet, and we have deliberately been conservative in order to be safe.
"Overall, though, I would say that we can do with a bit more downforce, a bit more grip and a bit more grunt. You always say that. But we have taken a step forward for sure this year and we are happy with that. We just have to make sure that we don't allow ourselves to slip back again."
There seems zero chance of that.