Features - News Feature
OCTOBER 18, 2000
Johnny Herbert's top five
BY DAVID TREMAYNE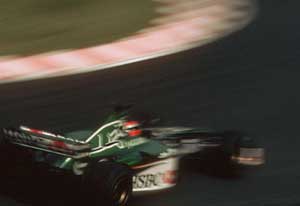 © The Cahier Archive
On the verge of his last Formula One Grand Prix, Jaguar's Johnny Herbert looks back on the top five F1 drivers he has raced against.
In my time in F1 the best drivers I raced against were Ayrton Senna, Alain Prost, Mika Hakkinen, Nigel Mansell and Michael Schumacher, but that doesn't necessarily mean that I think they were the best of all time. Jim Clark, Stirling Moss and Juan Manuel Fangio were all great too, but there's just no way I can make any comparison with their abilities. We all know how fast the drivers I have nominated were or are, and the qualities that made them great, so I've tried to focus instead on the personal memories I have of them.
AYRTON SENNA
I'll always remember Ayrton as a very approachable guy. He was always friendly towards me and would always make time for me. Actually, we did a little bit of karting together in the early days. We were in different categories most of the time so we didn't often actually compete against each other. We did race in the 1982 World Championships, I think it was. Unfortunately he was having a tough time, so though we were in the same heats we didn't race wheel-to-wheel because he didn't have the right equipment.
From what I remember he was blip-blipping the throttle even then. That was his style. In cars he did that quite a lot even with the normally aspirated cars, and with the turbos, of course, he did that massively. On-off, on-off all through a corner. You can't do it at all in these things today, but I have no doubt he would have adapted.
He was just a very nice guy. A lot of people misunderstood what he was all about. He was very dedicated to what he was doing and how he went about it.
Some thought that was obnoxious. But he couldn't be the friendly Ayrton that he could have been, because he would have been bombarded by attention.
It was a dogfight between him and Alain at McLaren, but some of the time they were doing it in what I would class as a very nice way. On the track it got fraught, but they exchanged information and never tried to hide things from each other. They both got similar chances. One would try and stay later so he could check the other one's car, and the other one knew that so he would stay later. They had fair treatment to fight each other within the team.
"He told Corinne to stop talking to my wife, Becky, and from the Saturday in Argentina onwards I was never included in the debriefs and never privy to the information that he had."
JOHNNY HERBERT
When he was scrapping, Ayrton was able to keep the pace in a car that was more difficult to drive. And the biggest thing with him was qualifying. He is the only guy who could do that, and when they raced together Michael never outqualified him even though Ayrton had an inferior car in 1994.
I liked Ayrton's style. With me his tactics were always clean. I think it was just Alain that he a problem with! As I see it, Alain took him off in Suzuka in 1989, and Ayrton did it once to him in 1990. I never once saw Ayrton put anyone on the grass. I saw him squeeze Prost several times, but that's different. Unlike some others, Ayrton played fair and he raced. I don't always think his judgement was that good, but he could do it. And he had a sense of humor; not many people got to see it, but it was there.
ALAIN PROST
Alain raced in an era that was very different to what we have today. The latter part of the turbo era was all about saving fuel and then you stuck up the wick at the end and pushed very hard. It was also the era where you saved tires and came back at the end. That was where he got his Professor name from. He was very good at that. Nowadays you don't do that any more, with the fuel stops and tires that don't degrade. Today it's a flat-out sprint between stops, it's a whole different style of racing.
Alain was very good at looking after the car, and he probably looked after the tires in some ways better than Ayrton.
In Mexico in 1990 he started 13th, but gradually he moved up while still looking after the car and eventually won. That was real self-control. But the other side was what Ayrton did to him at Donington. When they raced together at McLaren, and then at McLaren and Ferrari, they were pretty equal. But I think when Alain came back to Williams for 1993 he wasn't at his best.
I like him as a guy, and he has a good sense of humor. He was very intelligent how he went about things, and he was clever, not in a conniving way, in how he did things. Again, he believed in himself very much.
MIKA HAKKINEN
Mika is fine, absolutely fine. But he's changed one hell of a lot since he went to McLaren. And he's changed in a way that's made him not as interesting as he was. Maybe he's become 'optimized!' It's been drummed into him how he needs to present himself, and it's unfortunate that he isn't popular in some ways because of it.
Journalists say that Mika is the press conference nightmare, and I've seen some of that, I guess. But one-to-one he's just the same as ever. He's a nice guy, no question. And on the track he is Mr. Clean. He's never driven anyone off the track. He's never been like that, never been vindictive. He was always competitive, but I know when we were together at Lotus he never did anything bad. I always remember when we were getting very competitive in 1992 he got a bit tetchy. In 1991 with the old updated 102B, we always tried to help each other. I'd tell him what worked where for me, and vice versa.
But when we got a proper car for 1992, I'd do the same thing but suddenly I realized that he wasn't giving me anything back! But we still had the friendship, and there wasn't any hiding of information as such. It was nice gamesmanship, if you like. I don't think that Mika could be unpleasant if he tried.
What's been good for him, I think, is Erja. She is a strong character herself, and that keeps his feet on the ground.
NIGEL MANSELL
Nige was funny in a very different way to all the others. I think he always tried to be someone comic, and he wasn't. And sometimes he fell flat on his face because that didn't come across very well. But he was very good with the fans, and that was what made him popular. He wasn't shying away from them. A lot of the drivers we had then, and a lot we have now, don't do anything. Michael might come out and wave, but Nigel would sit for hours with them at Silverstone. And I know some people have been cynical about his motives for doing that, but if it wasn't genuine there, I don't think he'd have spent so much time with them sitting on the pit wall signing autographs.
The other thing that makes me certain that Nigel's attitude was genuine was that if it wasn't, he wouldn't have gone to the British GP and stayed in a motorhome. He liked attention, and that was his identity.
There was always the talk of retirement, and in 1990 at Silverstone the symbolic throwing of the gloves, but he came back of course. But that was Nigel, and it was interesting. It gave people something to talk and write about. Okay, his nature was always that he needed to be loved and to be convinced that he was loved, but that was him. He was popular with us drivers, though I can't say that he ever helped me. He was a guy to talk to, a Brummy through and through. He was always approachable, never offish.
And he was strong enough that if he didn't like something that somebody had done to him, he would strut down there and tell them.
For all the way that his career went, I think he had the mental strength to carry on as far as he did until he won his World Championship when he was 38.
He had a lot of self-belief and balls, and he gave it his all. He was always impressive in the fast corners. Okay, in 1992 he had a car that was two, three seconds quicker than anything. But he used to drive it over the limit, sometimes. He got more aggressive and braver as he got older, I would say. After that accident he had at Monaco in 1984, I would say he got more aggressive. They were good cars to be aggressive with in those days.
Because of that, I think of all of them he would be the one who would struggle most with the cars we have now. Ayrton was smooth in his driving, but not on the throttle, but as I said I think he would simply have changed his style to cope with the current cars. Alain would have been okay, I'm sure.
MICHAEL SCHUMACHER
I have my reservations about Michael, for obvious reasons. As a talent, yes, he has a hell of a lot, and a hell of a lot of self-belief. In some ways I don't think he has the talent that Ayrton had, and I only say that because when Ayrton was in a car that wasn't as competitive he was still able to wring something more out of it and to be fighting for the championship. That 1993 season was a case in point, with the customer Ford engine in the McLaren.
Michael has done some great things. One year in Spain was probably his best drive, when he was miles quicker than anyone else in the rain in 1996. But Ayrton always beat Michael in qualifying. Michael might have beaten him in the race, but there was always all that controversy about the Benetton having traction control.
The other thing is that Michael makes more mistakes than Ayrton did. He seems more vulnerable under pressure, whereas Ayrton was even stronger then. And his track manners are far worse than Ayrton's ever were. In my opinion he goes to extremes with which I, and many of the other drivers I raced with, would not have been comfortable. What Jacques said is totally right, I think.
He brings his day-to-day mentality to the track. He has so much talent, I don't know why he needs to do some of the things that I've seen him do. It's like with Damon in Adelaide; he screwed up when he wasn't even under real pressure. And he did what he had to do. He turned in, but to be honest I don't think he turned in so much that, had Damon not been there, he would have ended up going over the inside curb. That in my opinion was marginal, though he knew Damon was there. What he tried to do to Jacques in Jerez was more blatant.
When we were team-mates, he definitely didn't help me after I'd been close to his pace in the first two races. He told Corinne to stop talking to my wife, Becky, and from the Saturday in Argentina onwards I was never included in the debriefs and never privy to the information that he had. That's what I believe to be the difference when I say that Senna and Prost behaved the correct way with each other off-track. They were never that petty. It always made me wonder just what Michael was afraid of.
Michael has probably got more popular since he's had his kids, and become a little more open. And he has a sense of humor, but it's different. Not like Alain's or Ayrton's.