Features - News Feature
JUNE 13, 2001
Johnny Herbert rates the F1 teams, Part 2
BY DAVID TREMAYNE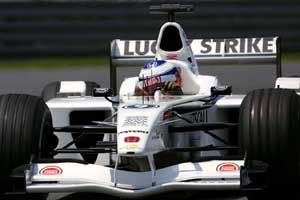 © The Cahier Archive
He's still quick, as he proved while testing for Orange Arrows, and he keeps up with the intricacies of the F1 scene. So who better to give his opinion on who is doing a good job and who isn't than three-time F1 winner Johnny Herbert?
BAR
"BAR has done okay, and Barcelona was its first podium finish. It beat Jordan there. Now Jacques always goes well there and there is still a long way for the team to go. Arguably it isn't the fourth best team because it's still fighting to establish itself against Jordan and even Sauber.
"I don't know whether Melbourne detuned Jacques; knowing him he probably thought it was his best accident. I used to think that the size of a shunt mattered and that just doing a rear wing was nothing, but then I started to grow up! I don't think Jacques' lack of form was down to that, but Barcelona will have been a big boost, to him and to the team. And it will bring back the old Jacques, the fighter. It'll be interesting to see what happens in the next couple of races. Was Barcelona a one-off?
"Panis has always been a quick driver - look at Monaco back in 1996. He was always quick without having the best car. He did a bloody good job with McLaren last year, often going faster in testing than David or Mika, and he has used that as a springboard and done a good job, chasing the lower points in every race."
JORDAN
"Jordan is Jordan. It always seems to be in the same position, and never seems to jump forward the way Eddie says he wants it to. It's never quite made it. I know it's just gone through another change of designer, and lost a place to Williams, but it's a long way off the top three teams. It is arguably the best of the rest, but it's also mingling with BAR and Sauber, so compared to 1999 it's actually dropped down a bit. Is it running out of ideas?"
ARROWS
"At the moment Arrows has a big problem, the same as McLaren had: lack of downforce. The A22 has a very poor front end and a very good back end, but the more wing you put on the front the worse it makes the rear. The car will be okay when the answer comes along.
"The engine is quite driveable, but it lacks horsepower. At least its reliable. But the team has a long way to go."
SAUBER
"It's a big surprise that Sauber is still so competitive this far down the line, because in the past good starts to the season have faded quite quickly. The most constant year its had before was probably when we were together in 1997 and the results were good all through the season. At times it's made the mistake of thinking something is better theoretically but not doing enough of that sort of development; the was I got round it in 1997 was to keep telling it that things it wanted me to try were not good enough. It was the best way to wake it up and to work harder.
"The C20 is obviously a very good car, and a very good driver's car. It's just what young drivers need. It's a classic driver's car. It's quick, but not edgy quick, and competitive. It doesn't have any surprises for the drivers, and it is driveable and forgiving. It's not the best car, but it's competitive and it should stay that way provided Sauber keeps up the rate of development and pushes ahead. There it may have a problem because BAR and Jordan are better funded. I think it was a major mistake to get rid of Sergio Rinland, because it makes more sense to let the original designer develop the car.
"Nick Heidfeld has been very strong this year, and Kimi Raikkonen is hitting his stride. He's been very impressive. Both are regularly qualifying in the top 10. The future will be very interesting, though, with changes in the team's structure imminent."
Eddie Irvine, Canadian GP 2001
© The Cahier Archive
JAGUAR
"The politics have carried over from last year, and though a lot of people have been moved out I'm not sure that the right ones have necessarily been moved in. The internal wrangling has upset the operation of the team. I think it's going to take a good two to three years for everything to settle down even if Adrian Newey waves his magic wand. It still think it will take a long time.
"Will the combination of Niki Lauda and Bobby Rahal work? I don't know. It's a strange situation. Niki is verbally in the limelight and answers to Wolfgang Reitzle. Bobby was brought in by Neil Ressler, whom Niki has since replaced. So it's difficult for Bobby, with Niki bringing further change and running the politics.
"I don't see why the team got rid of Luciano Burti for Pedro de la Rosa, that's another load of politics.
"The R2 physically looks no different to the R1, though it might be different under the skin. Whatever, it isn't a step forward. That's partly down to Eddie Irvine's input, because he's supposed to be the future for the team. And what was possibly the best engine in 1999 hasn't been exploited and others have caught up. Jaguar has an awful lot to do."
MINARDI
"I think Minardi has done a great job, especially with the late change of team ownership, customer engines. It's done a good job. And Alonso has done really well. He did a very good job in Barcelona, passing Fisichella and pulling away from him. Not a bad job at all."
PROST
"It's unfortunate, and very surprising, what's happening at Prost. Jean was very fast testing before the start of the season, especially in Barcelona. Now Arrows did that last year, and though it dropped down the order it was still quick at the circuit during the race. Now Prost wasn't quick there during the race, which is odd. It suggests that the car may be affected more than most by the weather. Maybe it has a structural problem. The team isn't showing any signs of development right now, it's stagnating. Perhaps the internal politics are slowing it down."