Features - News Feature
JANUARY 31, 2001
John Cooper - A Very British Marque, A Very British Man
BY DAVID TREMAYNE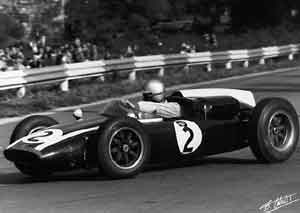 © The Cahier Archive
There was something very British and understated about the Cooper Car Company's dark green and white striped livery, quite out of keeping with the magnitude of the stride it had helped F1 to make with its re-introduction of the rear-engined philosophy. But though he was renowned for his party sense of humor, John Cooper CBE was never a man to blow his own trumpet...
Today nobody gives a second thought to the fact that F1 cars have rear-mounted engines, any more than it's news that they have discs brakes, carbon fiber composite monocoque chassis or wings. That's just the way that they are. But, as the saying goes, it was not always thus.
The Auto Union 'silver arrows' of the Thirties had rear-mounted engines, but in the Fifties the practice died away until it was revived by two men: Charles Cooper and his son John. The reason why they built such 'innovative' Grand Prix machines had a typically practical reason that would characterize their engineering, and indeed their whole life philosophy. Both were down-to-earth fellows, not given to flights of fancy and, certainly in Charles' case, not given to lavish acts. Charlie Cooper had a reputation as a close man with a dollar.
Their rear-engined specials first made their mark in Formula 500, the diminutive, motorcycle-engined category that preceded what we know today as Formula Three, and which was enormously popular in the immediate postwar years. But like most men to whom it falls to change the course of history, neither had any sense that they were breaking new ground when they built their little racers, nor even when their slightly larger British Racing Green siblings were dishing out punishment to the greatest marques in Grand Prix racing: Ferrari, Maserati and Vanwall.
The 500cc formula called for very basic machines, and throughout his life John Cooper would always tell the story the same way, in a sing-song voice that still held a slight air of bemusement, as if he couldn't really figure out what all the fuss was about.
The engines came from motorcycles, where chain-drive was de rigeur. 'So when we came to make our first 500cc racer, it was just a hell of a lot more convenient to have the engine at the back, driving a chain. We certainly had no feeling that we were creating some scientific breakthrough! Don't forget, our Cooper-Bristol F2 car was front-engined. But we put the engine at the rear in the 500s because it was the practical thing to do.'
Typically, Cooper would let you take all this on board, before adding the sort of self-deprecating rider that made him such a likeable man.
'It wasn't until we built the bob-tailed sportscar in the mid-Fifties, with its engine at the rear, that we really began to think that we might be on to something,' he admits. 'That really was a super little car, light, easy on its tires, well balanced. And cheap... It just seemed so right.'
Subsequently he and his father then built a single-seater version, with a twin cam version of Coventry Climax's emergent ex-firepump engine. In F2 guise the spindly little car was quick. Bit by bit they began entering it in F1 events, and gradually it evolved a little more.
In 1958 the organizers of the Argentine GP were offering good starting money, and because Vanwall was not ready for the fray, Stirling Moss was free to join Rob Walker's private team to drive his Cooper. It had a 2.2 liter Climax engine, giving away almost half a liter to rivals with full 2.5 units, and when it finally reached Buenos Aires the race promoters at first refused to pay up. They said the car looked like some ridiculous special, not a proper Grand Prix machine.
Only days later the world was feting the little minnow as the winner of the race.
During practice Moss was only a second slower than Fangio's Maserati, and diligent work honed the handling. But the outstanding thing was the minimal tire wear, in comparison with the bulky giants ranged against it. Without telling anyone, Walker's team planned a non-stop run in the race.
Initially Moss ran fourth behind Fangio and Jean Behra in their Maseratis, and Mike Hawthorn's Ferrari. He had a scare when the car momentarily stuck in second gear, but it freed itself and he focused on nursing his rubber. He nevertheless passed Behra, then Hawthorn, and by half distance was leading after Fangio had stopped for fuel and fresh tires. In the pits, veteran mechanic Alf Francis played up the situation by ostentatiously preparing fresh tires, but Moss was never really going to stop. Despite a white canvas spot on the left rear, which grew with every lap and was joined by more on the other tires as the laps clicked away, he nursed the dark blue car home to a sensational victory over Ferrari's Luigi Musso.
After an incident the day before when playing around with his wife Katie, Moss had to drive at times with a patch over one eye to protect a damaged cornea. But if he looked like a pirate, the treasure that he won was certainly never buried. That day the writing was on the wall for the front-engined F1 car; by the end of the season it would be a dinosaur. In the following two, the Coopers would be almost unstoppable.
1958 was the first season in which Cooper incorporated threaded joints in its rear suspension, permitting small adjustment of the chassis for optimal setting up, and gradually that set another new trend, towards the fully adjustable F1 car. Testing, too, was something else that Cooper and Moss helped to make popular.
There was something more that Cooper bequeathed to the sport, something an awful lot easier to overlook than the rear-mounted engines that we take for granted today, or the marque's dramatic influence on Indianapolis design. Out of the world of Cooper's little 500cc cars came a new type of driver. In the Fifties motor sport was populated by gung-ho types, such as the irrepressible Hawthorn, the ebullient Duncan Hamilton whose Le Mans wins were usually charged with his own brand of personal fuel, or that laconic man from Kansas, Masten Gregory, who was famous for leaping from the doomed cars he had lost control of just before they hit something solid. But from the little cars came a new breed.
'This was the prototype of today's drivers, if you like,' Cooper suggested. 'They were more professional, took life and their sport more seriously. They came from the 500cc movement. Before that, motor racing in Britain, at least, was more of a rich man's past-time. Our cars were so cheap that they introduced a whole new generation of drivers, who took a different approach. Men such as Stirling and Roy Salvadori came into it and were quick to realize that there was money to be made. As a result they were much more professional.'
John Cooper soldiered on after Jack Brabham won his back-to-back titles in 1959 and 1960. There were only a handful more wins, though the team had something of an Indian summer of competitiveness courtesy of John Surtees and the compromise Maserati-engined T81 with which the company faced the new three-liter F1 in 1966. Two years later, after a disappointing season with BRM power, Cooper called it a day in F1. But elsewhere the legacy of the legendary Mini-Cooper kept the company in the limelight and won it a whole new raft of fans.
John Cooper received the CBE for his services to British motorsport, and remained a popular head of the family garage business until his death, at the age of 77, on Boxing Day 2000. He took an interest in modern F1, and admitted that he marvelled at what former employee Ron Dennis achieved at McLaren, but he believed that the fun was already going out of motor racing as he faced his own final season in F1. Perhaps that sentiment was inevitable, given the era in which the Cooper Car Company's greatest successes had been won.
Looking back, he would fondly recall one race meeting in particular, at Reims, in 1958.
'It was the night before the race,' he would chuckle. 'There was this bar where we would all congregate. There were a couple of trees in the courtyard, and after a few drinks Mike Hawthorn and Stuart Lewis-Evans had a bet about which one of them would be the first to get to the top of them. Off they went, climbing frantically.'
Cooper recounted that a very well-known driver, whose blushes he preferred to spare, was standing just below the trees, unaware of the climbing antics of his fellow countrymen.
'Then he began to notice that there was water falling on him. He looked up and there was Mike Hawthorn, peeing on him. "I've always wanted to piss on you from a great height," Mike shouted.'
And John Cooper's chuckle would rattle down the phone, or make the group of people he was regaling with his anecdotes roar with genuine laughter. It was a gift he gave to others, just like his old world British manners. Or that unwitting re-introduction of rear-engined technology, which helped lay the foundation for Britain's ongoing domination of motor sport technology.