Features - News Feature
FEBRUARY 7, 2001
Futureworld: Will grooved tires ever be replaced by slicks?
BY DAVID TREMAYNE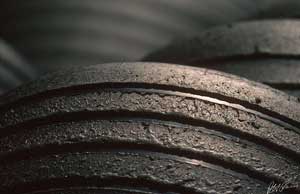 © The Cahier Archive
Continuing our look at Formula One in the new century, we ask:
Will grooved tires ever be replaced by slicks?
IF you took a straw poll in the F1 paddock, you'd probably find the only person who really wants grooved tires is the FIA President, who introduced them in the first place.
Even Bernie Ecclestone is against them, describing them as 'stupid and irrelevant.'
Max Mosley introduced them for 1998, ostensibly to limit cornering speeds. But because of the tire war between Goodyear and Bridgestone, tire development continued at such a pace that the 10 or six seconds that were meant to be lost from lap times never materialized. By the end of the season cars were going just as fast on grooved tires as they were on slicks.
The idea of the grooves is that the FIA cunningly transferred tires from the technical side, where any regulation change requires unanimous agreement from the teams under the terms of the Concorde Agreement, to the safety side where, since 1994, the FIA could make instant changes. If speeds became too much, Mosley argued, he would simply introduce another groove to reduce the tires' contact patch and therefore its cornering power.
'Grooved tires have never done anything. They are a gimmick,' says Johnny Herbert. 'But what they do do is lose their grip far quicker than a slick, so that you spin more easily. But at the same time you also travel further when you spin because they have harder compounds than slicks and therefore less grip. You can't drive a car on the throttle, in a big slide, on grooves, the way you could with a car on slicks. They are much less forgiving and therefore you have to say that they are in some ways more dangerous and more of a safety risk.'
Herbert's old Stewart-Ford partner Rubens Barrichello, agrees. 'Now all of the drivers talk about slicks. Why doesn't the FIA want to listen to us? We are the ones who are racing the cars. The guy who races F3000 is going to have a much more difficult time coming to F1, whereas the guy in F3 is doing good coming in because the line is much closer to it. F3000 is like a tank where they have to throw the car into a corner to scrub off some speed, and F1 is not. In F1, if you throw it around the chance to lose it is 60 percent or more.
'And also there is the safety point of it, because when they changed the tires to grooves they initially lost 60 percent of the front grip and 40 at the rear. So to make the car neutral you have to be on the nose the whole time. Then you take a high-speed corner, always on the nose, and for me it is more dangerous.
'With slicks you also have four big brakes when you spin. Just like a go-kart. Nowadays sometimes they start to spin and they don't even get to the grass on their slicks.
'This year we are gonna have a tire war again, and that will mean softer compounds and maybe then when we spin the car will scrub more speed. If we are not going to lose grooved tires in F1, though, maybe you need grooves in the lower formulae too, otherwise the upcoming guys are not learning.'
Mosley is not renowned for changing his mind (though the traction control situation may give cause for hope. If sufficient pressure built up, grooves could become a casualty. But don't hold your breath.