Features - News Feature
NOVEMBER 22, 2000
Futureworld: What changes might a new century bring?
BY DAVID TREMAYNE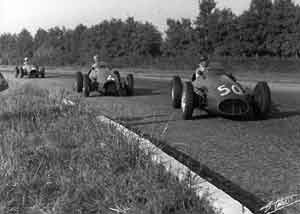 © The Cahier Archive
Will F1 still be around in 2100?
If you look at the progress the motor car made in the last century - and the progress of Formula One in just half that time - peeking into the future can be an undertaking rife with danger.
Whoever, for example, could in May 1950, when the World Championship was officially inaugurated at Silverstone, have envisaged the multi-million dollar, all-color, all-singing, all-dancing worldwide circus that F1 has become in just five decades? Who, as red Alfa Romeos, Ferraris and Maseratis waged war with the odd blue Talbot and green ERA, could ever have foreseen a time when sponsors' logos would be painted all over the cars, the trucks and the drivers?
The driving engine of significant change has always been politics. And if you can be sure that one thing will never change as long as the sport survives, then it will be that politics will continue to dictate the course that it follows. But first of all, in this brief series, we ask: Will F1 itself survive?
In the immediate aftermath of the deaths of Roland Ratzenberger and Ayrton Senna at Imola, there were significant doubts in several areas that the sport could possibly survive. Of course it did, for these concerns were voiced outside of it by people who had no idea of its inherent strength, but FIA President Max Mosley does not believe that it has the right to survive without changing to accommodate the politics of the day.
"Our number one priority has to be the safety of the public; number two the safety of the drivers," he stresses tirelessly. "There is an argument for us slowing the cars down in the corners; in fact I think it's an overwhelming one."
At the time of the Imola tragedies and their fallout, he appreciated not just the need to be seen to be doing something, but also the need to put long-term changes into motion. He rightly read public opinion, particularly in Italy where there had been the predictable outcry against racing from the Vatican that had last been heard after the Mille Miglia tragedy in 1957. But there had also been questions asked in the Italian parliament about the future of racing, and these were what had really made Mosley's ears prick up. Karl Wendlinger's accident in Monaco two weeks later merely exacerbated an already tense situation.
"After Senna there was this tremendous 'Something's got to be done' reaction," Mosley recalls. "It was very annoying in a way, because I had always seen being a racing driver as being like a test pilot. There is a distinct risk in Formula One. I don't know what happened in Senna's case, but even if you took the Italian hypothesis that something broke, that the steering broke, so what? Things break all the time.
"We know perfectly well that cars break - and I'm not speaking specifically of Senna's now - because they are built on the limits of technology. And the objective is not to stop them breaking, which is impossible, but to stop anybody getting hurt when they do break.
"So the overall reaction was completely irrational, but nevertheless it was no good saying that when we were dealing with the media. There was pressure from all sides. That was containable, and beginning to die down, until Wendlinger had his accident at Monaco. Then it began to get more serious because a lot of the big companies behind Formula One were beginning to question their involvement. Not because the people that we see at the Formula One races were questioning it, but every big company that is in Formula One is spending a lot of money, and there are always people on the Board who are against it. And they then started to have much more ammunition. One or two of the big car companies were saying to me that we had better do something, or else. So that's why we came up with all the changes."
Start, Malaysian GP 2000
© The Cahier Archive
There was another key point in Mosley's actions. Because he is a politician, he thinks like one, and was well aware of the way things were moving in the European Parliament. It wasn't that you needed genius clairvoyance to see the direction of the wind, but the teams were too busy being teams and monitoring the flow of another kind of wind in their expensive tunnels to pay heed to what might come along in five years' time. But Mosley could foresee a time when environmentalist lobbies started to give racing a rough ride, and he still can.
"If the environmentalist lobby gets stronger, as it will, I think in the long-term motorsport has to be sold on positive benefits to the environment because it speeds up research and development. So long as the regulations are directed in the right way, or push research in the right direction, that's okay on the one side. On the other side, it creates an atmosphere in which it's not the thing to go quickly on the roads. If you want to go out and go fast, you compete. That ethos will gradually start to come across."
But will the sport as such be able to continue through another 100 years? It is, of course, impossible to give an accurate answer, notwithstanding the fact that nobody around today is likely to be around at the end of the New Millennium to judge whether views expressed in 2000 were sufficiently prescient after all.
But it will always be within Man's nature to compete. What is likely to change therefore is not the motivation, but the control of that motivation. When you consider that Fifties America believed that we would all be cruising round in some sort of intergalactic vehicles by the year 2000, progress is clearly not as fast-moving as some imaginations. The motor car as such is therefore likely to endure a lot longer than anti-car lobbies might like to believe. The risk lies in governmental control and possible proscription on environmental grounds, and then only in the longest-term.
"As long as we form the regulations correctly and direct research in the right manner, and remain aware that the sport can actually be beneficial in providing a platform on which drivers who might otherwise prove a danger on the roads can get things out of their system," Mosley suggests, "then we will be okay. Those are the two planks on which we can continue to justify motorsport in an increasingly environmentally conscious society."