Features - News Feature
MARCH 15, 2001
First impressions
BY DAVID TREMAYNE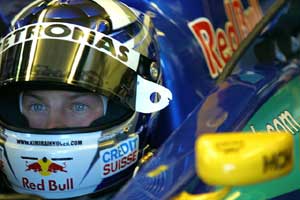 © The Cahier Archive
Juan Pablo Montoya got all the pre-race ink, but arguably Kimi Raikkonen and Fernando Alonso made more impressive debuts. In F1 the first man you have to beat is your team-mate, and while the arrival of the much-touted Colombian, Juan Pablo Montoya, has clearly had an unsettling effect on Michael Schumacher's younger brother Ralf, the German won hands down when the two BMW Williams drivers had their first moment of truth, in Melbourne. When the chips were down on Saturday afternoon in Albert Park, Schumacher did the business and left his rookie partner a full second behind.
Ever since the announcement that Montoya would be replacing Jenson Button at BMW Williams, Schumacher has been on the defensive, stung by the Colombian's ChampCar reputation which preceded him into F1 and prompted comparisons with the late Ayrton Senna. Montoya's style was aggressive enough in Australia, but traffic proved his undoing.
Up front Michael Schumacher (whom the more fanciful anticipated that Montoya might challenge even at this early stage) put team-mate Rubens Barrichello firmly in his place as Ferrari monopolized the front row, leaving Mika Hakkinen and Heinz-Harald Frentzen to share the second. But where Ralf shaded a troubled David Coulthard for fifth, Montoya was only 11th. Schumacher simply dug deeper and got stronger with every run, but after a silly spat early on with Jacques Villeneuve, Montoya couldn't find the clear lap that he needed.
The Colombian, who was to some extent upstaged by Sauber Petronas rookie Kimi Raikkonen, admits that he was surprised when Sir Frank Williams chose him ahead of Button. "Jenson did a really good job in his first year and I thought with a second season it would have been even better with him," he says. "I obviously liked Frank's decision, and hope I can live up to what is expected of me." But the former ChampCar star revealed in the opening laps of a dramatic race the speed that his supporters have long touted. He was unlucky in the first corner when Rubens Barrichello's feeble start bunched up David Coulthard, Heinz-Harald Frentzen and BMW Williams team-mate Ralf Schumacher and saw a fair bit of wheel-banging among the trio. Montoya had made a great start, and was heading for the only gap at some speed when he had to jink round them and, slightly unsighted, found himself overshooting the corner in the confusion. His recovery from 13th to third place by the 40th lap was confirmation of his ability to drive an F1 car very quickly - he set the race's fourth fastest lap - as was the cursory manner in which he dispensed with Fisichella's tenancy of eighth place on the 16th lap. Montoya saw a gap and went for it with complete clarity of decision. The Italian was powerless to resist. Montoya was thus able to lay to rest the suspicion that he had overdriven in practice and qualifying in his eagerness to secure a strong result.
Unfortunately his race ended when a fractured oil pipe led to engine failure on the 41st lap, when he had yet to pit for refuelling but was running a promising third.
"It's disappointing that I couldn't get to the checkered flag," he said, "because I had a good race up to that point. I can now say that running in F1 can be fun. I first thought overtaking was going to be impossible but now I realize that you can if you plan it - unlike in ChampCar races - and it's also very exciting! The car looks good and I'm confident we're going to show well through the season."
The challenge to Montoya's fastest rookie status came from the man that FIA president Max Mosley did not want to get a superlicence, 21 year-old Raikkonen who drove his Sauber Petronas with the aplomb of a veteran. As greater names left the track at times, the pallid Finn indicated his potential on Saturday morning. Having missed all but 20 of the 90 minutes of free practice he calmly set eighth fastest time, and only missed out on a top 10 slot in qualifying after hitting traffic on his final run.
"After this morning, I'm disappointed to be only 13th," he admitted, "but otherwise my first-ever F1 qualifying went well." Not bad for a guy with only 23 cars races to his credit before his first F1 start...
Raikkonen made a poor start and dropped three places, but he began to move forward as he found his rhythm, and right from the start his lap times were as good as, sometimes better than, team-mate Nick Heidfeld's. Up until his pit stop Raikkonen never looked remotely like becoming flustered despite intense pressure from a recovering Heinz-Harald Frentzen. Unfortunately, the Finn's second set of tires generated understeer until they scrubbed in, so he dropped behind the German. In those closing stages of the race, however, he was as quick as Heidfeld and Frentzen as they battled for fifth place on the road. When Olivier Panis was kicked out of fourth place in the BAR-Honda after passing Heidfeld under a yellow flag on the third lap, Raikkonen achieved his secret aim of scoring a World Championship at the first attempt. His performance all weekend in Melbourne, especially in the race on a day when the mistakes some had expected of him came instead from infinitely more experienced racers, marked him out as a champion of the future.
Fernando Alonso, Australian GP 2001
© The Cahier Archive
Almost unnoticed in the shadow of Montoya's flamboyance and Raikkonen's icy calmness was Fernando Alonso's effort in Paul Stoddart's European Minardi. The team might be the underdog of the paddock, with its minuscule budget and elderly Ford V10-based engines, but there was nothing lacking in the 19 year-old Spaniard's polished performance. He had one spin, and a small mistake in the last sector of his fastest lap cost him half a second and a place ahead of the troubled Benetton-Renaults on the grid, but otherwise his was a perfect debut that confirmed the promise he showed in the junior F3000 category last year.
"He's cool and calm," team manager Rupert Manwaring reported, "and he is really intelligent. He's absolutely a top driver of the future, no question, one of those who are naturally gifted. What he achieves doesn't appear to demand too much effort. Half his brain is left over to do the thinking, while the rest is doing the driving extremely well."
As an indication of his potential, 19th fastest Alonso was also able to relay precise feedback to his race engineer, and to improve every time he went out on to the track. And where a less savvy rookie might have been tempted to have his engineers adjust the car to iron out understeer, he was shrewd and disciplined enough to leave the Minardi as it was in the knowledge that the understeer would be neutralized by a fresh set of tires. He couldn't do much in the race with the Minardi, but he finished. "Of all the rookies," Jenson Button said, "he impressed me the most."
Brazil's new boys did not fare so well. Luciano Burti had a troubled start to his proper F1 start (he stood in at short notice for Eddie Irvine in Austria last year), as his Jaguar broke its left rear suspension and threw him hard into the wall. "I don't really know what happened but it felt like something broke on the car," he said after qualifying 21st. "I was not pushing too hard at that stage and I felt something let go. I spun around and hit the wall." Typical driver-speak for a massive shunt that almost put the Jaguar on its rollover hoop after tearing off its left-hand wheels. At least he was able to make the finish of the race, in eighth place.
Enrique Bernoldi suffered the same problems as team-mate Jos Verstappen: a lack of mileage on the new Orange Arrows which only turned a wheel just before the cars were shipped out to Australia. But at least the man from Curitiba faces a more certain future in F1, despite crashing out of the race, as team owner Tom Walkinshaw continues his attempt to woo Bernoldi's mentor sponsor Red Bull away from the Sauber Petronas team that rejected him for Raikkonen. The unfortunate Burti is said to be on a three-race probation, after which Jaguar may replace him with Spaniard Pedro de la Rosa, who signed recently as the team's test driver after being dumped by Arrows in favor of 18th fastest qualifying Bernoldi.
Some of the new class of 2001 will inevitably fare better than others, but on their showing in Melbourne F1 will hear a lot more of Messrs Raikkonen, Montoya and Alonso in the years to come.
Twelve months ago Button was the toast of Melbourne after an F1 debut race that was on course for sixth place until engine failure sidelined him. This year he faces a mountain of K2 proportions with Benetton-Renault, but he was philosophical as the new boys basked in the spray of champagne. "I'm still the second youngest driver out there," he concedes, "but I'm one of the most experienced now, which is a bit scary after just one year. It's good that there are more new drivers coming in. They seem to be doing a good job. They should be here in F1."