Features - News Feature
MAY 2, 2001
Charming man, hard racer
BY DAVID TREMAYNE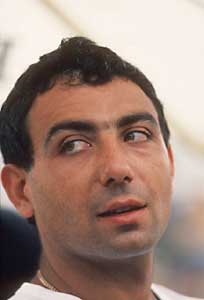 © The Cahier Archive
When you close your eyes, Michele Alboreto told himself when he carved out a career as a sportscar driver, you can almost believe that you are still driving in Formula One. Though his friends Gerhard Berger and Riccardo Patrese pleaded with him to stop driving, Michele enjoyed it just too much. These are some of the memories left by one of the great characters taken by the sport following an accident his Audi sustained during a test session at the Lausitzring.
Michele Alboreto could have been world champion in 1985, if Ferrari had not let its chance slip away. That year he was Alain Prost's closest challenger, and seemed set to push the Frenchman all the way until the Prancing Horse stumbled. Its failure cost him his best shot, and thereafter this engaging man never quite fulfilled his initial potential.
Michele showed great promise in the traditional training arenas of Formula Three and Formula Two, and was soon spotted by erstwhile team owner Ken Tyrrell, the man who had given Jackie Stewart his chance. Michele graduated to F1 in 1981, making his debut at Imola, and later rewarded Tyrrell's faith by scoring two victories for his team. The first came in a converted parking lot in Las Vegas during the US GP in 1982; fancying his boy's chances, Tyrrell placed a $10,000 bet and had a double celebration as Alboreto won comfortably, leaving champion-elect Keke Rosberg and champion-of-the-future Alain Prost in his wake. The victory helped cement a tile sponsorship deal with Benetton, and the following year Alboreto won again for Tyrrell, this time in Detroit where he beat Rosberg by just under eight seconds.
It was inevitable that Ferrari would make a move for him, and he did not disappoint as he won at the third attempt for the famous Scuderia, at Zolder in the 1984 Belgian GP. There were no further wins that year but he finished fourth in the championship chase. A year later, he seemed destined to fight Alain Prost all the way to the title, only losing at Monaco when his car picked up and puncture but winning in Canada and Germany. Sadly Ferrari lost its way after that, and he never regained such sparkling form.
The arrival of Gerhard Berger at Ferrari for 1987 prompted a switch in team emphasis, something that concerns the Austrian to this day such was his affection for Michele. By 1988 Alboreto had fallen out of love with the red cars. At Estoril in the Portuguese GP his car ran short of fuel despite the instrumentation suggesting that all was well. Clambering from the cockpit after losing third place, he was venomous in his condemnation. "Ferrari: even the computer is a liar!" he spat.
He was reunited with Tyrrell in 1989, and together they enjoyed a brief renaissance with the 018 model created by Alboreto's friend, former Ferrari technical director Dr. Harvey Postlethwaite. Their high point came with third place in Mexico, but when a sponsorship clash between Marlboro and Camel obliged him to step down it was the start of his F1 decline. He saw out his career with Larrousse, Arrows/Footwork, and finally Minardi in 1994. It was indeed tragic to watch his efforts in the feeble Lola-Ferrari in 1993.
Off track Alboreto was a genial fellow, but on it he could be as hard as they came. At Pau in 1981 he and Ulsterman Kenny Acheson were building reputations in Formula Two. Racing for the lead round the French street circuit, they ran wheel-to-wheel until Alboreto left Acheson nowhere to go. Acheson crashed heavily, and his career never recovered the momentum it had at the beginning of that race.
Alboreto could be compassionate, however. The San Marino GP of 1994 is remembered for the deaths of Roland Ratzenberger and Ayrton Senna. But there was also the startline shunt between JJ Lehto and Pedro Lamy, and towards the end Michele unwittingly put the final touches to a macabre weekend. Just as he pulled away from the Minardi pit after stopping for fuel and fresh tires, one of his rear wheels came loose. Two Lotus mechanics were injured in the ensuing accident. "Michele was mortified when he learned that somebody had been hurt," recalls Lotus's then team manager Peter Collins. "He felt that he had personally been responsible, even though it was not his fault that a mechanic had not tightened a wheel correctly." Michele was one of the first to visit the mechanics in hospital.
Alboreto knew a lot about racing history. His helmet was blue and yellow out of respect for Swedish racer Ronnie Peterson, who was killed at Monza at the start of the 1978 Italian GP. Both men enjoyed sponsorship from Count Googie Zanon, but Michele's admiration for Ronnie was the genuine article.
When he was relaxed with people Michele was a good source of stories. On one occasion over dinner he regaled his audience with tales of the notorious Brambilla brothers of Monza, Erneston ('Tino') and Vittorio. Once when Tino was testing at the circuit his mechanic Pino was despatched to investigate why he had failed to complete a lap. Pino fixed the problem out on the circuit and climbed on to the rear wing for a slow lift back to the pits. "But," Alboreto recalled, his eyes sparkling as he approached the punchline, "when Tino got back there was no sign of Pino. It was only when somebody asked Tino what had happened to Pino that he clapped a hand to his mouth and remembered his promise not to drive too quickly. Needless to say he forgot, and they found poor Pino lying in a gravel bed. He just couldn't hold on any more as Tino reached racing speed..."
Perhaps more than most drivers Michele's speed seemed to be affected by parenthood, but after trying America's IRL single seater series in the late Nineties he re-established himself as of a sportscar driver of note, winning the Le Mans 24 Hours for Joest Racing in 1997. Only this year he had triumphed in the Sebring 12 Hour race.
Former world champion Mika Hakkinen summarized the sorrow in the paddock in Barcelona for the Spanish GP when he described Alboreto's death as "a terrible loss for motor racing."
The irony is that he was finally going to call it a day after Le Mans and the Petit Le Mans later this year.