Features - News Feature
MARCH 3, 2001
Can two ever be one?
BY DAVID TREMAYNE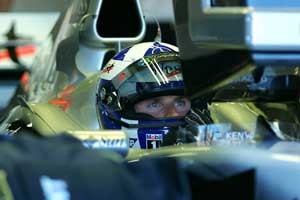 © The Cahier Archive
They each looked strong at times in 2000, but ultimately both were blown off by their respective team-mates. After a winter of self-analysis, can McLaren and Ferrari number two drivers David Coulthard and Rubens Barrichello raise their game sufficiently to mount a genuine challenge for number one status?
No two races summarize the dichotomy of David Coulthard's and Rubens Barrichello's 2000 season than the British and Japanese Grands Prix.
At Silverstone the Brazilian took pole position, comfortably ahead of his much-vaunted team-mate Michael Schumacher. And he led the race in confident style for its first 30 laps. Then, just as he was coming out of the daunting 140 mph Becketts corner, the Ferrari's transmission suffered an electronic glitch. As it balked momentarily, Coulthard was able to surge into the lead.
The Scot had been fourth fastest in qualifying in his McLaren, but had instantly asserted himself over team-mate Mika Hakkinen at the start and was the only man who looked remotely likely to challenge the Brazilian. Hakkinen was a lackluster third, Schumacher at one time as low as eighth after a poor start.
Coulthard's swooping move past Barrichello looked on paper as strong as the one Nigel Mansell had pulled on Williams partner Nelson Piquet in the same race back in 1987, but in the Ferrari cockpit Barrichello knew the uncomfortable truth. He was in trouble. Five laps after Coulthard overtook, and two after regaining the lead as the Scot made his pit stop, Rubens found his Ferrari malfunctioning again as he went into the complex of corners at the end of the lap. He was on a single stop strategy and everything was looking good, but the hydraulic problem that pitched him into a soggy spin on to the grass killed his chances. He crept into the pits to retire, his maiden GP victory still to come.
"We can all improve as drivers, and in F1 you never stop learning. Next year I am going to be better still, I promise. Just watch!"
RUBENS BARRICHELLO
Coulthard swept to the win, leaving Hakkinen and Schumacher, who had moved unobtrusively up to third, trailing.
Japan could scarcely have been more different. Schumacher and Hakkinen were quicker in qualifying than their team-mates, and in the race Coulthard and Barrichello were made to look like clear number two drivers. As Hakkinen and Schumacher sped into their duel for the world title, the Scot and the Brazilian appeared to cruise round all afternoon, neither challenging the leaders, nor each other, in a Sunday afternoon drive. It was true that everyone had been warned strongly by the FIA not to get involved and do anything that might spoil the visual thrill of the fight for the World Championship, but even when the two protagonists had moved sufficiently clear on the track, neither Coulthard nor Barrichello appeared to have the slightest answer to their blistering speed.
So can one take seriously their claims that they will challenge for the championship in 2001?
"I have never felt more prepared to challenge for the title," Coulthard declares. He has even postponed his intended wedding to fiancee Heidi Wichlinski, so that nothing gets in the way of his ambition. "Last year I was quicker than Mika on several occasions," he continues, "and I think I showed that I can do the job. I am still improving, as I have every year that I have been in F1, and my focus has never been better. I am ready for it."
Familiar words, if you flick back to 2000 or even 1999. But this time Ron Dennis is also adamant that Coulthard is ready for success. "David can win the World Championship," he says bluntly, and he doesn't sound as if he is merely truing to boost his driver's confidence as a sop to those who accuse him of favoritism for Hakkinen. "He's strong already. And he is really going to be strong all season. I am telling you, Mika is going to have his hands full this year."
Rubens Barrichello, Australian GP 2001
© The Cahier Archive
That is as good a vote of confidence as any driver is likely to get, but we have heard much of this before. Remember in 1998, when he secured his first title with victory in Japan, how Hakkinen had promised Coulthard: "Next year it's your turn"? It never happened. Somehow Coulthard has always talked a good off-season race, yet he has never delivered the goods consistently enough to pose a real threat, even last year when Hakkinen had his spell in the doldrums and David led McLaren's attack.
There is no question, either, that Barrichello had a rude awakening at Ferrari last year. The Brazilian discovered the truth that others, such as Nelson Piquet, Martin Brundle, Riccardo Patrese, JJ Lehto, Jos Verstappen, Johnny Herbert and Eddie Irvine, all found out the hard way: Michael is very, very fast. And any team for which he drives is implacably behind him and revolves around him. Barrichello, like Coulthard, fell back on philosophical words when on-track action proved insufficient, almost as if to comfort himself. At times there were tearful tantrums, too, as the pressure got to him. Yet, as is the way of the competitive human psyche, he speaks warmly of his ability to rise to the occasion in 2001. He is confident that he will be much closer to Michael this year.
"Michael feels relaxed, but I am not sure if inside he feels it is going to be easier or harder to win another title," he muses. "Or whether he can improve further, because he is already so strong and at such a high level. I know that I can definitely improve, and although you can never discount Michael making further progress I think I can close the gap.
"I know what some people are saying, and there is no complete answer that I can give them yet," he adds, his philosophical manner hiding whatever hurt he might truly feel about the criticism he received in 2000. "But look at the second half of the 2000 season in particular. I am definitely improving, and definitely getting closer."
Like many rising stars, Barrichello arrived last year at the point of his career where there is no hiding place. He has discovered what life is like when you get into the seat of one of the best cars in the game, only to find that the man in the other one is quicker. The first time any driver comes up against somebody that can do things better than he can is always a salutary moment.
"Of course Michael is quick," Barrichello stresses again. "But like Eddie, I am using him as a target. We can all improve as drivers, and in F1 you never stop learning. Next year I am going to be better still, I promise. Just watch!"
What must Coulthard or Barrichello do to turn the tide in their favor? The answer is at the same time complicated, yet devastatingly simple.
On the complex side, each needs to turn their self-belief into results, and to bolster it with the unquestioning support of their team. But doing that is a slow process when you already have established stars such as Hakkinen and Schumacher who already receive that affection and support. Both number twos played solid roles in their team's respective successes in 2000. In Coulthard's case the selfless back-up role that he has played on Hakkinen's behalf in the past three seasons has made him very popular within McLaren, and this year he has boosted himself by doing most of the winter test work. Barrichello, however, has more of a mountain to climb in that respect. His tantrums did not go down well last season, especially as he still has a way to go to get on terms with Schumacher's speed.
On the simple side? They just have to drive faster. If they outpace their team-mates regularly enough, and get the results, the teams will have to move behind them in the title fight. But to get to that point, of course, each needs to engineer a fundamental shift of psychology, which is easier said than done. It's a vicious circle.
But if neither can raise his game sufficiently, 2001 may mark the last season in which either can sustain the reputation as a potential champion. Indeed, both might find themselves ejected from their current teams and seeking employment on a lower plane...