Features - News Feature
SEPTEMBER 5, 2001
Can things come right for Fisico?
BY DAVID TREMAYNE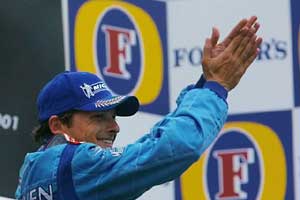 © The Cahier Archive
Last year he was so demotivated at Benetton that his efforts were publicly ridiculed by team boss Flavio Briatore at Indianapolis. But who was the bigger mug, Fisichella for losing his way, or Briatore for signing him to a deal that would have earned the young Italian $13M for 2002? Well, things being what they are in F1, Fisichella won't have to worry what to spend all that money on now that he is switching back to Jordan next season. After another year struggling in the blue cars, the move could scarcely be more timely...
Talk to anybody in Jordan's management and you won't find the remotest doubt that losing Giancarlo Fisichella at the end of 1997 was a significant blow. They all knew that he was only on loan to them, via one of Flavio Briatore's elastic contracts, but nevertheless Eddie Jordan tried everything he could think off to keep him.
Instead, Jordan ended up with Jarno Trulli, the man some see as Fisichella's greatest rival. Both, of course, were graduates of European karting, where the smart money was always on Trulli to develop into the more rounded F1 contender. But so far things have not worked out particularly well for either.
Trulli was more mature when he signed his contract with Jordan than Fisico was when he switched from Minardi at the end of 1996. That makes direct comparisons a little difficult. But if Ralf Schumacher and Jenson Button are openly prepared to admit that Fisico was tough opposition as a team-mate, it puts the under-rated Italian into a different perspective from the sulky fellow who crept round Indianapolis last season.
In their time together at Jordan in 1997, Schumacher Jnr gave Fisico a good beefing to begin with, actually punting him off the road as they fought for second place in Argentina. It was only their third race together. But Fisichella was recovering from a nasty pre-season testing shunt at Silverstone, and from Monaco onwards generally had the upper hand on the now highly rated BMW Williams race winner.
"There is no question that he was a tough team-mate," Ralf says. "He is quick and consistent, and I learned a lot having to race against him so closely that season. For sure, I rate the guy."
Fisichella had eight races to his credit back then, with Minardi in 1996, and his campaign with Jordan got off to an unfortunate start with that test accident. He actually broke a knee, but it was hushed up in case it stopped him from racing in Melbourne. Ralf beat him in Australia, and then in Brazil Fisico had another big shunt before Ralf turfed him off in Argentina. Jordan himself admitted that he thought the run of poor luck would be the end of him, but Fisico came back strongly. That recovery, and his mental strength, surprised the team. "I have to say that most southern Italians would have been finished psychologically after a start like that," admits commercial director Ian Phillips, "but he overcame all that, and Ralf."
As the season progressed Fisichella impressed, beating Schumacher frequently. He set fastest lap in Spain, was third in Canada, took fourths in Imola, Monza and Austria, and was on the front row in Hockenheim. He led there for seven laps and was a potential winner, until a puncture slowed him. Unfortunately he did sufficient damage getting back to the pits that he could not continue.
There was more to come. At Spa he was a magnificent second, and tellingly was the only man who early in the race could match Michael Schumacher's pace and panache in the rain. And this was his first F1 race at the daunting Belgian circuit...
When Damon Hill finally told Jordan at Monaco in 1999 that he would be quitting, the team tried everything to prise Fisichella out of his Benetton contract, but failed.
Benetton loved the little Italian, who had asserted himself over team-mate Alexander Wurz after the Austrian's big shunt at Monaco in 1998. But the length of his contract with the team (three years), and its struggle to remain competitive, proved psychologically debilitating when 2000 produced another poor season. In the GP of Europe at the Nurburgring in 1999 Fisichella had thrown away possible victory as his desperation to succeed overrode the caution that could have brought him his first F1 triumph.
Curiously, Fisichella has mot let the poor results of the Benetton B201 undermine him this season. He was a startling sixth in the rain in Brazil, and fourth at Hockenheim, and has for the most part blown off team-mate Button. "I tell you, Giancarlo is bloody quick," the Briton says without rancor.
Now he is headed back to a team that has the sort of senior management figures who can help him to achieve his best, Giancarlo Fisichella may finally be poised to deliver on that 1997 promise. Commercial director Ian Phillips has no doubts.
"We tried very hard to keep Giancarlo in 1998 because it was worth the fight," he says, "and we tried equally hard to get him back. The guy is bloody good, it's as simple as that. He was a lot tougher mentally than we initially thought, and though he was quite immature when he came to us, he grew up quickly racing alongside Ralf. I'd say that now he is as mature at this stage of his career, as Jarno was with us. He can win races in the right equipment."