Features - News Feature
DECEMBER 27, 2000
Button v Montoya
BY DAVID TREMAYNE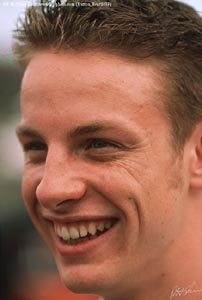 © The Cahier Archive
The F1 world seems obsessed with the idea of the young Englishman and the Colombian who supplanted him at Williams becoming the next great double act. But right now, as they settle into new berths and prepare for 2001, that prospect is as far from their conscious thinking as it could possibly be.
The history of F1 is littered with dynamic duos, men who rose to the top of the pile and fought each other for the World Championship. Fangio and Ascari, Moss and Hawthorn, Clark and Hill, Stewart and Rindt, Lauda and Hunt, Senna and Prost, Schumacher and Hakkinen.
Now the populist media is beginning to hype Button and Montoya as the next pair.
The Englishman and the Colombian, they believe, will be the next greats fighting for the laurels, the men who, but for each other, would be completely dominant. Take away Senna, and what score might Prost have reached? And vice versa.
In recent weeks the two have seen plenty of each other, both testing for their new teams in Jerez and Barcelona. Button has been settling into his new role at Benetton, while Montoya has finally turned his back on ChampCars and got down to learning the real truth of F1 after his testing back in 1999. Both have shown well, the former recently topping the timesheets, the latter already showing a pace equal to team-mate Ralf Schumacher.
Both are independent souls, and neither has much time for any hype that others are trying to stir around them.
Button was saddled early in his career with one of those albatrosses that outstanding young drivers so often encounter. There are few people now who haven't heard the comment made by his former entrant in karting, Paul Lammens, who when asked who were the best three drivers he had ever seen, had replied: "Not three, two. Senna and Button."
But Button shrugs that off with his customary cool. "I don't want to be the next Senna," he declared long before he even sat in an F1 car. "I want to be the first Jenson Button."
Montoya, too, takes a long view of the hype surrounding his arrival in F1, and the media's attempts to bill them as the next duelling duo.
"Ah yes, Jenson Button," he jokes. "I've heard his name before!
Juan Pablo Montoya
© The Cahier Archive
"I was very surprised when Williams picked him a year ago, but he did a fantastic job and should be an even better driver for the experience. But I don't feel under any pressure to match his results. Not at all. If I worried about that, it would make life more difficult. I will simply do my own thing, give 100 per cent like always in my career and we will see what happens."
Button has been quietly optimistic about his new team, having driven the old B200 in Spain, but privately he must be acknowledging that the next two years may not permit him to demonstrate his true talent to quite the same extent way that his first with BMW Williams did. The Benetton was no match for the Williams in the 2000 season, and the indications are that it will be a while before Renault's team run by the colorful Flavio Briatore can truly aspire to recreate the reputation it enjoyed in its Schumacher days. But let us not forget how Button rowed an uncompetitive Prost round Barcelona faster than Jean Alesi this time last year. In 2001 the blinding talent that he displayed in his rookie season may be masked more by his machinery, but behind the scenes he will learn other valuable lessons of F1 life, not least how to maximize team relationships while trying to move the operation forwards.
Montoya, at this stage, seems to have the more promising berth, something Button will already have pushed firmly to the back of his mind. He has settled in quickly at BMW Williams, just as Button did, and if his relationship with Ralf Schumacher got off to a slightly rocky start because of the reservations that the German voiced to journalists, currently it is at least as cordial as such things ever are with a team-mate in this competitive game. And already, Montoya fits.
"You can throw F1 cars around more than the ChampCars I have been driving in America," he says, alluding to the lighter weight of the former, "but they are not as forgiving. First though you have to learn to work with the car before you can start to push it. I am not going to make any predictions. No-one will be working harder than me, but race wins will depend on the quality of the car and the engine package."
Button has been saying the same thing, as far as wins are concerned.
"My motivation is definitely higher now because I have a lot more experience," he adds. "I can make more demands this year because I know a lot more. I have driven four F1 cars now and I feel like a veteran."
So will 2001 see the start of Button v Montoya rivalry? Most likely, yes. But neither of them cares right now. Each has other things demanding their attention, other priorities. It's likely that they will be the next major stars, but as they limber up for 2001 they are prepared to leave such abstract matters to pan out for themselves. Que sera sera.