Features - Exclusive Interview
OCTOBER 25, 2000
The joy of Luca di Montezemolo
BY DAVID TREMAYNE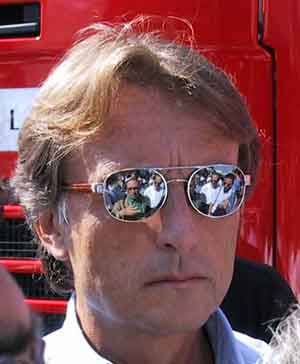 © Inside F1, Inc.
Eight years after he returned to Ferrari tasked with rebuilding it into a Championship-winning force, Luca di Montezemolo is finally celebrating.
The year began well for Ferrari, got steadily better, and everything in Luca di Montezemolo's manner suggested that Ferrari's president believed in his heart that the team was finally on the verge of its first Drivers' World Championship success since Jody Scheckter triumphed in 1979...
In Suzuka the charismatic Roman's quiet faith was finally justified. Two weeks later, in Malaysia, his cup ran over as Ferrari retained the Constructors' title that had been a mere consolation in 1999.
He knew all through the season, of course, that despite the initial successes it would be premature to celebrate anything until the final chapters had been written. But when you have lost the title three years in a row, in the final race, you may feel entitled to enjoy your moments when you can. He allowed himself to hope.
All season the atmosphere in the Ferrari camp has been bright, positive, and thrusting. The scent of victory was in the air, right from the outset. Schumacher's victory in Montreal and Barrichello's brace of second places made up for McLaren's resurgence in Silverstone and Barcelona. But even when Schumacher lost in Monaco and Magny-Cours, Spielberg and Hockenheim, there was an air of resignation where in the past it might have seemed the end of the world. Ferrari knew that it was the team setting the pace, and the spectre that McLaren might suddenly spurt ahead, as it had in previous years, receded steadily. All the work that had been invested since di Montezemolo returned to take charge in 1992, and in particular all the investment and unstinting effort that has been a hallmark since Schumacher came on board in 1996, finally paid off. The World Championships were Ferrari's to lose, and after so many near misses the Prancing Horse did not stumble.
The pleasure of such realizations is evidence in di Montezemolo's every elegant gesture, in his posture and in his speech, though he is far too practised a hand at the F1 game to actually voice the belief that Ferrari is currently the best. More than anything, he quietly radiates pride and pleasure in what the team has achieved.
But did he really believe in his heart that this would be the year?
"I don't know why! I can watch qualifying, but the race makes me so nervous that I cannot watch unless I am home. Almost always, if I go to watch qualifying at a circuit, I go home to watch the actual race. And I watch it alone. Or if my son is there, who is 23, even he is not allowed to ask questions!"
LUCA DI MONTEZEMOLO
"Ah! We were very pleased at the start we made to the season, and of course with the progress we made after that. But let me tell you, our feet were still very strong on the ground! I will never forget where we started from just a few years ago. I can say that we were pleased without being over the moon. In F1 it is so very easy to go from the moon to the land!"
So even when it was at times clear that Ferrari had the upper hand, his confidence was always contained.
"You know, we have a big responsibility as the main competitor, and races are always difficult to predict. To begin with some others were not so ready to run, so it was not so easy for us to lose points. But nobody was easing back, so the competition just gets tougher all the time."
In truth, Ferrari should have won the title last year. If Michael Schumacher hadn't had his accident in the British GP, it would have been hard to see McLaren defending Mika's crown against him&Mac226; di Montezemolo concedes this. "In 1999 we were extremely competitive, but yes, we paid a big price for our mistake with the brakes at Silverstone last July. But we were very happy with our victory in the Constructors' Championship, and to have two cars that were technically advanced yet very reliable. We could take pleasure from the fact that we were - and remain - a very good team."
It was nevertheless bitterly disappointing to have been so close and yet still to lose, for the sake of a couple of points. Again, he concedes the point with the smile of a man who has now made amends. "Oh, sure! It was very, very tough to lose the World Championship in the circumstances that you describe. It's been very, very tough to lose it at the last race for three years in a row. But we try to be realistic. Our success started many years ago, with the reorganization of our team. I'm not saying we started again from grass roots, but it was pretty close to that. So to come this far has been gratifying."
Ask di Montezemolo to pinpoint the revamped Ferrari team's biggest asset, and it takes him only a moment. "It is now a very stable team," he says, with evident satisfaction. "There is very good spirit and collaboration, very good human relationships. In 1999 we had a difficult start in Australia and Brazil, but we made a good reaction. There was a very good spirit. We have first class people. Paolo Martinelli, our engine man, started at Ferrari as a kid. He was working on road cars when I came back. But I made a bet I would make him the chief of engines."
"Ross Brawn is a first class man, loyal and strong. He has done a very good job to put together the English method and Italian creativity. Rory Byrne is a fantastic person. He has let grow up a lot of young technicians, on the track and behind the pits. And Jean Todt has done a very good job. There was lots of criticism when I hired him. He was French, he knew only about rallies. But he approaches his job very well. Look at the results."
Ferrari is not just about people, though, even if they are its heart. Di Montezemolo dislikes talking of money, but has made massive investment over the past eight or nine years. "We have invested in a new factory, and we now have a very competitive and innovative wind tunnel," he admits, while skirting details of how much Schumacher has cost since 1996. People say that Ferrari has far more money than any other team in F1, thanks to Fiat. But he continually denies that is true.
"The truth is this. Our roadcar activity pays for 30, 35% of our revenue as a racing team. But Fiat is not among the top four of our sponsors. We have Philip Morris, Shell, Ferrero, Italcom and Fedex ahead of Fiat. But from Fiat we have received very good collaboration with the advanced research center for F1, and that has been very useful and very important."
The greatest change in Ferrari since the doldrums of 1992 has been in the people in charge of the most important areas. It is impossible to imagine anything as stupid as the firing of Alain Prost happening again, for example. "When I came back to Ferrari in 1992 I asked myself why there had been no real success since the Seventies," di Montezemolo says. "And it was difficult to give a precise answer. Back then I was lucky enough to be there in 1975 and '77 with Niki Lauda. The basic elements were mechanical - the engine, the gearbox and the suspension. There was strong know-how, and strong competition between Ferrari and Ford.
"But in the Eighties the British developed very sophisticated understanding of aerodynamics and composite materials, wind tunnel testing, electronic suspension. It was not in Ferrari's mentality, or even in the Italian know-how." He smiles and spreads his hands apologetically. "We have always been weak in aeronautics."
"We tried to do our best to organize our methods and equipment, but we were forced to do it all at home. In his last five years Enzo Ferrari was forced to have British designers and a French engine chief. You can imagine how desperate he was, the poor man!"
Di Montezemolo says he is pleased to see Jaguar in F1 this year. "I welcome them and look forward to seeing what the others will do in the coming 50 years. I like their green - it puts me in mind of the green of the Lotus of Jimmy Clark." The mention of the Scot makes him momentarily nostalgic. "You know," he says, "I remember the fantastic people. Men like Colin Chapman, Ken Tyrrell, even Teddy Mayer, from my first constructors' meeting, at a Trust House hotel near Heathrow. I remember things romantically. The engines were music, not noise!"
Unusually, di Montezemolo went to Malaysia to watch his team in its hour of final triumph. But as ever he locked himself away to watch Michael Schumacher speed to victory and Rubens Barrichello to third place. He is so nervous that it is his unshakable preference to do this alone.
"I don't know why!" he admits. "I can watch qualifying, but the race makes me so nervous that I cannot watch unless I am home. Almost always, if I go to watch qualifying at a circuit, I go home to watch the actual race. And I watch it alone. Or if my son is there, who is 23, even he is not allowed to ask questions!"