Features - Exclusive Interview
AUGUST 18, 2000
The enigma of David Coulthard
BY DAVID TREMAYNE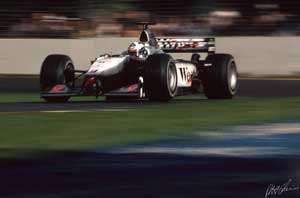 © The Cahier Archive
One minute he is the archetypal British sportsman: the square-jawed, relatively clean-living gentleman, Mr. Nice Guy. The hard trier who never quite gets it together, never quite gets close enough to win the cigar, let alone to light it.
But the next, he'll suddenly drag out the sort of performance that won him last year's Belgian Grand Prix at Spa Francorchamps, one of the most demanding venues in the calendar and the one said to sort the Haves from the Have Nots. In the 1999 race at the daunting circuit in the Hautes Fagnes region, Coulthard beat his much-vaunted team-mate Mika Hakkinen so fair and square that the normally placid Finn got himself into a fair old snit about it.
Then there was that thrusting performance at Magny-Cours in July that saw him take on and beat Michael Schumacher in the French Grand Prix, banging wheels with the German more than once.
So Coulthard is an enigma. Formula One doesn't quite know what to make of the 29 year-old Scot, any more than it really did the last gent to challenge for the top honors in a sport where nice guys are traditionally deemed to finish last, Damon Hill. One day Coulthard is a Henmanlike loser, the next a stylish yet aggressive winner in the Sampras mold. This year, undeniably, there's been a lot more of the latter.
Out of the car Coulthard is normally a dream to deal with. He's just an older and wiser version of the uncomplicated but smart and well-mannered kid who bubbled with excitement when he first drove a McLaren at a Silverstone test back in 1990. In it, he's become the guy who gives Schumacher the finger as they rub wheels.
The remarkable difference between the 2000 model Coulthard and the 1999 version has more than one foundation. Schumacher, perhaps predictably, is sceptical that there has been any real change. "We really have to wait and see," he said when he was asked if he thought that the Scot really had improved his game. Tensions run high between the pair, not just because of their celebrated collision in the rain at Spa in 1998 when the German rashly accused Coulthard of trying to kill him, but also because of their brush at Suzuka last year or Coulthard's incisive overtaking moves in Malaysia two weeks earlier, or the French GP in July.
"I haven't made up my mind yet whether it's a case of David getting quicker, or Mika lacking the edge he had last year," Schumacher continued, as if admitting that Coulthard was a worthy rival troubled him as much as it did when he was racing with Hill.
Coulthard has certainly seemed more determined and focused since the air crash in May from which he, his fiancee and personal trainer were lucky to escape without harm. The conventional view is that visions of his own mortality have bestowed upon him a fearlessness and determination that have swept away the remaining dregs of self-doubt. But Coulthard says that he doesn't see it that way himself. Immediately after the escape he acknowledged in his own quiet way that it would make a difference to his philosophy of life - how could it not? But it wasn't quite the Road to Damascus that it has since been portrayed as.
"I've never, not since the day I arrived in F1, walked around saying that I'm the dog's bollocks. Give it a bit of time, I still think I can do a better job."

DAVID COULTHARD
"It didn't create any deep psychological situation that turned my championship chances around," he says as the pragmatist within him surfaces. "The truth is that I've been finishing races, so I've been scoring points."
And therein lies the real reason why Coulthard looks more convincing than he has at any time in his career. He has raised his personal game, regardless of whether Hakkinen lost his sharp edge for a while. But the corollary of consistent finishing, not to mention further wins, has been an increase in confidence.
Yet the fact remains that Coulthard went to the Hungaroring and wrung a great qualifying performance out of his McLaren only days after a massive accident during testing in Valencia. Once again Coulthard said nothing, but did his talking on track. "The first that his business manager Ian Cunningham and I knew of it was when we saw the story on a website," his advisor Martin Brundle said.
The 1999 Coulthard disastrously lost victory in the wet GP of Europe at the Nurburgring, sliding off the road while leading comfortably. "I comprehensively fucked it up there!" he admits with the candor that has long been his trademark. "I was really disappointed when I went back to the motorhome, because that was effectively a race in the bank. Mika and Eddie (Irvine) were out of contention, I was leading and pulling away from Ralf (Schumacher) in a difficult situation, and at that moment I should have had the brain power to say, ÔHold on a moment, you don't need to be leading this race. It doesn't matter if Ralf catches you.' The chances are that when it dried up I would have been able to pull away from him or to pass him again."
What made it worse was that he wasn't being told to push hard. "The lap before, Dave Ryan, who usually talks to me on the radio, had told me the gap to Ralf. And the next lap as I crossed the line he told me I had increased it by a second and to go easy. But although I quite clearly heard him tell me that, my mindset was that because of what had happened earlier in the race when Ralf passed me and hassled Mika when it was damp, I had to be quicker in the conditions because Ralf would be quicker. So although I was getting instructions from the team, quite rightly, to take it easy, I had already clicked myself into, ÔYou've got to push if you want to win this race.' It was a mindset mistake."
This year he has been much less likely to indulge in such lapses. There is a new consistency that might yet see him crowned as the first Scottish World Champion since Jackie Stewart, whose tally of 99 GP appearances he recently exceeded.
He made some amends for that catastrophic error at Nurburgring by chasing hard after Irvine in Malaysia after passing Michael Schumacher for second place with an aggressive move that was a payback for the German's ruthless move on him in Argentina two years earlier. "Yeah, that was good because my head was screwed after Nurburgring," he admits. "But I've never had a phobia about Michael. I acknowledge the fact that he is one of the most consistent guys and extremely quick and the rest of it, but he's just another competitor. There I was happy because I read exactly what he was doing. Within two corners of him doing it I knew that he was doing the hold-up sort of thing and that my best opportunity to try and get past him was to catch him before he built up a picture of the lap, before he had an idea of where I was. Therefore I was prepared to risk it all. If the championship had been a stake, would I have done that? Probably not. But having done it and got away with it, maybe that's telling me that's what I should be doing every time."
The problem prior to 2000 was that Coulthard was perceived as a guy who had all the golden chances, yet had never quite taken advantage of them. His own slant on the situation is one of the few things that belie the newfound confidence. "I've done all my learning in F1 in a very public way because I've had World Championship cars all the time," he says, "and I think people probably have the impression I've been round longer than I have." Detecting the hint of excuse in his voice, you are irresistibly reminded of all the other young lions who would donate body parts for similar opportunities, without seeing it as a disadvantage to be in the best cars. That, after all, is the aim of the game. Anyone else would see it s a massive advantage.
David Coulthard, French GP 2000
© The Cahier Archive
Coulthard's take on the championship situation is also slightly less than convincing. "I think very short-term," he admits. "What happens next week I worry about when I get on the plane on Sunday might and the pilot tells me where I'm going. I often say that I can influence the future, but I can do nothing about the past. That's the way I live my life."
So does he worry about points deficits, or is he just happy to let the cards fall as they may over the balance of a season? "That's pretty much it," he agrees, alluding to the latter. "I will always be trying to get the best out of myself every weekend. Of course I want to win, but if that isn't possible then I want to avoid any mistakes and finish again in the points, then see where we are at the end of the season."
It all sounds very calm and calculated, and it's stated in the manner of a man who cannot be ruffled. But his gestures to Schumacher in Magny-Cours were more suggestive of a hotter-blooded character when he has a steering wheel in his hands. Yet there was no sign of it as he haplessly trailed Hakkinen home in Austria, or Schumacher in Hungary. The new tinge of aggression may be just the spark a so far unfulfilled career has needed to produce his current level of intense competitiveness. But as long as it is only intermittent, he will always remain a championship outsider.
"I've never, not since the day I arrived in F1, walked around saying that I'm the dog's bollocks," he said at the end of 1999. "Give it a bit of time, I still think I can do a better job." But though he has another year's contract with McLaren for 2001, his time may be running out if he fails to deliver.