Features - Exclusive Interview
NOVEMBER 10, 2000
Rubens Barrichello: Getting closer
BY DAVID TREMAYNE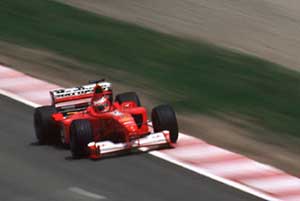 © The Cahier Archive
The statistics show that of the drivers in the top four cars in F1, Rubens Barrichello finished fourth (and therefore last) in the 2000 World Championship. But after his first season as World Champion Michael Schumacher's team-mate at Ferrari, the Brazilian says he is going to do a lot better in 2001.
In a sport peopled with stars so focused on their professionalism and self-absorption that they frequently forget to smile in times of success, there is no more uplifting sight than a driver celebrating his first victory. It is, after all, why all of them step on to the great stage in the first place, even if it is a feeling denied the majority.
Rubens Barrichello's emotional collapse at the end of a gripping German Grand Prix at Hockenheim last July brought a talented young man to the summit of one of his life's ambitions. In a sport where dourness abounds, and where most people habitually wear some sort of mask, naked emotion can be a good thing. And it becomes so memorable when a driver releases himself totally to the moment and what has become such a commercial activity once again reverts, even if only fleetingly, to a sport where humanity counts more than dollars.
Every Brazilian racer today carries a burden in his heart, and none more so than Rubinho. Every one of them felt it like a dagger thrust when Ayrton Senna died, and all of them ever since have, in their own ways, been seeking to deliver to their expectant countrymen the sort of performance of which Senna would have been proud. It has been a fantastic burden, because Senna was the undoubted star. No Brazilian doubts that he was the best racing driver God ever put on earth.
When Barrichello raised his eyes to the heavens as he stood atop the podium that Sunday afternoon he was not just seeing a mind's eye picture of what his success would mean. He was looking up to the man he regards as his guardian angel, whose influence he enjoyed when they were master and pupil together in F1, and which he still so keenly feels. When he drove his idol's McLaren-Honda at Goodwood's Festival of Speed last year, he admits that he nearly broke down because of the emotions evoked by just sitting in the same car, and holding the same steering wheel.
"For me, Ayrton was so special. In my career he showed me so many kindnesses. He looked after me when I came into F1, and we spent time together when we could. Now I know that he is up there, an angel, looking over me. I have no doubt that is so."
While of critical importance to Ferrari and, particularly to Michael Schumacher whose precarious championship lead it protected, Barrichello's victory was also be a rallying call for Brazilian race fans the world over. They had waited so long to hear their national anthem played again in F1. Indeed, it seemed fantastic, impossible even, that what once used to be heard so often in the days of the ground-breaking Emerson Fittipaldi who led the invasion, then Nelson Piquet and, in turn, Senna, had not been played at a Grand Prix since Adelaide in 1993.
Though there have been some dark rumblings about Barrichello's popularity in all quarters of the championship-winning Ferrari team, there is no doubting it with the media. Since joining Michael Schumacher in the rarefied air of F1, Barrichello appears not to have changed at all. He is still the first to throw out a hand in any paddock encounter, still a good interview. A man who speaks from the heart without duplicity.
"For me, Ayrton was so special. In my career he showed me so many kindnesses. He looked after me when I came into F1"
RUBENS BARRICHELLO
F1 fans all come to see the drivers, apart from Ferrari's tifosi. They don't really come to see McLaren, Williams, Benetton or whatever, despite what the teams might like to believe. Yet the image often put across by the governing body is that the drivers are like little boys who need to be controlled. Barrichello, who after all, is one of the guys who takes the end risk, who goes to the hospital or the morgue when things go wrong, doesn't hesitate in admitting that such an attitude really irritates.
"It's really disappointing that they are not listening. We can have a talk and there is always, always an explanation. Never a case of 'Okay, let's try to think your way, try to help.' That's all I hear."
On the first day at Indianapolis, for the US GP, Michael Schumacher and Mika Hakkinen put on a spectacularly feeble show in the official press conference, when it would have been graceful to at least defer in some sense to the history of the place. Barrichello won't criticise his team-mate, but agrees that F1 could present itself better.
"It can come across as very arrogant," he concedes. "There should be useful autograph signing sessions, but we have no time to do that in this life because we are in meetings all the time. But it would have been good.
"To be honest with you, when I read that Mr Nice Guys don't win, this is bullshit. Because when we have to be tough on the track, we are."
Off track he can be tough too, if he believes that he has been slighted.
"If I have a problem with someone then I have my two minutes with them and tell them straight away. I hate things going on behind my back. Sometimes I read things about me that I don't like to read. Who is gonna be the first person who is upset with me, if I have done some of the things people wrongly suggest? My father. He is my life, because he teach me the whole thing. So why should I change? I know when I have been doing a good or a bad job, I know if I have to improve or not. So sometimes I stop reading."
F1 tends to place its participants in a behavioural strait-jacket, something else that rankles with Barrichello. "At times it gets like that. But a good example of what can happen was at Indy when Paul Tracy, about whom some people say bad things, was sitting there with Max Papis and Tony Kanaan. They race each other, but they are there and they are talking. In F1 we don't often get that chance."
A lot of journalists, and a lot of television viewers who watch the after-race conferences, are tempted to see racing drivers as a bunch of professionally miserable millionaires. Since winning, or at least finishing on the podium, is what it's all about, it can be hard to understand why they do not show more pleasure. Why they don't always climb the fence in ecstasy like Barrichello's compartiot Helio Castroneves did after scoring his first ChampoCar victory, or cry as Barrichello himself did at Hockenheim. Nothing softens hearts faster, as Schumacher himself discovered during his unusual distress at Monza when he broke down after winning the Italian GP. All of it was from-the-heart, release-of-emotion stuff, with not a trace of stage management. And the world loved it.
"Sure," Barrichello agrees. "There are some emotions that you simply cannot control. I don't think I am the type who controls his emotions very much. You tend to know what I am feeling at any given time. And at times such as with me in Germany or with Michael in Italy, you just have to give yourself up to the moment. The emotion just takes over. Maybe you think you should behave in one way, but when the really big things like that happen to you in your life, you just have to surrender to them and give in to your emotions."
Barrichello's first season with Ferrari drew praise and criticism in pretty much equal measure. At times he got pretty close to his illustrious team-mate's qualifying pace, he should have won the British GP from the front, and he did win in Germany, albeit after Fate intervened. But on the debit side he rarely looked like beating Michael on race pace, and factions within Ferrari have denigrated him as a whinger. The Italian media dismissed him as another Schumacher slave. Rubinho has taken it all on his prognathic jaw, with grace.
"I know what some people are saying, and there is no complete answer that I can give them yet," he says, his philosophical manner hiding whatever hurt he might truly feel. "But look at the second half of the season in particular. I am definitely improving, and definitely getting closer."
Like many an upcoming star, Barrichello has finally arrived at the point of his career where there is no hiding place. Like Gerhard Berger at McLaren with Senna, or Martin Brundle, Riccardo Patrese, Jos Verstappen, Johnny Herbert or Eddie Irvine with Schumacher at Benetton or Ferrari, he has discovered what life is like when you get into the seat of one of the best cars in the game, only to find that the man in the other one is quicker. The first time any driver comes up against somebody that can do things better is always a salutory moment.
"Of course Michael is quick," Barrichello says immediately. "But like Eddie, I am using him as a target. We can all improve as drivers, and in F1 you never stop learning. Next year I am going to be better still, I promise. Just watch!"